Pandemics and Emerging Infectious Diseases: The Sociological Agenda
ISBN: 978-1-118-55371-8
184 pages
September 2013, Wiley-Blackwell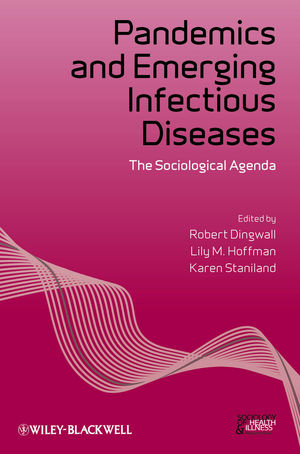 Infectious disease pandemics are a rising threat in our globalizing world. This agenda-setting collection provides international analysis of the pressing sociological concerns they confront us with, from cross-border coordination of public health governance to geopolitical issues of development and social equity.
Focuses on vital sociological issues raised by resurgent disease pandemics
Detailed analysis of case studies as well as broader, systemic factors
Contributions from North America, Europe and Asia provide international perspective
Bold, agenda-setting treatment of a high-profile topic
See More
Notes on contributors vii
1 Introduction: why a sociology of pandemics? 1
Robert Dingwall, Lily M. Hoffman and Karen Staniland
2 Public health intelligence and the detection of potential pandemics 8
Martin French and Eric Mykhalovskiy
3 West Nile virus: the production of a public health pandemic 21
Maya K. Gislason
4 Who's worried about turkeys? How 'organisational silos' impede zoonotic disease surveillance 33
Colin Jerolmack
5 How did international agencies perceive the avian infl uenza problem? The adoption and manufacture of the 'One World, One Health' framework 46
Yu-Ju Chien
6 Global health risks and cosmopolitisation: from emergence to interference 59
Muriel Figuié
7 The politics of securing borders and the identities of disease 72
Rosemary C.R. Taylor
8 The return of the city-state: urban governance and the New York City H1N1 pandemic 85
Lily M. Hoffman
9 The making of public health emergencies: West Nile virus in New York City 98
Sabrina McCormick and Kristoffer Whitney
10 Using model-based evidence in the governance of pandemics 110
Erika Mansnerus
11 Exploring the ambiguous consensus on public–private partnerships in collective risk preparation 122
Véronique Steyer and Claude Gilbert
12 'If you have a soul, you will volunteer at once': gendered expectations of duty to care during pandemics 134
Rebecca Godderis and Kate Rossiter
13 Flu frames 139
Karen Staniland and Greg Smith
14 Attention to the media and worry over becoming infected: the case of the Swine Flu (H1N1) Epidemic of 2009 153
Gustavo S. Mesch, Kent P. Schwirian and Tanya Kolobov
15 Why the French did not choose to panic: a dynamic analysis of the public response to the infl uenza pandemic 160
William Sherlaw and Jocelyn Raude
Index 172
See More
Robert Dingwall is a consulting sociologist and part-time Professor of Sociology at Nottingham Trent University, UK. He is a widely published author and editor in the fields of medical sociology, law and society, and science and technology. A former UK government adviser on ethical aspects of national pandemic planning, and consultant to Roche Pharmaceuticals, he co-edited the Handbook of Qualitative Health Research (2010) and was editor of the four-volume Qualitative Health Research (2008).
Lily M. Hoffman is Associate Professor of Sociology at City College and The Graduate Center of The City University of New York, USA, where she directs the MA program in Sociology. A specialist on urban governance issues, she is a former chairperson of the Urban and Community section of the American Sociological Association. Prof Hoffman co-edited Cities and Visitors: Regulating People, Markets and City Space (2003), and is the author of The Politics of Knowledge: Activist Movements in Medicine and Planning (1989).
Karen Staniland is a Senior Lecturer in Nursing at the University of Salford, UK, and holds a PhD in sociology. Her research focuses on sociological and ethnographic studies of healthcare work, applied to improving the quality of care. In addition to co-editing The Nurse Mentor and Reviewer Update Book (2010) and Clinical Skills: The Essence of Caring (2009), she has written open-learning materials on pandemic influenza for healthcare professionals.
See More
More in this series