Textbook
Critical Media Studies: An Introduction, 2nd Edition
ISBN: 978-1-118-55397-8
400 pages
January 2014, ©2014, Wiley-Blackwell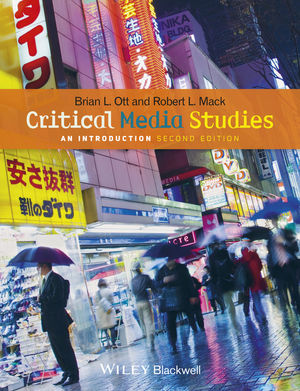 Fully revised to reflect today's media environment, this new edition of
Critical Media Studies
offers students a comprehensive introduction to the field and demonstrates how to think critically about the power and influence of media in our daily lives.
Presents an engaging and comprehensive introduction to a broad range of critical approaches to the field written in an accessible way
Features a new chapter on sociological analysis that reveals how audiences use media in their everyday lives to manage social roles, relationships, and contexts
Offers substantial updates to examples used in the book to reflect contemporary industry standards, textual forms, and audience behaviors
Delivers up-to-date media references that resonate with today's undergraduates
Updated with more global examples for broader appeal
Enhanced online resources, including PowerPoint slides, test bank, study guides and sample assignments, available upon publication at www.wiley.com/go/criticalmediastudies
See More
Preface vi
1 Introducing Critical Media Studies 1
Part I Media Industries: Marxist, Organizational, and Pragmatic Perspectives 21
2 Marxist Analysis 23
3 Organizational Analysis 56
4 Pragmatic Analysis 81
Part II Media Messages: Rhetorical, Cultural, Psychoanalytic, Feminist, and Queer Perspectives 107
5 Rhetorical Analysis 109
6 Cultural Analysis 134
7 Psychoanalytic Analysis 162
8 Feminist Analysis 193
9 Queer Analysis 214
Part III Media Audiences: Reception, Sociological, Erotic, and Ecological Perspectives 243
10 Reception Analysis 245
11 Sociological Analysis 266
12 Erotic Analysis 285
13 Ecological Analysis 312
14 Conclusion: the Partial Pachyderm 335
Appendix: Sample Student Essays 351
Glossary 375
Index 382
See More
Brian L. Ott is Associate Professor of Media Studies in the Department of Communication at the University of Colorado Denver. He is the author of The Small Screen: How Television Equips Us to Live in the Information Age (Wiley Blackwell, 2007) and co-editor of It's Not TV: Watching HBO in the Post-Television Era (2008).

Robert L. Mack is a PhD candidate in the Department of Communication Studies at the University of Texas at Austin. His writing has appeared in The Journal of the Fantastic in the Arts and The Journal of GLBT Family Studies.
See More
"Two gifted media scholars, Brian L. Ott and Robert L. Mack, here explore the role of new and developing media in personal, social, and cultural development.  They provide clear and workable explanations of terms that are often taken for granted, such as new media or postmodernity.  This is an invaluable book for student and professional alike.  It helps the reader not only to understand media but to take an active role in critiquing it so as to understand what it does." — Barry Brummett, University of Texas at Austin, USA

"Critical Media Studies is both theoretically sophisticated and accessible. With examples that span the full spectrum of contemporary media, the text is sure to engage students while also challenging them to think through the complexities of media and its impact on us." — Lisa A. Flores, University of Colorado-Boulder, USA
See More
Instructors Resources
Request a print evaluation copy
Contact us

Contact your Wiley Representative
Find Your Rep

See More
See Less
Learn more about