E-book
A Companion to Latin American Cinema
ISBN: 978-1-118-55739-6
560 pages
March 2017, Wiley-Blackwell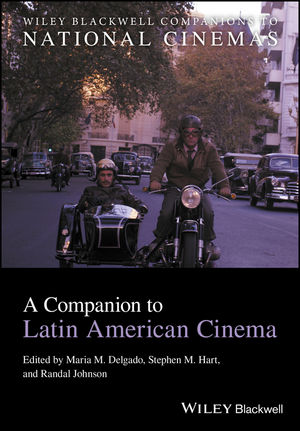 A Companion to Latin American Cinema
offers a wide-ranging collection of newly commissioned essays and interviews that explore the ways in which Latin American cinema has established itself on the international film scene in the twenty-first century.
Features contributions from international critics, historians, and scholars, along with interviews with acclaimed Latin American film directors
Includes essays on the Latin American film industry, as well as the interactions between TV and documentary production with feature film culture
Covers several up-and-coming regions of film activity such as nations in Central America
Offers novel insights into Latin American cinema based on new methodologies, such as the quantitative approach, and essays contributed by practitioners as well as theorists
See More
Maria M. Delgado is Professor and Director of Research at The Royal Central School of Speech and Drama, University of London, and has served as a programme advisor to the London Film Festival since 1997. Recent publications include Spanish Cinema 1973–2010 (2013) and A History of Theatre in Spain (2012). She is a regular contributor to Sight & Sound and a range of BBC Radio programmes.
Stephen M. Hart is Professor of Latin American Film, Literature and Culture at University College London. He is also general editor of Tamesis and founder-director of the Centre of César Vallejo Studies. His publications include Gabriel García Márquez (2016), Latin American Cinema (2015), and A Companion to Latin American Literature (2007).
Randal Johnson is Distinguished Professor of Brazilian Literature and Cinema at the University of California, Los Angeles. He is the author of Manoel de Oliveira (2007), Antônio das Mortes (1998), The Film Industry in Brazil: Culture and the State (1987), and Cinema Novo x 5: Masters of Contemporary Brazilian Film (1984).
See More
"A richly informed and probing analysis of one of the world's most dynamic film-making regions. Indispensable
"
Demetrios Matheou
, film critic and author of
The Faber Book of New South American Cinema


"An essential and highly readable study that investigates cinematic languages of Latin America's vibrant film scene to provide a curated collection on resurgent methodologies of fictional storytelling and documentaries. This extremely useful resource maps the current state of production, distribution, and exhibition, and the political trajectories of the cinema of Latin America. Particularly invaluable is the inclusion of interviews with key players from the moving image sector of that region."
Nico Marzano,
Head of Film Programming, ICA London
See More
More in this series