Addiction Treatment Homework Planner, 5th Edition
ISBN: 978-1-118-56059-4
408 pages
March 2014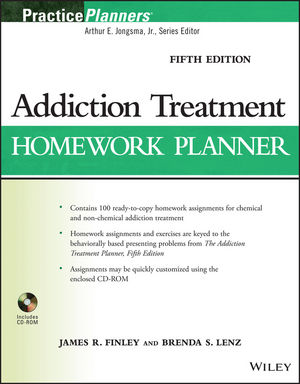 Help clients develop the skills they need to work through addiction problems
The Addiction Treatment Homework Planner provides an array of ready-to-use, between-session assignments designed to fit virtually every treatment setting and therapeutic mode including individual therapy, family therapy, and group counseling. This easy-to-use sourcebook features:
100 ready-to-copy exercises covering the most common issues encountered by clients suffering from chemical and nonchemical addictions, such as anxiety, impulsivity, occupational problems, and childhood problems
A quick-reference format – the interactive assignments are grouped by behavioral problems including alcoholism, nicotine dependence, and substance abuse, as well as those problems that do not involve psychoactive substances, such as problem gambling, eating disorders, and sexual addictions
Offers special attention to the patient placement Criteria (PPC) developed by the American Society of Addiction Medicine (ASAM). A checklist included in the Appendix helps evaluate clients on each of the ASAM six assessment dimensions
Expert guidance on how and when to make the most efficient use of the exercises
A CD-ROM that contains all the exercises allows you to customize the exercises to suit you and your clients' unique styles and needs
See More
PracticePlanners Series Preface xv
Preface xvii
SECTION 1: Adult-Child-of-an-Alcoholic (ACA) Traits 1
SECTION 2: Anger 8
SECTION 3: Antisocial Behavior 17
SECTION 4: Anxiety 24
SECTION 5: Attention-Deficit/Hyperactivity Disorder (ADHD)—Adolescent 32
SECTION 6: Attention-Deficit/Hyperactivity Disorder (ADHD)—Adult 40
SECTION 7: Bipolar Disorder 49
SECTION 8: Borderline Traits 55
SECTION 9: Childhood Trauma 62
SECTION 10: Chronic Pain 68
SECTION 11: Conduct Disorder/Delinquency 75
SECTION 12: Dangerousness/Lethality 83
SECTION 13: Dependent Traits 89
SECTION 14: Eating Disorders and Obesity 97
SECTION 15: Family Conflicts 104
SECTION 16: Gambling 110
SECTION 17: Grief/Loss Unresolved 116
SECTION 18: Impulsivity 126
SECTION 19: Legal Problems 132
SECTION 20: Living Environment Deficiency 140
SECTION 21: Medical Issues 147
SECTION 22: Narcissistic Traits 154
SECTION 23: Nicotine Use/Dependence 160
SECTION 24: Obsessive-Compulsive Disorder (OCD) 170
SECTION 25: Occupational Problems 180
SECTION 26: Oppositional Defiant Behavior 187
SECTION 27: Parent–Child Relational Problem 194
SECTION 28: Partner Relational Conflicts 201
SECTION 29: Peer Group Negativity 209
SECTION 30: Posttraumatic Stress Disorder (PTSD) 215
SECTION 31: Psychosis 222
SECTION 32: Relapse Proneness 229
SECTION 33: Self-Care Deficit as a Primary Problem 240
SECTION 34: Self-Care Deficit as a Secondary Problem 247
SECTION 35: Self-Harm 253
SECTION 36: Sexual Abuse 259
SECTION 37: Sexual Promiscuity 267
SECTION 38: Sleep Disturbance 274
SECTION 39: Social Anxiety 279
SECTION 40: Spiritual Confusion 288
SECTION 41: Substance-Induced Disorders 294
SECTION 42: Substance Intoxication/Withdrawal 301
SECTION 43: Substance Use Disorders 307
SECTION 44: Suicidal Ideation 329
SECTION 45: Treatment Resistance 336
SECTION 46: Unipolar Depression 343
APPENDIX A: Alternate Assignments for Presenting Problems 350
APPENDIX B: Suggested Bibliotherapy 371
APPENDIX C: Alphabetical Index of Exercises 384
About the Authors 387
About the CD-ROM 388
See More
JAMES R. FINLEY, MA, is a mental health and addictions therapist who has conducted individual, couples, family, and group therapy with adults, adolescents, and children in outpatient treatment, foster care, residential, and correctional settings. He is the author of Integrating the 12 Steps into Addiction Therapy and coauthor of The Addiction Counselor's Documentation Sourcebook, Second Edition, and the Veterans and Active Duty Military Psychotherapy Homework Planner.
BRENDA S. LENZ, MS, is a licensed professional counselor and certified substance abuse counselor with extensive experience treating clients with co-occurring issues. She specializes in treating substance use disorders in college-aged students. She is coauthor of The Addiction Counselor's Documentation Sourcebook, Second Edition, published by Wiley. She currently works in a university counseling center and in private practice.
See More