E-book
Nitrenes and Nitrenium Ions
ISBN: 978-1-118-56087-7
598 pages
April 2013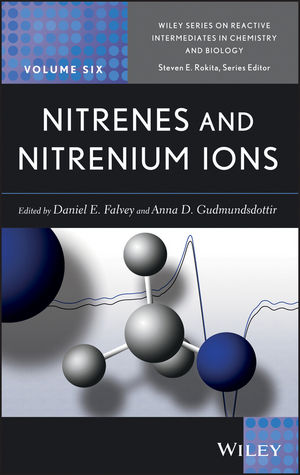 Featuring contributions respected leaders in the field, Nitrene and Nitrenium Ions is the first comprehensive book to explore the role of reactive intermediate nitrene and nitrenium ions in chemistry and biochemistry. Covering a broad range of topics, including ultrafast studies, computational studies, behavior in aqueous solution, electronic structures, and reactions with aromatic compounds, this valuable resource will empower graduate students and researchers to better understand and expand their synthetic utility.
See More
Preface to the Series vii
Introduction ix
Contributors xi
1 Ultrafast Time-Resolved Studies of the Photochemistry of Aryl Azides 1
Jin Wang, Gotard Burdzinski, and Matthew S. Platz
2 Theory and Computation in the Study of Nitrenes and their Excited-State Photoprecursors 33
Shubham Vyas, Arthur H. Winter, and Christopher M. Hadad
3 Nitrenium Ions and Related Species in Photoaffinity Labeling 77
R. Marshall Wilson and Valentyna Voskresenska
4 Aryl Nitrenium Ions in Aqueous Solution 117
Michael Novak and Yue-Ting Wang
5 Triplet Alkyl Nitrenes 167
Sivaramakrishnan Muthukrishnan, Ranaweera A. A. U. Ranaweera, and Anna D. Gudmundsdottir
6 Electronic Properties of Nitrenium Ions 191
Daniel E. Falvey
7 Time-Resolved Resonance Raman Spectroscopic Studies of Aryl Nitrenium Ions and their Chemical Reactions 217
David Lee Phillips
8 Matrix Studies on Aromatic and Heteroaromatic Nitrenes and their Rearrangements 273
Curt Wentrup
9 Nitreno Radicals 317
Dirk Grote and Wolfram Sander
10 Synthetic Applications of Nitrenium Ions 347
Duncan J. Wardrop and Edward G. Bowen
11 Fluorinated Aryl Nitrene Precursors 451
Elisa Leyva, Denisse de Loera, Socorro Leyva, and Rogelio Jimenez-Cata~no
12 Properties of Carbonyl Nitrenes and Related Acyl Nitrenes 481
Nina P. Gritsan
Index 549
See More
DANIEL E. FALVEY, PhD, is Professor at the University of Maryland. His research focuses on reaction mechanisms and reactive intermediates, with an emphasis on the exploration of intermediates that play a role in biochemical processes. Dr. Falvey has been awarded the Merck Award and the Reynold C. Fuson Memorial Award in Chemistry. Acclaimed for his teaching abilities, he has received the Outstanding Teacher Award from the Center for Teaching Excellence.
ANNA D. GUDMUNDSDOTTIR, PhD, is Professor of Chemistry at the University of Cincinnati. Dr. Gudmundsdottir's studies photo-removeable protecting groups, reactive intermediates, and polymer modification. Her research team elucidated the reactivity of triplet alkyl and vinyl nitrenes in solution and solid state using transient spectroscopy and matrix isolation. Among her many honors, Dr. Gudmundsdottir is a recipient of the NSF CAREER Award.
See More
More in this series