Introduction to Private Equity: Venture, Growth, LBO and Turn-Around Capital, 2nd Edition
ISBN: 978-1-118-57192-7
408 pages
August 2013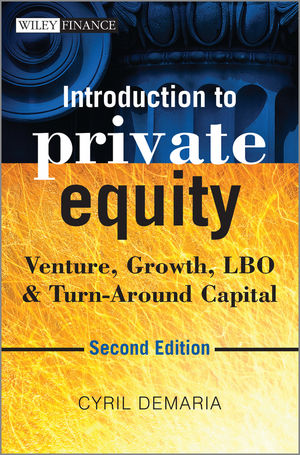 This second edition of Introduction to Private Equity is more than an update, it reflects the dramatic changes which have affected an industry which is evolving rapidly, internationalizing and maturing fast. What is recognized as a critical yet grounded guide to the private equity industry blends academic rigour with practical experience. It provides a clear, synthetic and critical perspective of the industry from a professional who has worked at many levels within the industry; including insurance, funds of funds, funds and portfolio companies.
The book approaches the private equity sector top-down, to provide a sense of its evolution and how the current situation has been built. It then details the interrelations between investors, funds, fund managers and entrepreneurs. At this point, the perspective shifts to bottom-up, how a private business is valued, how transactions are processed and the due diligence issues to consider before moving ahead.
Introduction to Private Equity, Second Edition covers the private equity industry as a whole, putting its recent developments (such as secondary markets, crowdfunding, venture capital in emerging markets) into perspective. The book covers its organization, governance and function, then details the various segments within the industry, including Leveraged Buy-Outs, Venture Capital, Mezzanine Financing, Growth Capital, Distressed Debt, Turn-Around Capital, Funds of Funds and beyond. Finally, it offers a framework to anticipate and understand its future developments.
This book provides a balanced perspective on the corporate governance challenges affecting the industry and draws perspectives on the evolution of the sector, following a major crisis.
See More
Foreword to the Second Edition xi
Acknowledgements xiii
About the Author xv
Introduction 1
0.1 A Moving Target 1
0.2 A Consubstantial Lack of Information 2
0.3 Benign Neglect, Malign Consequences 5
0.4 Knowing the Devil to Circumvent it 6
PART I WHAT IS PRIVATE EQUITY? 9
1 Private Equity as an Economic Driver: An Historical Perspective 11
1.1 Pooling Interests to Identify and Exploit Sources of Wealth 12
1.1.1 Identify, Control and Exploit Resources 13
1.1.2 Leverage Public Policies and a Favourable Business Environment 15
1.2 Championing Entrepreneurship 17
1.2.1 No Private Equity without Entrepreneurs 17
1.2.2 Convert Ventures into Business Successes 20
1.2.3 Entrepreneurship and Private Equity Form a Specific Ecosystem 22
1.3 Conclusion: An Attempt at Definition 24
1.3.1 A Negotiated Investment in Equity or Quasi-Equity 24
1.3.2 A Fixed Maximum Term 25
1.3.3 Implying Specific Risks 25
1.3.4 With High Expected Returns 25
1.3.5 Undertaken on Behalf of Qualified Investors 25
1.3.6 To Support Entrepreneurs 25
2 Modern Private Equity – A French Invention? 33
2.1 USA: The Foundry of Modern Private Equity 34
2.1.1 The Strict Separation of Public Policies and Public Financing 34
2.1.2 The Separation of Public Endeavours and Private Efforts; the Subsequent Support of the Former for the Latter 35
2.1.3 Governmental Input: SBA, DARPA and ERISA 35
2.1.4 Universities, Defence and Disruptive Innovation 36
2.1.5 Challenges 37
2.2 Europe: Adapting a Successful Model or Creating its Own? 39
2.2.1 Governmental Input: Legal Changes, Tax Rebates, Infrastructures and Pan-EU Market 40
2.2.2 National Champions, Information Technologies and Incremental Innovation 43
2.2.3 Challenges 47
2.3 Conclusion: Emerging Markets, Building Castles on Sand? 57
PART II THE PRIVATE EQUITY ECOSYSTEM 71
3 Private Equity: A Business System Perspective 73
3.1 We Are All Investors in Private Equity 73
3.1.1 Sources of Capital 73
3.1.2 Private Equity Investment Rationale 79
3.2 Organisation and Governance of Private Equity Funds 91
3.2.1 Private Equity Fund Managers are Financial Intermediaries 91
3.2.2 Incentives and Fees 93
3.2.3 Conflicts of Interest 95
3.2.4 Power, Checks and Balances 98
3.3 Measuring Performance, Managing Risks and Optimising Returns 99
3.3.1 Measuring Performance in an Uncertain Context 99
3.3.2 Managing Risks and Optimising Returns 103
3.4 Pitfalls and Challenges 110
3.5 Conclusion 113
4 The Universe of Investment 117
4.1 Venture Capital: Financing Company Creation 122
4.1.1 Venture Capital Investment Targets 122
4.1.2 Actors and Structures 130
4.1.3 Operational Activities 142
4.1.4 Challenges 144
4.1.5 Limits 152
4.2 Growth Capital: Financing Companies' Expansion 152
4.2.1 Growth Capital Investment Targets 152
4.2.2 Actors and Structures 152
4.2.3 Operational Activities 154
4.2.4 Challenges 154
4.2.5 Limits 155
4.3 Leveraged Buy-Out: Financing Companies' Transmissions 155
4.3.1 LBO Investment Targets 156
4.3.2 Actors 158
4.3.3 Operational Activities 160
4.3.4 Challenges and Limits 165
4.4 Other Interventions in Private Equity 177
4.4.1 Funds of Funds 178
4.4.2 Targeting the Stock Exchange 183
4.4.3 Special Situations: Turn-Around Capital and Distressed Debt 186
4.4.4 Quasi-Equity Instruments (Mezzanine) and Second Lien Debt 198
4.4.5 Merchant Banking, Investment Banking and Private Equity House Intervention 212
4.4.6 Secondary Market 214
4.4.7 Real Estate, Infrastructure and Exotic Assets 218
4.5 Conclusion 221
4.5.1 Private Equity is a Financing Solution Designed for a Specific Need 221
4.5.2 Venture and Growth Capital 221
4.5.3 Leveraged Buy-Out 221
5 The Process of Investment: A Matter of Trust and Mutual Interest 225
5.1 Step 1: Preliminary Analysis 225
5.2 Step 2: Valuation 226
5.3 Step 3: Negotiating 227
5.4 Step 4: Structuring 228
5.5 Step 5: Complementary Due Diligence 229
5.6 Step 6: Transaction 229
5.7 Step 7: Monitoring and Exit 230
5.8 Conclusion 230
PART III PRIVATE EQUITY IN TEENAGE TIME: TREND SETTING, FADS AND RESPONSIBILITIES 233
6 Private Equity Evolution: Trends or Buzzes? 235
6.1 Is Private Equity Going Mainstream? 235
6.2 Is Private Equity (Still) Creating Value? 239
6.3 Private Equity: Between Bubbles and Crashes 242
6.4 Conclusion 247
6.4.1 There is No Such Thing as 'Capital Overhang' 247
6.4.2 Elements of Analysis 248
6.4.3 From 'Capital Overhang' to 'Dry Powder' 250
7 Private Equity and Ethics: A Culture Clash 255
7.1 Greed 255
7.2 Destruction 261
7.3 Philanthropy 266
7.4 Transparency 268
7.5 Self-Regulation or Imposed Regulation? 269
7.6 Conclusion 271
8 General Conclusion – Private Equity Today and Tomorrow 275
8.1 Fewer General Partners, but not Necessarily Better Ones 275
8.2 Core Target: Manage the Volatility of Performance 276
8.3 The Only Valid Leitmotiv: Long-Term Thinking 278
8.4 The Impact of Fair Market Value 280
8.5 A Long-Term Trend: The Attractiveness of Private Equity 281
8.6 Private Equity: Future Victim of its Own Success? 290
8.7 The Impact of a Better Knowledge of Private Equity 294
8.7.1 Understanding the Risk and Managing the J-Curve 294
8.7.2 Innovating through Structuring 296
8.7.3 The Temptation of Co-Investments 297
8.7.4 Change or Die: The Pressure on General Partners 298
8.7.5 Regulation: Damocles' Sword Looming over Private Equity 299
Template 1 (Fund) 303
Architecture of the Private Placement Memorandum of a Private Equity Fund 303
Template 2 (Fund) 305
Structure of a Limited Partnership Agreement 305
Template 3 (Fund) 309
Due Diligence Checklist 309
Template 4 (Fund) 313
Quarterly Report Template 313
Template 5 (Company) 317
Non-Disclosure Agreement 317
Template 6 (Company) 321
Business Plan 321
Template 7 (Company) 327
Term-Sheet 327
Business Case: Kroton Educacional SA – A Private Equity Operation Can Hide Another One 333
Exhibits 349
Glossary 361
Bibliography 375
Index 383
See More
Cyril Demaria specializes in private equity and combines practical and entrepreneurial experience, academic knowledge and lecturing experience. Prior to founding and managing Pilot Fish, a series of private equity funds, he was Chief Investment Officer of Tiaré Investment Management AG (Zurich). He previously created a multi-strategy fund of funds focused on environment (Pionat Viable Investments). Prior to that, he was an Investment Associate in a Swiss private equity fund of funds; a Portfolio Manager responsible for private equity funds investments for a French insurance group; and Head of Corporate Development of a French IT firm in charge of acquisitions and financing. He started his career in an American hybrid venture capital and fund of funds firm. A French citizen, Cyril holds a BA in Political Sciences from the Institut d'Etudes Politiques (Lyon), a Master in Geopolitics applied to Money and Finance (Paris); a Master in European Business Law (Paris) and is a graduate from HEC (Paris, specialized in Entrepreneurship). He is a doctoral candidate at University Sankt-Gallen and  an Associate Professor at EDHEC (Nice, Lille, London), ESCP-Europe (London), ESCE (Paris), EADA (Barcelona), Fipecafi (Sao Paulo), USP (Sao Paulo) and IFP Business School (Paris). He lectures on "Private Equity", "LBO", "Money and Finance", and "International Finance". He notably holds executive training sessions at the Association Française des Investisseurs en Capital (Paris), and the Société Française des Analystes Financiers (Paris). Cyril collaborates regularly as an expert with the SECA, AFIC and EVCA.
See More