E-book
How to Write Successful Fundraising Appeals, 3rd Edition
ISBN: 978-1-118-57321-1
384 pages
May 2013, Jossey-Bass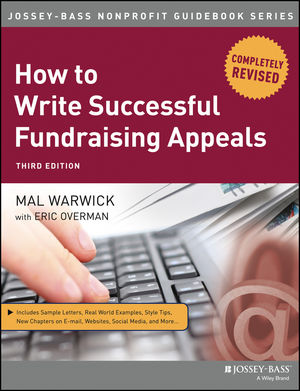 Includes Sample Letters, Real World Examples, Style Tips, New Chapters on E-mail, Websites, Social Media, and More...
Now in a completely revised third edition, this classic book shows how to create winning appeals that will realize the full potential of direct mail and online fundraising. Written by fundraising guru Mal Warwick, with assistance from Eric Overman, this comprehensive resource gives nonprofit fundraising staff the information needed to write compelling fundraising appeals for any medium. If you follow Warwick's guidelines, your direct mail and online fundraising campaigns will produce better results, year after year.
Written in an easy-to-read style, the book is filled with practical techniques, proven approaches, and illustrative examples of both successful and unsuccessful appeals based on the authors' wealth of experience fundraising for hundreds of nonprofits. Step-by-step and appeal by appeal, the book shows how to navigate the fundraising appeal process with ease. To meet the demands of today's socially connected donors, this new edition explains how to mesh today's online technologies with direct mail to produce optimal fundraising results. You'll learn how to use e-mail, websites, Facebook, Twitter, and mobile technology to recruit more donors and raise more money. The book includes current research on timely topics such as online vs. offline behavior, online giving statistics, demographics, and best practices in integrated fundraising.
If you're a nonprofit professional eager to master the latest methods in fundraising, or simply need to write direct mail appeals for your organization, How to Write Successful Fundraising Appeals will help you hone your skills and create appeals that will hit the mark every time.
See More
Preface to the Third Edition  ix
About the Author  xv
Introduction: Why You Should Read This Book     1
PART I Motivating Your Audience
1 Why People Respond to Fundraising Appeals
2 How a Fundraising Appeal Is Like a Personal Visit
3 What Donors Really Think About Fundraising Letters
4 Characteristics of an Effective Fundraising Appeal
5 A Leisurely Tour Through One Successful Appeal
PART II Your Plan of Action
6 What to Do Before You Write Any Fundraising Appeal
7 Eight Steps Toward Successful Fundraising Appeals
8 The Cardinal Rules of Fundraising Letters
9 You're Writing for Results—Not for a Pulitzer Prize
PART III Customizing Your Appeal
10 Recruiting New Donors: Starting Intimate
Conversations with Strangers
11 Recruiting New Supporters: Beginning the Cultivation Process Online
12 Welcoming New Donors: Treating People Like Part of the Family
13 Appealing for Special Gifts: Bringing Your Case Down to Earth
14 Asking for Year-End Contributions: Making the Most of the Holiday Spirit
15 Recruiting Monthly Sustainers: Offering Small Donors a Chance for Greater Impact
16 Soliciting High-Dollar Gifts: Framing the Case for Major Contributions
17 Going for Bigger Gifts: Persuading Donors to Make an Extra Commitment
18 Seeking Annual Gifts: Building Long-Term Loyalty, One Year at a Time
19 Thanking Your Donors: Friend-Raising Before Fundraising
20 Promoting Legacy Gifts: Seeking the Ultimate Commitment
PART IV Reinforcing Your Appeal
21 Rounding Out Your Appeal with Online Media and More
22 Writing Online Appeals
23 The New Keys to Success in Fundraising Today
PART V The Appeal Writer's Toolbox
A Sample Multichannel Campaign Calendar
B Twenty Great Email Subject Lines
C Sixty Successful Outer Envelope Teasers
D Fifty-Four Strong Leads for Fundraising Appeals
E Ninety Ways to Use the Word "You" in a Fundraising Appeal
F Sixty-Three Ways to Handle Awkward Copywriting Transitions
G Forty-One Powerful Ways to End a Fundraising Appeal
H Fifty-Eight Ways to Start a P.S. in a Fundraising Appeal
I Fifteen Ways How Not to Get Results
Index
See More
Mal Warwick, consultant, author, and public speaker, is the founder and chair of Mal Warwick | Donordigital. Warwick has written or edited many books including Fundraising When Money is Tight, Revolution in the Mailbox, The Five Strategies for Fundraising Success, and Fundraising on the Internet. Find more information on Mal and his books at www.malwarwick.com and www.josseybass.com/go/warwick
Eric Overman is vice president of digital strategy at Donordigital. Prior to joining Donordigital, Eric was vice president of digital strategy at Grizzard Communications.
See More
More in this series