E-book
The Effective Public Manager: Achieving Success in Government Organizations, 5th Edition
ISBN: 978-1-118-57329-7
352 pages
August 2013, Jossey-Bass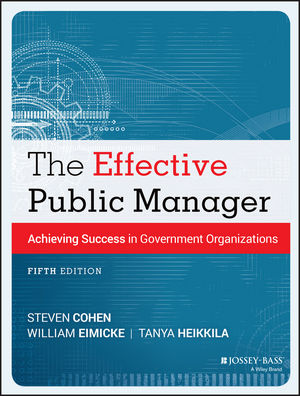 The Effective Public Manager
Thoroughly revised and updated, the fifth edition of The Effective Public Manager offers public administrators and students a classic resource and a highly-accessible guide to the fundamentals of leading and managing public organizations. In this new edition the authors cover the key areas of the field and present in-depth analysis through the strategic use of fresh case studies and real-world examples. The book is designed to give real-world managers and aspiring managers the information and tools needed to meet the demands of their jobs directly rather than working around the constraints of government. The Effective Public Manager offers a proven approach to implementing efficient management tools in a dynamic political, organizational, economic, and technological context.
New to this edition
Information on the transformation of media, both traditional and social
An analysis of the changing nature of work and privatization trends
An examination of national security and the current thinking regarding accountability, transparency, and crisis communication
An online instructor's guide, which includes discussion questions and updated PowerPoint slides
See More
Preface xi

Acknowledgments xxi

The Authors xxiii

1 The Perpetual Crisis in Public Management 1

2 Defining Effective Public Management 19

3 How to Find and Keep Good People 47

4 Developing Effective Working Relationships 75

5 Structuring Systems, Tasks, and Responsibilities 91

6 Understanding and Applying Innovation Strategies in the Public Sector 115

7 The Art and Craft of Contracting 141

8 Gathering, Organizing, and Using Information 155

9 Mastering the Budgetary Process 183

10 Shaping Organizational Goals and Strategies 205

11 Communicating with the Media, Stakeholders, and the Public 233

12 Surviving and Thriving in Public Service 261

References 279

Additional Resources 301

Name Index 303

Subject Index 309
See More
The Authors
STEVEN COHEN is executive director and COO of Columbia University's Earth Institute and professor in the Practice of Public Affairs at the School of International and Public Affairs.
WILLIAM EIMICKE is professor in the Practice of International and Public Affairs and founding executive director of the Picker Center for Executive Education at Columbia University.
TANYA HEIKKILA is associate professor and doctoral program director at the School of Public Affairs at the University of Colorado, Denver.
See More