Textbook
Reframing Organizations: Artistry, Choice, and Leadership, 5th Edition
ISBN: 978-1-118-57333-4
544 pages
August 2013, ©2013, Jossey-Bass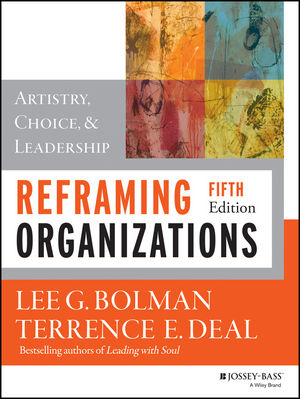 In this fifth edition of the bestselling text in organizational theory and behavior, Bolman and Deal's update includes coverage of pressing issues such as globalization, changing workforce, multi-cultural and virtual workforces and communication, and sustainability. A full instructor support package is available including an instructor's guide, summary tip sheets for each chapter, hot links to videos & extra resources, mini-assessments for each of the frames, and podcast Q&As with Bolman & Deal.
See More
Preface vii
Acknowledgments xiii
PART ONE Making Sense of Organizations 1
1 Introduction: The Power of Reframing 3
2 Simple Ideas, Complex Organizations 23
PART TWO The Structural Frame 41
3 Getting Organized 43
4 Structure and Restructuring 69
5 Organizing Groups and Teams 95
PART THREE The Human Resource Frame 113
6 People and Organizations 115
7 Improving Human Resource Management 137
8 Interpersonal and Group Dynamics 161
PART FOUR The Political Frame 183
9 Power, Conflict, and Coalition 185
10 The Manager as Politician 205
11 Organizations as Political Arenas and Political Agents 225
PART FIVE The Symbolic Frame 243
12 Organizational Symbols and Culture 245
13 Culture in Action 271
14 Organization as Theater 285
PART SIX Improving Leadership Practice 303
15 Integrating Frames for Effective Practice 305
16 Reframing in Action: Opportunities and Perils 323
17 Reframing Leadership 337
18 Reframing Change in Organizations 371
19 Reframing Ethics and Spirit 393
20 Bringing It All Together: Change and Leadership in Action 407
21 Epilogue: Artistry, Choice, and Leadership 431
Appendix: The Best of Organizational Studies 435
Notes 439
Bibliography 441
The Authors 483
Name Index 485
Subject Index 497
See More
Lee G. Bolman holds the Marion Bloch/Missouri Chair in Leadership at the Bloch School of Business and Public Administration at the University of Missouri-Kansas City. He consults worldwide to corporations, public agencies, universities, and schools. In addition to his many books with Terry Deal, he is also coauthor of Reframing Academic Leadership with Joan V. Gallos.
Terrence E. Deal left active university life as the Irving R. Melbo Clinical Professor of the University of Southern California's Rossier School of Education. He is the coauthor of twenty-three books, including the bestselling Corporate Cultures (with A. A. Kennedy, 1982) and Managing the Hidden Organization (with W. A. Jenkins, 1994).
Bolman and Deal are also coauthors of Leading with Soul (now in its third edition), Wizard and Warrior, and their forthcoming book, Reframing Leadership (also from Wiley).
See More
August 15, 2013
Reframing Organizations: Artistry, Choice, and Leadership
Connect with Wiley Publicity
Even for very smart people, cluelessness remains a fact of life, yet leaders often lock themselves into narrow ways of making sense of their circumstances. Processing information is a chronic challenge: how do you know whether you're getting the right picture or tuning in to the wrong channel? The consequences of failing show up every day, sometimes in small ways, sometimes as catastrophes. How can leaders and managers improve the odds for themselves as well as for their organizations?
One of the best defenses is learning to use multiple perspectives, or frames, to develop alternative diagnoses and strategies. Based on decades of social science research across many disciplines, Lee Bolman and Terrence Deal's Reframing Organizations: Artistry, Choice, and Leadership, 5th Edition (Jossey-Bass; 978-1-118-57333-4; August 2013; $65.00; e-book available) makes a strong case for a four-frame model, examining organizations as factories, families, jungles, and theaters or temples.
Thoroughly updated, with new topics and examples, the fifth edition of this bestselling text provides an accessible, compact, and powerful set of ideas for negotiating complexity and turbulence – exactly the conditions that leaders face in contemporary organizations. The four-frame model has been evolving ever since it was originally developed by Bolman and Deal in the mid-1970s and the release of the fifth edition both marks its enduring power and develops it with fresh relevance to the conditions of organizational life today. Reframing Organizations, 5th Edition contains:
New Topics: Includes cross-sector collaboration; generational differences and the implications for the workforce; managing and leading in virtual environments; globalization; communication across cultures and online; and sustainability.
An Expanded Instructor's Guide: Table of Contents for the Instructor's Guide in the new edition. Added summary tip sheets for each chapter with hot links to videos, extra resources; mini-assessments for each of the frames; podcasts/Q&A with Bolman and Deal
Customer-Based Revision: Revision plan is based almost entirely on customer reviews and recommendations.
When the world seems hopelessly confusing and nothing is working, reframing is a powerful tool for gaining clarity, regaining balance, generating new options, and finding strategies that make a difference. Reframing Organizations, 5th Edition provides the updated method for developing this powerful skill in the modern world.
See More
Instructors Resources
ENHANCE YOUR COURSE
Request a print evaluation copy
Contact us

Contact your Wiley Representative
Find Your Rep

See More
See Less
Learn more about