Autodesk Revit Architecture 2014 Essentials: Autodesk Official Press
ISBN: 978-1-118-57508-6
416 pages
May 2013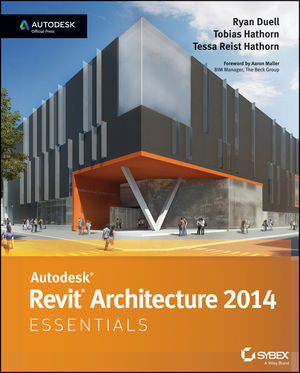 Quickly learn essential Revit Architecture tools and techniques
Autodesk Revit Architecture is the powerful, sophisticated building information modeling (BIM) software that has transformed the architectural design industry. This Autodesk Official Press guide is the perfect introduction to the powerful software for architects, designers, and students. Three Revit experts provide concise explanations, real-world examples, and plenty of hands-on exercises and tutorials. You'll soon master the basics and then find yourself using the software confidently, productively, and effectively.
Beginners will get comfortable with Revit's core features and functions. Current users will have a valuable reference to refresh and hone their skills. And everyone can use this practical book to help prepare for the Revit Architecture certification exams.
Gets readers up and running on Autodesk Revit Architecture 2014, Autodesk's industry-leading building information modeling software
Explains core Revit tools, features, functionality, real-world workflows, and BIM concepts
Covers schematic design, modeling, families, views, creating drawing sets, and more
Features best practices, rendering and visualization, worksharing, documentation, and annotation
Provides downloadable starting and ending files, so readers can compare their work to that of the pro's
Autodesk Revit Architecture 2014 Essentials is your perfect introduction toto the powerful industry-leading BIM software.
See More
Foreword xv
Introduction xxi
Chapter 1 Introducing the Autodesk Revit Architecture Interface 1
Understanding the Interface 2
Properties Palette  2
Project Browser 4
Status Bar 5
View Control Bar 5
ViewCube 5
Options Bar 6
Understanding the Interface Workflow  6
Creating a Simple Layout 7
Using Filter, Mirror, and Trim/Extend  8
Adjusting Datums 11
Changing Element Types 13
Using Common Modifying Tools 16
Using Dimensions for Modifying Designs 16
Aligning Elements  20
Rotating, Grouping, and Arraying  23
Aligned Copying and Group Editing  27
The Essentials and Beyond 30
Chapter 2 Walls and Cur tain Walls 31
Understanding Wall Types and Parameters 31
Basic Walls 32
Stacked Walls 34
Curtain Wall Types 35
Creating Numerous Wall Configurations 36
Sketching Walls 37
Picking Walls  39
Hosting Elements in Walls 40
Modifying Walls 41
Instance Parameters 43
Editing Profiles 44
Attaching and Detaching the Top and Base  45
Resetting Profi les 47
Cutting Openings 48
Splitting Walls 49
Swapping Walls 50
Creating Curtain Walls 51
Curtain Grids 52
Adding Mullions 53
Embedding Curtain Walls 55
Modifying Curtain Walls 56
Editing the Elevation Profile 56
Adding and Modifying Grids and Mullions 57
Unpinning and Toggling Mullions 58
Modifying Curtain-Grid Segments 60
Modifying Curtain Panels 61
Going Beyond the Basics 62
The Essentials and Beyond 64
Chapter 3 Floors, Roofs, and Ceilings 67
Creating Floors  67
Sketching 67
Editing the Boundary   68
Creating Sloped Arrows and Floors  70
Creating Sloped Floors via Shape Editing  72
Creating Openings by Sketching 74
Creating Openings with Shafts 76
Picking Walls 80
Laying Out Roofs 81
Picking Walls 81
Creating Slope Arrows 82
Creating Extruded Roofs 86
Adding Ceilings 89
Creating Automatic Ceilings 90
Sketching Ceilings 91
Dealing with Bulkhead Conditions 94
Adding Lights and Rotating the Grid 96
Changing the Ceiling 97
Sloping the Ceiling  97
The Essentials and Beyond 98
Chapter 4 Stairs, Ramps, and Railings 99
Creating Stair Configurations 99
Creating the Generic Railing  100
Creating Your Design Stair  103
Creating a Straight-Run Stair 104
Creating a Straight-Run Stair with Landing 107
Creating Multistory Runs 110
Setting the Host Function for Railings 112
Designing Ramps 114
Creating a Straight-Run Ramp 115
Editing Boundary Conditions 116
Building Railings for Level and Sloped Conditions 118
Using the Set Host Function 120
Editing the Top Rail 121
From Basics to Creative Art  121
The Essentials and Beyond 123
Chapter 5 Adding Families 125
Understanding the Model Hierarchy 125
Assigning Families to Categories  127
Working with System Families 130
Loading System Families 130
Placing System Families 131
Working with Component Families 132
Loading Component Families 133
Using Hosted Families  134
Using Face-Based Families  138
Using In-Place Component Families 139
Finding Content 139
The Essentials and Beyond  141
Chapter 6 Modifying Families 143
Editing View Display and Detail Level 143
View Scale and Detail Level 145
Level of Detail 148
Changing the Family Category 151
Editing the Family Category 152
Editing the Insertion Point 153
Modifying Family Geometry 158
Editing the Family 158
Editing Profiles  159
Detail Components  163
Repeating Details  167
Title Blocks 168
Hosted Components   172
Family Tips and Best Practices 177
The Essentials and Beyond 179
Chapter 7 Schematic Design 181
Working from a Sketch   181
Importing Background Images  183
Accurately Scaling Images   184
Using Reference Planes and Levels  186
Creating and Placing Groups 190
Modeling In-Place Masses 193
Modeling the Base Mass 193
Modeling the Middle Mass  195
Modeling the Upper Mass 197
Working in 3D 198
Creating Mass Floors 202
Scheduling Mass Floors 203
Updating the Massing Study 206
The Essentials and Beyond  208
Chapter 8 Rooms and Color-Fill Plans 209
Defining Rooms in Spaces 209
Room Tags 210
Room Boundaries 213
Room Separation Lines 215
Deleting Rooms 217
Generating Color-Fill Room Plans 219
Adding a Color Legend 219
Modifying Color Schemes 221
Adding Tags and Fill Colors in Section 222
The Essentials and Beyond 225
Chapter 9 Materials, Rendering, and Visualization 227
Using Materials  228
Editing Material Properties of Walls 228
Using Graphic Display Options 231
Presentation Elevation Drawing  231
Presentation 3D Isometric Drawing 235
3D Exploded View  237
Rendering Graphics 238
The Essentials and Beyond 241
Chapter 10 Worksharing 243
Enabling Worksharing 244
Preparing the Central File 244
Creating Central and Local Files 246
Creating the Central File 246
Creating the Local File 247
Adding Worksets 248
Workset Visibility 250
Assigning Elements to Worksets 250
Saving to the Central File 253
Creating New Elements 255
Opening and Closing Worksets 259
Worksharing Display Modes 260
Editing Requests 263
Worksharing Best Practices 264
The Essentials and Beyond  265
Chapter 11 Details and Annotations 267
Creating Details 267
Detail Line 268
Region 269
Component 269
Creating a Detail 270
Insulation 280
Detail Groups 280
Linework 281
Annotating Your Details 282
Dimensions 283
Tags 288
Text 291
Using Legends  292
The Essentials and Beyond 294
Chapter 12 Creating Drawing Sets 297
Creating Schedules 297
Understanding Schedules  298
Making Schedules  305
Creating a Window Schedule 305
Creating a Room Schedule  307
Creating a Sheet List 309
Placing Views on Sheets 313
Adding Floor Plans to the Sheet 313
Adding the Schedules  319
Printing Documents 321
Exploring the Print Dialog Box 321
Exploring the Print Settings  322
Exploring the Print Range 325
The Essentials and Beyond 327
Chapter 13 Workflow and Site Modeling 329
Understanding a BIM Workflow 329
Staffing a BIM Project 332
Project Roles Using Revit Architecture 332
Adding Team Members to Fight Fires 336
Modeling a Site  337
Using a Toposurface 338
Creating a Building Pad 340
Performing Quality Control on Your Model 342
Keeping an Eye on File Size  342
Dealing with Warnings 345
The Essentials and Beyond 347
Chapter 14 Repeating Objects, Best Practices, and Quick Tips 349
Repeating Objects 349
Optimizing Performance 352
Utilizing Best Practices 355
Using Quick Tips and Shortcuts 359
Finding Additional Resources  365
The Essentials and Beyond  366
Appendix: Autodesk Revit Architecture 2014 Certification 367
Index 377
See More
Ryan Duell is a senior quality assurance analyst for Revit. He also contributes to the Revit Clinic blog (revitclinic.typepad.com), presents at Autodesk University, and is a former BIM manager. Tobias Hathorn is a licensed architect and user experience designer for Revit and also lectures at Autodesk University. He previously worked at BNIM architects on a million-square-foot IRS paper processing center using Revit. Tessa Reist Hathorn is a licensed architect at Austin Architects (Cambridge, Massachusetts) and has worked on everything from private residences to the Marina Bay Sands, Singapore. All three authors teach Revit at the Boston Architectural College.
See More
Do you think you've discovered an error in this book? Please check the list of errata below to see if we've already addressed the error. If not, please submit the error via our Errata Form. We will attempt to verify your error; if you're right, we will post a correction below.
Chapter
Page
Details
Date
Print Run
Metric measurements updated/corrected, and metric project files
Many imperial measurements in the first printing of the book were not accompanied by metric equivalents or the equivalents given were not those a metric user would typically use. See the individual errata entries below for the details of these corrections. Also, at the time of the release of the first printing, metric project files were not provided. Project files using metric measurements are now available for all chapters on the downloads tab of this page. The filenames of these files are the same as the filename given in the book, with "-metric" or "_Metric" appended to the name.
8/27/13
1st
3
67
Text correction: Incorrect floor type
First paragraph under "Sketching": "The floor type you'll be using is Generic - 12'." should be "The floor type you'll be using is Generic - 12"." (12 inches, not feet)
8/28/13
1st
3
84
Text correction: Incorrect Height Offset under "Creating Slope Arrows"
Under step 2, "Set Height Offset at Head to 6" (2m)." should read: 6', feet not inches.
8/29/13
1st
5
131
Text correction: Errors in tutorial under "Loading System Families"
Step 5: "Start the Wall tool from the Home tab..." should read "Start the Wall tool from the Architecture tab..."
"...locate the transferred wall types that begin with c05" should read "...locate the transferred wall types that begin with c05 or c06"
8/28/13
1st
9
228
Text correction: Typo in dimension of wall type
In step 2, "Generic 62 wall type" should read "Generic 6" wall type"
8/28/13
1st
11
293
Text correction: Typo in dimension of wall type
In step 2 "Gyp 4 7/82 wall type" should read "Gyp 4 7/8" wall type"
8/29/13
1st
12
308
Text correction: Wrong columns identified under "Creating a Room Schedule"
In step 2, the wrong columns are named. The first sentence should read: "Hold down the Shift key, and click the four cells that are directly above the D, E, F, and G columns..." as shown in Figure 12.10.
8/30/13
1st
1
Chapter 1 corrections and updates to metric equivalents
page 12: last sentence, step 5: "...to operate in 6" increments." 6" = 100 mm
page 19, steps 13 and 14: change 3.6 m to 3600 mm
page 20, step 1: change 2.5 m to 2500 mm
page 23, step 3: for Desk: Type D1 in metric, use M_Desk 1525 x 762 mm
page 26, step 16: change 2.5 m to 2500 mm

8/27/13
1st
2
Chapter 2 corrections and updates to metric equivalents
page 32, second sentence of second paragraph: "Generic 8" (200 mm) Masonry wall type"
page 41, step 1: change 12 m to 12000 mm
page 44, step 1: change 12 m to 12000 mm
page 51, second paragraph: change 12 m to 12000 mm
page 55, step 1: change 12 m to 12000 mm
page 55, step 2: change 9 m to 9000 mm

8/27/13
1st
3
Chapter 3 corrections and updates to metric equivalents
page 67, first paragraph under "Sketching": Generic - 12' should be Generic - 12" (300 mm) [12' in original is a typo; metric measurement added - Ed.]
page 68, step 3: change 4.5 m × 9 m to 4500 mm × 9000 mm
page 70, step 4: change 4.5 m × 9 m to 4500 mm × 9000 mm
page 78, step 4: change 6 m × 1 m to 6100 mm × 1000 mm
page 84, step 2 (near top of page): change 2 m to 2000 mm
page 84, step 3 (near foot of page): change 1 m to 1000 mm
page 86, step 8: "Change the value to 6'-0"...": 6'-0" = 1800 mm; reset the offset to 0 mm
page 87, step 4: change 6 m to 6100 mm
page 91, step 2: "sketch a 2' × 4" (1.2 m × 600 mm) system": 4" is a typo; the measurements should be 2' × 4'. Use 600 mm × 1200 mm for the metric equivalent.
page 92, caption of Figure 3.32: 2' × 4" (1.2 m × 600 mm) should be 2' × 4' (600 mm × 1200 mm)
page 94, step 1: change 2.3 m to 2400 mm and 700 cm to 700 mm
page 95, step 3: change 2.7 m to 2700 mm
page 96, step 2: both instances of 2' × 4" are in error. Change to 2' × 4' (600 mm × 1200 mm) [4" in original is a typo; metric measurement added - Ed.]
8/27/13
1st
4
Chapter 4 corrections and updates to metric equivalents
page 100, step 3: change 10 m to 10000 mm
page 109, step 1: Let's change the dimension to 4'-0". 4'-0" = 1200 mm
page 109, step 3: Set Actual Run Width to 6'-0"... 6'-0" = 1800 mm
page 111, step 1: change 3 m to 3000 mm; change 15 m to 12000 mm
page 114, second paragraph under "Designing Ramps": change 9 m to 9000 mm
page 115, first paragraph: change 3 m to 3000 mm; 36.5 m to 36,600 mm; 9 m to 9000 mm
page 119, step 3: set the offset value to 0 mm
page 119, steps 4 and 5: change 1 m to 1000 mm
8/27/13
1st
5
Chapter 5 corrections and updates to metric equivalents
page 126, "Instance": the metric equivalent type of 36 × 80 Wood is 0915 × 2032mm
page 131, step 1: metric users should create a new project using the DefaultMetric template

8/27/13
1st
6
Chapter 6 corrections and updates to metric equivalents
Throughout the chapter, reference is made to the names of families (like Furniture Tag and Rectangular Handrail). In all such instances, the equivalent metric family has the same name with "M_" preceding the name. (M_Furniture Tag, M_Rectangular Handrail, etc.)
page 154, step 3: change 180 cm × 90 cm to 1830 mm × 915 mm
page 156-7, steps 8 and 10: change 1829 mm to 2000 mm
page 160, step 4, change to read: "In the Project Browser, select Families > Railings > Railing, and right-click Handrail ? Rectangular (1100mm). Select Duplicate from the context menu. The copy is named Handrail ? Rectangular 2 (1100mm 2); right-click it, and select Rename from the context menu. Change the name to L Shaped Handrail (M_ L Shaped Handrail)."
page 66, step 9: "Change the Jag Depth value to 0' 6"...": 0' 6" = 150 mm
8/27/13
1st
7
Chapter 7 corrections and updates to metric equivalents
page 183, step 1: "On the home screen, select Architecture Template (DefaultMetric template)..."
page 184, under "Accurately Scaling Images": 70 feet is approximately 21 meters, not 52 as given.
page 185, step 1: "Notice the current dimension for the Height field is 113' 9"..." 113' 9" = 36,124 mm
page 186, step 2 (cont.): So for this example, you'd use the following:
113'-9" × (800' / 70') or (36,124 mm × (243,000 mm / 21,000 mm)
page 186, step 3: 1" = 40'-0" (1:500)
page 187, step 5: type in 30 (9000); type in 20 (6000)
page 188, step 1: change 3 m to 4000 mm; type in the new elevation of 20' (6000)
page 188, step 2: change 10 m to 10,000 mm
page 190, step 2 (near top of page): change 45 m to 45,000 mm
page 190, step 3: change 3.6 m to 3600 mm
page 191, step 4: 1" = 40'-0" (1:500)
page 206, under "Updating the Massing Study"; change 12 m to 12,000 m; change 80 m to 80,000 mm

8/27/13
1st
8
Chapter 8 corrections and updates to metric equivalents
page 212, step 4: 274 square feet (26 square meters)

8/27/13
1st
10
Chapter 10 corrections and updates to metric equivalents
page 256, step 2: change "...right-click 72" × 30" (180 cm × 75 cm)" to "...right-click 72" × 30" (1830 × 0762mm)"
page 257, step 3: change "350 cm × 120 cm" to "3500 × 1200mm"
8/27/13
1st
11
Chapter 11 corrections and updates to metric equivalents
Throughout the chapter, reference is made to the names of families (like 06 Blocking and 06 Baseboard). In all such instances, the equivalent metric family has the same name with "Metric" following the name (06 Blocking Metric, 06 Baseboard Metric, etc.)
page 278, step 2: "Create a masonry joint 6" long..." 6" = 150 mm
page 289, step 4: the metric equivalent of 5/8" GYPSUM BD is 16mm GYPSUM BD
page 291, step 1: the metric equivalent of 1/2" SHIMS is 12mm SHIMS
page 293, step 2: the metric equivalent os Interior - Gyp 4 7/8" is Interior - Gyp 120mm

8/27/13
1st
12
Chapter 12 corrections and updates to metric equivalents
page 303, last sentence under "Formatting": Metric users should set Units to Cubic Meters.
page 312, step 5: The metric equivalent of Sheet CD - C1 is A1 metric
8/27/13
1st
263
Text Question
In the secton, "Editing Requests"
Do the authors intend to say "While UserB is working in their local file, they receive a modal Editing Request Received dialog..."
Or should modal be model?
10/02/14
See More
Learn more about