Event Management For Dummies
ISBN: 978-1-118-59112-3
336 pages
November 2013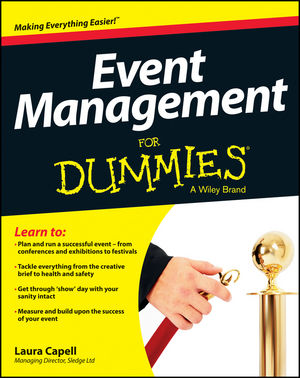 Whether you want to break into this burgeoning industry, or you simply need to plan an event and don't know where to start, there's something for all would-be event planners in Event Management For Dummies. Packed with tips, hints and checklists, it covers all aspects of planning and running an event – from budgeting, scheduling and promotion, to finding the location, sorting security, health and safety, and much more.
Open the book and find:
Planning, budgeting and strategy
Guests and target audience
Promoting and marketing events
Location, venue and travel logistics
Food, drink, entertainment and themes
Security, health and safety, permissions, insurance and the like
Tips for building a career in event management
See More
Introduction 1
Part I: Getting Started 5
Chapter 1: Why Put on An Event? 7
Chapter 2: Knowing Your Audience 17
Chapter 3: Deciding on the Type of Event To Put On 27
Chapter 4: Managing Your Team to Manage Your Event 53
Chapter 5: Budget Planning and Management 75
Part II: Planning Your Event's Look and Feel 101
Chapter 6: Crafting the Message 103
Chapter 7: Designing the Experience 115
Chapter 8: Making Sure People Know about Your Event 141
Part III: When, Where and Who: The Devil's in the Detail 161
Chapter 9: Timings, Timings, Timings 163
Chapter 10: Deciding Where to Hold Your Event 185
Chapter 11: Who Does What: Front and Back of House 213
Part IV: Considering Potential Problems 225
Chapter 12: Keeping Healthy, Safe and Secure 227
Chapter 13: Fail to Prepare, Prepare to Fail! Contingency Planning 253
Part V: On the Day and Beyond 265
Chapter 14: Measuring the Success of Your Event 267
Chapter 15: Building on the Event 281
Part VI: The Part of Tens 287
Chapter 16: Ten Types of Suppliers You Need in Your Address Book 289
Chapter 17: Ten Online Resources For Event Planners 293
Chapter 18: Ten Things to Have in Your Event Kit during the Build and Show Day 297
Chapter 19: About Ten Tips for Building a Career in Event Management 301
Index 305
See More
Laura Capell is Managing Director of Sledge Ltd, one of the most successful events companies in London. Her unique ability to understand brands and how people want to interact with them has seen Laura work with some of the biggest brands around, delivering award-winning service. Laura was voted one of the top young industry professionals by Conference & Incentive Travel magazine.
See More