E-book
More Hesselbein on Leadership
ISBN: 978-1-118-59281-6
120 pages
February 2013, Jossey-Bass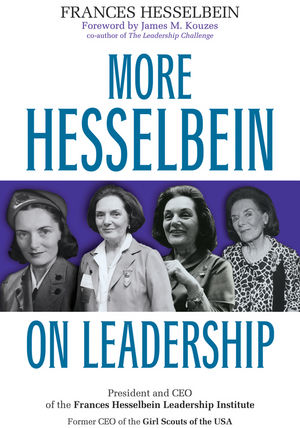 "Frances Hesselbein inspires people from all walks of life, from Fortune 500 CEOs to philanthropists, military general officers, young leaders, and nonprofit executives in every social sector. Leadership, she teaches, begins not with what you do, but with who you are."
--Jim Collins, author of Good to Great and How the Mighty Fall
Get wisdom and advice on a range of timeless leadership topics and challenges from Frances Hesselbein, president and CEO of the acclaimed Frances Hesselbein Leadership Institute. This collection of compelling articles is a must-read for leaders who need to be prepared to guide their organizations into an uncertain future. With rare intelligence and keen insight, she:
Offers an impassioned discussion about her zeal for diversity and inclusion
Takes a hard look at today's pervasive atmosphere of cynicism and mistrust
Reveals how leaders can change the lives of children, schools, and communitities
Extols a new generation that relate to the maxim "Leadership is a matter of how to be, not how to do"
Shows what it takes to be a true leader during a crisis
And more.  
See More
Foreword: A Call to Serve vii
Introduction xvii
Part I The Personal Side of Leadership 1
A Long and Exuberant Journey 2
The Defining Moment 6
Peter Drucker's Light Shines On 9
Seeing Things Whole 15
The Art of Listening 20
Part II Bulding and Sustaining Strong Organizations 25
The Key to Cultural Transformation 26
Leadership by Example 29
The Inspiring Journey We All Share 34
An Antidote to Cynicism 37
Changing Hearts, Changing Minds—Changing Lives 40
Emerging Leaders 45
The Indispensable Partnership 50
Crisis Management: A Leadership Imperative 56
Part III Leading Today and Tomorrow 59
The Leaders We Need 60
Beyond the Distracting Clamor, We Hear the Leaders of the Future 63
Together, We Can Change the World 65
In Service to the Common Good 68
Faces in the Crowd 71
The Winter of Our Concern 74
Circles of Inclusion 78
INDEX 83
See More
Frances Hesselbein is the president and CEO of the Frances Hesselbein Leadership Institute (formerly the Leader to Leader Institute) and editor in chief of the award-winning quarterly journal Leader to Leader as well as coeditor of 27 books translated into 29 languages. Named the "Best Nonprofit Manager in America" by Fortune magazine, she serves on many nonprofit and corporate boards and has won numerous awards and honors, including the highest civilian honor in the United States, the Presidential Medal of Freedom. The award presented to her by President William J. Clinton recognized her exemplary leadership as CEO of the Girl Scouts of the USA from 1976 to 1990, her role as the founding president of the Drucker Foundation, and her service as "a pioneer for women, diversity, and inclusion." She is the author of her autobiography My Life in Leadership: The Journey and Lessons Learned Along the Way.
See More
More in this series