Psychology For Dummies, 2nd Edition
ISBN: 978-1-118-60359-8
384 pages
July 2013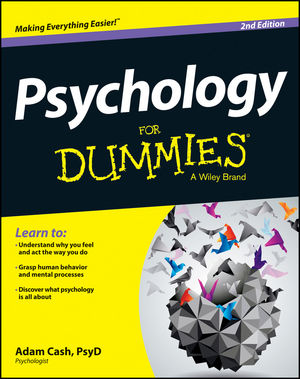 Understand why you feel and act the way you do
Psychology For Dummies is a fun, user-friendly guide to the basics of human behavior and mental processes. In plain English—and using lots of everyday examples—psychologist Dr. Adam Cash cuts through the jargon to explain what psychology is all about and what it tells you about why you do the things you do.
With this book as your guide, you'll: gain profound insights into human nature; understand yourself better; make sense of individual and group behaviors; explore different approaches in psychology; recognize problems in yourself and others; make informed choices when seeking psychological counseling; and much more.
Shows you how understanding human psychology can help you make better decisions, avoid things that cause stress, manage your time to a greater degree, and set goals
Helps you make informed choices when seeking psychological counseling
Serves as an invaluable supplement to classroom learning
From Freud to forensics, anorexia to xenophobia, Psychology For Dummies takes you on a fascinating journey of self discovery.
See More
Introduction 1
Part I: Getting Started with Psychology 5
Chapter 1: Seeing the Purpose of Psychology 7
Chapter 2: Making Sense of What People Do: Psychology Essentials 13
Part II: Picking Your Brain (And Body) 31
Chapter 3: Hardware, Software, and Wetware 33
Chapter 4: Conscious Beings 51
Chapter 5: Getting Sensitive 61
Part III: Thinking and Feeling and Acting 75
Chapter 6: Thinking and Speaking 77
Chapter 7: How Does That Make You Feel? 103
Chapter 8: Barking up the Learning Tree: Dogs, Cats, and Rats 123
Part IV: Me, You, and Everything in Between 143
Chapter 9: Developing an Award-Winning Personality 145
Chapter 10: Catching the First Boat off Isolation Island 173
Chapter 11: Conforming Like a Contortionist: Social Psychology 199
Chapter 12: Growing Up with Psychology 221
Chapter 13: Modern Abnormal Psychology 241
Part V: Building a Better You 263
Chapter 14: Assessing the Problem and Testing the Psyche 265
Chapter 15: Getting Comfy on the Couch 279
Chapter 16: Changing Behavior, Changing Thinking 291
Chapter 17: Being a Person Is Tough: Client-Centered and Existential Therapies 311
Chapter 18: Stress, Illness, Growth, and Strength 325
Part VI: The Part of Tens 343
Chapter 19: Ten Tips for Maintaining Psychological Health 345
Chapter 20: Ten Great Psychological Movies 351
Index 357
See More
Adam Cash, PsyD, is Clinical Director of Specialized Psychology Solutions, a child psychology clinic specializing in behavior, learning, development, and autism spectrum disorders. He has taught at the community college and university levels and also worked as a forensic psychologist.
See More