E-book
Donor Cultivation and the Donor Lifecycle Map: A New Framework for Fundraising
ISBN: 978-1-118-60378-9
240 pages
October 2013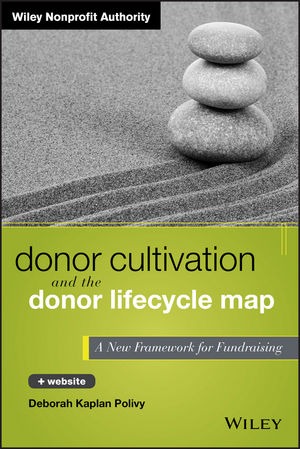 A fresh look at fundraising that depends upon the donor lifecycle, resulting in increased financial resources over time and a more stable bottom line for nonprofits
A guide to better and more strategic fundraising, Donor Cultivation and the Donor Life Cycle Map presents the donor lifecycle map, which is circular in form, revealing how the convergence of the two subject matters—cultivation and the lifecycle map—can lead to better and more strategic fundraising. Author Deborah Kaplan Polivy specifically addresses the topic of cultivation and how, when focused over the donor lifecycle, it can become a logical and focused activity for obtaining increasingly large gifts.
Step-by-step guidance and practical tools for understanding and making the most of the donor lifecycle
Coverage includes Introduction to Donor Cultivation, Defining Donor Cultivation, Donor Cultivation Tools and the Donor Lifecycle: How and Where They Intersect, and Impediments to the Implementation Process
Features a companion website with a variety of online tools to help readers implement key concepts
Part of the Wiley Nonprofit Authority Series
Donor Cultivation and the Donor Life Cycle Map seeks to change the perspective from transactional fundraising to recurring fundraising, beginning with the first donation and extending to the very last—an endowment that keeps on giving even after death.
See More
Foreword v
Preface vii
Acknowledgments xi
Introduction 1
And So This Book 3
1 Defining Donor Cultivation 5
The Donor Lifecycle Map 7
Why Focus on All Three Goals of Cultivation? 10
The Lifecycle Map as a Framework for Thinking about Donor Cultivation 13
Summary 16
2 Increasing Donor Diversity 17
Increasing Diversity Decreases Risk 17
Illustrating the Numbers 20
Summary 25
3 Building a Foundation 27
Highlight the Mission and How to Achieve It 28
Take Advantage of a Strategic Plan 33
Build a Top-Notch Back Room 35
Summary 40
4 Utilizing Personal Donor Cultivation Tools 43
Personal Donor Cultivation Tools 48
Summary 78
5 Applying Nonpersonal Donor Cultivation Tools 81
Nonpersonal Donor Cultivation Tools 81
Summary 113
6 The Intersection of Donor Cultivation Tools and the Donor Lifecycle Map 115
Cultivation Tools for Obtaining the First Gift 116
Cultivation Tools for Obtaining the Second Gift 120
Moving Second Gift to Second-Year Active 127
Multiyear Active 129
Major or Stretch Giving 133
Ultimate Giving 135
Summary 140
7 Determining Priorities among Donors 143
The Donor Pyramid 145
Age 148
Gender 155
Summary 160
8 Impediments to Change 163
The Culture of Philanthropy and the Role of the Executive Director 163
The Board as an Obstacle to Change 170
Summary 172
9 A Case Study in Effecting Change 175
A Little Background Information 176
The Interview 178
Summary 186
10 (Re)engaging Lapsed Donors 189
Drivers of Donor Loyalty 191
The Reasons Donors Stop Giving 194
How to Identify the Reason for Stopping Support 196
Classifying Lapsed Donors 197
Developing an Effective Reactivation Program 200
Applying the Proper Tools 201
Who Should Reactivate the Donor and How? 204
Identifying and Reactivating Ultimate-Giving Prospects 205
Summary 206
11 The Donor Lifecycle Map and Cultivation Tools 207
Feasibility of Effecting Change 210
Summary 215
About the Author 217
About the Companion Website 219
Index 221
See More
Deborah Kaplan Polivy, PhD, Fundraising Consultant
"Thank you for what I thought was the best donor cultivation presentation that I've ever heard. It was very clear that you had real-life examples from the wealth of experience you shared with us," wrote one Jewish Federation president after listening to Deborah Kaplan Polivy.
Deborah began her professional career at Allied Jewish Community Services in Montreal, Quebec, and then helped establish two successful Jewish Federation foundations and also served as the Director of Total Financial Resource Development for the New Haven Federation. She was the Director of Development of Goodspeed Musicals, the originator of Annie. She has served as a research associate at Yale University's Program on Nonprofit Organizations where she conducted studies on the United Way and corporate charitable payroll deduction programs. She has taught at McGill University, Smith and Trinity (Hartford) colleges, and has published numerous articles on fundraising and the nonprofit sector.
As a consultant, she has participated in several successful solicitations and trained many fundraising professionals on how to succeed in their positions, and she has led numerous workshops on the Role of the Board, particularly as it relates to fundraising. While she addresses all kinds of resource development, her specialty is endowment, and one of her favorite articles is "Annual Gift, Endowment Gift, or Both?," which appeared in Planned Giving Today. She has consulted with numerous organizations representing various fields of service. Her doctoral degree is from The Heller School for Social Policy and Management at Brandeis University, and her website is www.deborahpolivy.com.
See More