Nonprofit Kit For Dummies, 4th Edition
ISBN: 978-1-118-60417-5
384 pages
November 2013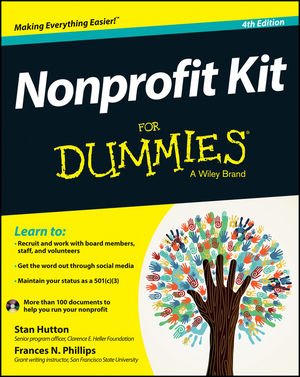 Tips and techniques to help your nonprofit thrive
More so now than in years past, a significant number of nonprofit organizations have experienced a major decrease in funding and contributions. Nonprofit Kit for Dummies, 4th Edition caters to these organizations and shows you how your nonprofit can thrive and survive even in the most unpredictable and uncertain economic climate.
This new edition of Nonprofit Kit For Dummies offers tips and information on everything you need to navigate the process of setting up and effectively running a nonprofit organization, including: hybrid corporations; employee performance reviews; IRS regulations; social media; nonprofit marketing and fundraising; building cash reserves and risk capital; online research and fundraising; and much more.
Covers raising money, applying for grants, and developing the perfect mission statement
Details on how state laws vary, how to conduct program evaluations; and how to conform to accounting standards
CD includes forms, worksheets, templates, and more—plus stronger, more specific examples of organization plans and resources to guide organizational financial systems and procedures
Whether you're thinking about starting your own nonprofit or are already working in the sector, Nonprofit Kit For Dummies is a valuable source for getting the latest information and practical advice on running a prosperous nonprofit organization.
Note: CD-ROM/DVD and other supplementary materials are not included as part of the e-book file, but are available for download after purchase.
See More
Introduction 1
Part I: Getting Started with Nonprofits 5
Chapter 1: Tuning In to the World of Nonprofi t Organizations 7
Chapter 2: Deciding to Start a Nonprofi t 15
Chapter 3: Writing Your Mission Statement 33
Chapter 4: Incorporating and Applying for Tax Exemption 41
Chapter 5: Safeguarding Your Nonprofi t Status 61
Part II: Managing a Nonprofit Organization 77
Chapter 6: Building Your Board of Directors 79
Chapter 7: Planning: Why and How Nonprofi ts Make Plans 95
Chapter 8: Evaluating Your Work: Are You Meeting Your Goals? 117
Chapter 9: Getting the Work Done with Volunteers 129
Chapter 10: Getting the Work Done with Paid Staff 145
Chapter 11: Showing the Money: Budgets and Financial Reports 169
Chapter 12: Marketing: Spreading the Word about Your Good Work 195
Part III: Successful Fundraising 219
Chapter 13: Crafting a Fundraising Plan 221
Chapter 14: Raising Money from Individuals 235
Chapter 15: Making the Most of Special Events 257
Chapter 16: Finding the Grant Givers 271
Chapter 17: Writing a Grant Proposal 285
Chapter 18: Capital Campaigns: Finding Lasting Resources 301
Part IV: The Part of Tens 315
Chapter 19: Ten Tips for Adapting in Hard Times 317
Chapter 20: Ten Tips for Raising Money 323
Chapter 21: Ten Tips for Protecting Your Nonprofit 329
Part V: The Appendixes 335
Appendix A: Glossary of Nonprofi t Terms.337
Appendix B: About the CD 341
Index 349
See More
Stan Hutton is a senior program officer for the Clarence E. Heller Foundation. Frances N. Phillips teaches grant writing at San Francisco State University and serves on several nonprofit boards.
See More