Canadian Securities Exam Fast-Track Study Guide, 4th Edition
ISBN: 978-1-118-60568-4
384 pages
July 2013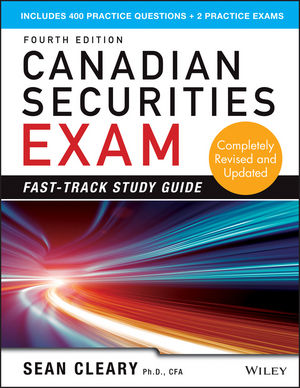 A concise and practical guide to preparing for the Canadian Securities Exam
For anyone dreaming of a career in the Canadian finance industry, whether in banking, brokerage, financial planning, or mutual funds, passing the Canadian Securities Exam is the first step on the path to success. But there's a lot of material to know and almost everyone needs a helping hand. Thankfully, the Canadian Securities Exam Fast-Track Study Guide is the perfect quick-review tool covering all the basics you need to know. It includes "quick hits" of the key points in language that's straightforward and easy to understand. Fully updated to cover the latest topics added to the CSC curriculum, this is the perfect study guide for staying cool under pressure and getting the best score you can. An ideal way to prepare for the Canadian Securities Exam, this handy guide will have you fully prepped and ready to go in no time flat.
An affordable, compact study guide that simply summarizes must-know information
Features 400 sample questions, including multiple choice chapter review questions and two full practice exams, as well as cross-referencing to the CSC textbook
Written by a professor of finance and the Director of the Master of Management in Finance program at Queen's School of Business, Queen's University
Ideal for finance students who need a quick review of the vital information they need to pass the Canadian Securities Exam
See More
Acknowledgements vi
Introduction: How to Use this Book vii
Chapter 1: The Capital Market 1
Introduction 1
Suppliers and Users of Investment Capital 1
The Role of Financial Instruments 4
Financial Markets 5
Chapter 1 Review Questions 8
Chapter 2: The Canadian Securities Industry 11
An Overview of the Canadian Securities Industry 11
The Role of Financial Intermediaries 11
The Canadian Securities Industry 12
Chartered Banks 14
Other Intermediaries 16
Chapter 2 Review Questions 18
Chapter 3: The Canadian Regulatory Environment 21
Regulatory Organizations 21
Arbitration 24
Regulation and Investor Protection 24
The Ethics of Trading 26
Takeovers and Insider Trading 28
Chapter 3 Review Questions 29
Chapter 4: Economic Principles 33
Overview of Economics 33
Measuring the Economy 34
Labour Markets 36
Interest Rates 37
Money and Inflation 38
International Economics 39
Chapter 4 Review Questions 41
Chapter 5: Economic Policy 45
Economic Theories 45
Fiscal Policy 46
Monetary Policy 46
Chapter 5 Review Questions 49
Chapter 6: Fixed-income Securities: Features and Types 53
Overview and Terminology 53
Bond Features 54
Government Securities 56
Corporate Bonds 57
Chapter 6 Review Questions 61
Chapter 7: Fixed-income Securities: Pricing and Trading 67
Bond Pricing Principles 67
The Term Structure of Interest Rates 71
Delivery, Regulation, and Settlement 72
Bond Indexes 73
Chapter 7 Review Questions 74
Chapter 8: Equity Securities: Common and Preferred Shares 79
Introduction 79
Common Shares 79
Preferred Share Characteristics 81
Stock Indices and Averages 87
Chapter 8 Review Questions 89
Chapter 9: Equity Securities: Equity Trading 95
Cash and Margin Accounts 95
Short Sales 97
Equity Transactions 98
Chapter 9 Review Questions 99
Chapter 10: Derivatives 105
Introduction 105
Options 106
Futures and Forwards 112
Rights and Warrants 115
Chapter 10 Review Questions 118
Chapter 11: Financing and Listing Securities 123
Basic Forms of Business Organization 123
The Incorporation Process 125
Government and Corporate Financing 127
The Financing Procedure 130
The Listing Process 133
Chapter 11 Review Questions 135
Chapter 12: Corporations and Their Financial Statements 139
Understanding Financial Statements 139
Statement of Financial Position 139
Statement of Comprehensive Income 143
Other Components 145
Chapter 12 Review Questions 146
Chapter 13: Fundamental and Technical Analysis 151
Overview 151
Fundamental Macroeconomic Analysis 152
Industry Analysis 153
Fundamental Valuation Models 155
Technical Analysis 158
Chapter 13 Review Questions 160
Chapter 14: Company Analysis 165
Fundamental Company Analysis 165
Interpreting Financial Statements 166
Assessing Preferred Share Investment Quality 174
Chapter 14 Review Questions 176
Chapter 15: Introduction to the Portfolio Approach 183
Introduction 183
Risk and Return 183
Portfolio Risk and Return 187
The Portfolio Management Process 189
Chapter 15 Review Questions 191
Chapter 16: The Portfolio Management Process 197
Developing an Asset Mix and Selecting Investment Styles 197
Implementing the Asset Mix 200
Monitoring the Economy, the Markets, the Portfolio, and the Client 201
Evaluating Portfolio Performance 202
Chapter 16 Review Questions 203
Chapter 17: Evolution of Managed and Structured Products 209
Managed versus Structured Products 209
Chapter 17 Review Questions 211
Chapter 18: Mutual Funds: Structure and Regulation 213
Introduction 213
The Structure of Mutual Funds 214
Labour-sponsored Venture Capital Corporations (LSVCCs) 217
Regulation of Mutual Funds 219
Chapter 18 Review Questions 223
Chapter 19: Mutual Funds: Types and Features 227
Types of Mutual Funds 227
Fund Management Styles 229
Redeeming Mutual Fund Units or Shares 229
Comparing Mutual Fund Performance 231
Chapter 19 Review Questions 233
Chapter 20: Segregated Funds and Other Insurance Products 237
Key Features of Segregated Funds 237
Maturity Guarantees and Benefits 238
Fees and Expenses 241
Tax Considerations 242
Regulation 245
Other Insurance Products 247
Chapter 20 Review Questions 247
Chapter 21: Hedge Funds 251
Overview of Hedge Funds 251
Hedge Fund Indexes 253
Benefits and Risks of Hedge Funds 253
Due Diligence 254
Hedge Fund Strategies 255
Funds of Hedge Funds 257
Chapter 21 Review Questions 257
Chapter 22: Exchange-listed Managed Products 261
Closed-end Funds 261
Income Trusts 262
Exchange-traded Funds 263
Chapter 22 Review Questions 264
Chapter 23: Fee-based Accounts 267
Fee-based Accounts 267
Chapter 23 Review Questions 269
Chapter 24: Structured Products 271
Principal Protected Notes (PPNs) 271
Index-linked Guaranteed Investment Certificates (GICs) 272
Split Shares 272
Asset-backed Securities (ABS) 273
Mortgage-backed Securities (MBS) 274
Chapter 24 Review Questions 274
Chapter 25: Canadian Taxation 277
Taxes and Taxation Issues 277
Taxation of Investment Income 278
Tax Deferral Plans 281
Basics of Tax Planning 284
Chapter 25 Review Questions 285
Chapter 26: Working with the Retail Client 289
The Process of Financial Planning 289
Financial Planning Aids 291
Ethics and the Financial Advisor 292
Case Studies 294
Chapter 26 Review Questions 296
Chapter 27: Working with the Institutional Client 299
Who Are Institutional Clients? 299
Suitability Requirements for
Institutional Investors 300
Roles and Responsibilities in the Institutional Market 301
Chapter 27 Review Questions 301
CSC Practice Examination #1: Chapters 1–12 319
CSC Practice Examination #2: Chapters 13 –27 341
Answers to Practice Exam #1: Chapters 1–12 363
Answers to Practice Exam #2: Chapters 13 –27 369
See More
Dr. Sean Cleary, Ph.D., CFA, is BMO Professor of Finance and Director of the Master of Finance program at Queen's School of Business, Queen's University. Dr. Cleary holds a Ph.D. in finance from the University of Toronto, and an MBA. He is a Chartered Financial Analyst (CFA) charter holder and a former Board member of both the Toronto CFA Society and the Atlantic Canada CFA Society. He has completed the Professional Financial Planning Course (PFPC), the Canadian Securities Course (CSC), as well as the Investment Funds Institute of Canada (IFIC) Mutual Fund Course. He has been on the faculty at St. Mary's University and the Schulich School of Business, York University, and has taught preparation courses for the Canadian Securities Exam. Dr. Cleary has published numerous articles in the Journal of Finance, the Journal of Financial and Quantitative Analysis, Financial Management, the Journal of Banking and Finance, the Journal of Multinational Financial Management, the Journal of Financial Research, the International Journal of Managerial Finance, the Canadian Investment Review, and the Canadian Journal of Administrative Sciences. He is co-author of the first three editions of Introduction to Corporate Finance (Wiley, 2007, 2010, 2013), as well as numerous other finance textbooks.
See More