E-book
How to Buy Real Estate Overseas
ISBN: 978-1-118-60742-8
256 pages
March 2013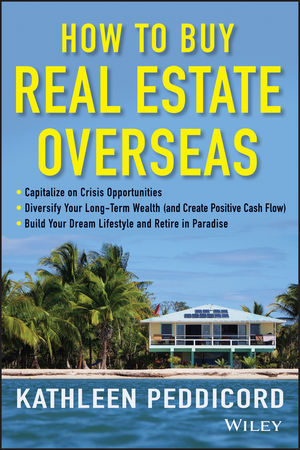 Practical advice on how to enjoy the unique benefits and avoid the pitfalls of investing in real estate abroad
In the current uncertain investment climate, foreign real estate represents a more important opportunity than ever before, for both the investor who wants to move a portion of their wealth abroad and the retiree looking for affordable living options. How to Buy Real Estate Overseas explains one of the best options available today for diversification, asset protection, and a safe haven for wealth. Foreign property is a hard asset that, unlike stocks, for example, can't go bankrupt and collapse to zero.
This book is an expert guide to the advantages and the challenges of investing in real estate overseas.
Author Kathleen Peddicord, an American currently based in Panama, is considered the world's foremost authority on overseas retirement and foreign property investment. She has traveled to more than 50 countries, invested in real estate in 18, established businesses in 7, renovated historic properties in 6, and educated her children in 4. She knows from personal experience how foreign real estate can appreciate significantly over time, throw off an annual cash flow, and provide personal enjoyment for you and your family.
An investment in a piece of real estate in a foreign country is a chance for both profit and fun. How to Buy Real Estate Overseas offers practical advice on how to find great deals, buy and manage property profitably in unfamiliar and potentially volatile foreign markets.
See More
I Launching Your Overseas Property Adventure 1
1 This Isn't Only about Making Money 9
2 Buy Overseas to Diversify Your Assets, Protect Your Wealth, and Avoid Taxes while Creating Cash Flow and Profits 17
3 Buy Overseas to Save Your Retirement 25
4 Buy Overseas to Make Travel and Adventure Part of Your Life Right Now 35
II How to Target Where to Buy: Five Strategies for Choosing a Property Market Overseas 41
5 Buy Crisis Opportunity 45
6 Buy for the Income 61
7 Buy Growth 73
8 Buy Agri-Profits 95
9 Buy Where Your Heart and Your Wanderlust Lead You—20 Countries to Consider 105
III You're Not in Kansas Anymore: Eight Unexpected Realities of Buying Real Estate Overseas and How to Prepare for Them 131
10 Don't Count on Leverage 135
11 Don't Expect Comps 139
12 Google Isn't Always Your Friend 143
13 Why Net Pricing Is a Dirty Word 147
14 You're a Gringo—Get Over It 149
15 Rights of Possession and Other Ownership Concerns 151
16 Sometimes Really Cheap Isn't a Good Deal 157
17 Margarita Madness and How to Avoid It 161
IV How to Buy Real Estate Overseas: Eight Easy Steps 165
18 Get on a Plane 169
19 Figure Your Budget 171
20 Build an In-Country Network of Reliable Contacts 175
21 Identify a Purchase 181
22 Negotiate the Purchase 183
23 Close the Deal 187
24 Take Title 191
25 Manage the Asset 195
V What Every Overseas Property Buyer Needs to Know about Moving Money around the World 199
VI Where Not to Buy: Markets Perhaps Better Avoided 209
Appendix A Market Data 215
Appendix B Due Diligence Checklist 233
Acknowledgments 237
Index 239
See More
KATHLEEN PEDDICORD was publisher and editor-in-chief of the International Living group for twenty-three years. Today, she is publisher and editor-in-chief for her own Live and Invest Overseas group (LiveandInvestOverseas.com). She writes a weekly retire-overseas blog for U.S. News & World Reports, another for Huffington Post, and is regularly quoted by news outlets including the New York Times, Money magazine, the Economist, Kiplinger, and AARP. She has traveled to more than fifty countries, invested in real estate in twenty, established businesses in seven, renovated historic properties in six, and educated her children in four. She now lives with her family in Panama City, Panama.
See More