Paleo Cookbook For Dummies
ISBN: 978-1-118-61155-5
336 pages
July 2013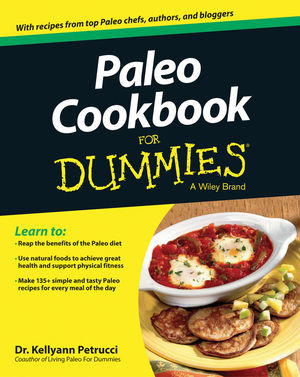 The fast and easy way to enjoy a Paleo diet
The Paleo movement is one of the hottest diet and healthy-eating approaches, as people discover an appealing and sustainable alternative to the restrictive diets that lead to burnout and failed weight loss efforts. This modern-day take on an ancient diet—which excludes dairy, processed foods, and refined sugar—has helped thousands of people lose weight and keep it off. Now, The Paleo Cookbook For Dummies offers more than 100 simple and tasty Paleo recipes for breakfast, lunch, dinner, snacks, desserts, and even beverages.
Includes an overview of the Paleo Diet, grocery shopping and pantry stocking tips, and kid-friendly Paleo recipes
Offers Paleo recipes for every meal of the day
All recipes are contributed by powerhouse Paleo chefs
The Paleo Cookbook For Dummies gives you delicious, flavorful, and easy-to-make recipes for anyone who wants to enjoy the benefits of eating the Paleo way.
See More
Introduction 1
Part I: Exploring the Paleo Lifestyle 5
Chapter 1: Becoming Paleo Smart 7
Chapter 2: Creating a Paleo Lifestyle 19
Chapter 3: Discovering Paleo Superfoods 37
Chapter 4: Launching the 30-Day Reset 47
Chapter 5: Stocking Your Cave Kitchen 67
Chapter 6: Hunting for Paleo Foods 85
Part II: Simple Paleo Soups, Salads, and Snacks 97
Chapter 7: Savoring Comforting and Nutritious Paleo Soups 99
Chapter 8: Packing Nutrition into Paleo Salads 113
Chapter 9: Spicing Up Paleo Cooking with Sauces, Dressings, and Salsas 123
Chapter 10: Snacking Paleo-Style 141
Part III: Primal Paleo Main Dishes, Sides, and Desserts 153
Chapter 11: Better Than Bagels: Breakfast for Living Paleo 155
Chapter 12: Paleo Lunches to Recharge Your System 167
Chapter 13: Paleo Seafood and Fishmonger Meals 181
Chapter 14: Protein Recipes for Paleo Meat-Lovers 195
Chapter 15: Paleo Perfect Spice Blends 211
Chapter 16: Namaste! Paleo Vegetarian Sides 219
Chapter 17: Redefining Desserts 233
Part IV: Paleo Slow Cooker Options and Kid-Friendly Dishes 253
Chapter 18: Paleo Slow Cooker Meals 255
Chapter 19: Paleo Recipes Kids Will Love 271
Part V: The Part of Tens 283
Chapter 20: Ten Favorite Paleo Foods 285
Chapter 21: Ten Essential Tools for a Paleo Kitchen 291
Appendix: Metric Conversion Guide 297
Index 301
See More
Dr. Kellyann Petrucci is the coauthor of the health and lifestyle books Living Paleo For Dummies and Boosting Your Immunity For Dummies. She also created the successful kids' health and wellness program Superkids Wellness and the Paleo door-to-door home delivery food service Living Paleo Foods.
See More