E-book
Lithium Batteries: Advanced Technologies and Applications
ISBN: 978-1-118-61541-6
392 pages
June 2013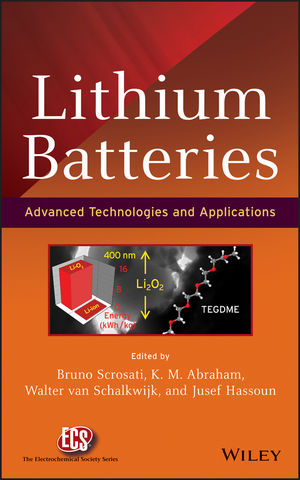 Explains the current state of the science and points the way to technological advances
First developed in the late 1980s, lithium-ion batteries now power everything from tablet computers to power tools to electric cars. Despite tremendous progress in the last two decades in the engineering and manufacturing of lithium-ion batteries, they are currently unable to meet the energy and power demands of many new and emerging devices. This book sets the stage for the development of a new generation of higher-energy density, rechargeable lithium-ion batteries by advancing battery chemistry and identifying new electrode and electrolyte materials.
The first chapter of Lithium Batteries sets the foundation for the rest of the book with a brief account of the history of lithium-ion battery development. Next, the book covers such topics as:
Advanced organic and ionic liquid electrolytes for battery applications
Advanced cathode materials for lithium-ion batteries
Metal fluorosulphates capable of doubling the energy density of lithium-ion batteries
Efforts to develop lithium-air batteries
Alternative anode rechargeable batteries such as magnesium and sodium anode systems
Each of the sixteen chapters has been contributed by one or more leading experts in electrochemistry and lithium battery technology. Their contributions are based on the latest published findings as well as their own firsthand laboratory experience. Figures throughout the book help readers understand the concepts underlying the latest efforts to advance the science of batteries and develop new materials. Readers will also find a bibliography at the end of each chapter to facilitate further research into individual topics.
Lithium Batteries provides electrochemistry students and researchers with a snapshot of current efforts to improve battery performance as well as the tools needed to advance their own research efforts.
See More
CONTRIBUTORS vii
PREFACE ix
CHAPTER 1 ELECTROCHEMICAL CELLS: BASICS 1
Hubert Gasteiger, Katharina Krischer, and Bruno Scrosati
CHAPTER 2 LITHIUM BATTERIES: FROM EARLY STAGES TO THE FUTURE 21
Bruno Scrosati
CHAPTER 3 ADDITIVES IN ORGANIC ELECTROLYTES FOR LITHIUM BATTERIES 39
Susanne Wilken, Patrik Johansson, and Per Jacobsson
CHAPTER 4 ELECTROLYTES FOR LITHIUM-ION BATTERIES WITH HIGH-VOLTAGE CATHODES 71
Mengqing Xu, Swapnil Dalavi, and Brett L. Lucht
CHAPTER 5 CORE–SHELL STRUCTURE CATHODE MATERIALS FOR RECHARGEABLE LITHIUM BATTERIES 89
Seung-Taek Myung, Amine Khalil, and Yang-Kook Sun
CHAPTER 6 PROBLEMS AND EXPECTANCY IN LITHIUM BATTERY TECHNOLOGIES 107
K. Kanamura

CHAPTER 7 FLUORINE-BASED POLYANIONIC COMPOUNDS FOR HIGH-VOLTAGE ELECTRODE MATERIALS 127
P. Barpanda and J.-M. Tarascon
CHAPTER 8 LITHIUM–AIR AND OTHER BATTERIES BEYOND LITHIUM-ION BATTERIES 161
K. M. Abraham
CHAPTER 9 AQUEOUS LITHIUM–AIR SYSTEMS 191
Owen Crowther and Mark Salomon
CHAPTER 10 POLYMER ELECTROLYTES FOR LITHIUM–AIR BATTERIES 217
Nobuyuki Imanishi and Osamu Yamamoto
CHAPTER 11 KINETICS OF THE OXYGEN ELECTRODE IN LITHIUM–AIR CELLS 233
Michele Piana, Nikolaos Tsiouvaras, and Juan Herranz
CHAPTER 12 LITHIUM-ION BATTERIES AND SUPERCAPACITORS FOR USE IN HYBRID ELECTRIC VEHICLES 265
Catia Arbizzani, Libero Damen, Mariachiara Lazzari, Francesca Soavi, and Marina Mastragostino
CHAPTER 13 Li4Ti5O12 FOR HIGH-POWER, LONG-LIFE, AND SAFE LITHIUM-ION BATTERIES 277
Zonghai Chen, I. Belharouak, Yang-Kook Sun, and Khalil Amine
CHAPTER 14 SAFE LITHIIUM RECHARGEABLE BATTERIES BASED ON IONIC LIQUIDS 291
A. Guerfi, A. Vijh, and K. Zaghib
CHAPTER 15 ELECTROLYTIC SOLUTIONS FOR RECHARGEABLE MAGNESIUM BATTERIES 327
Y. Gofer, N. Pour, and D. Aurbach
CHAPTER 16 RECHARGEABLE SODIUM AND SODIUM-ION BATTERIES 349
K. M. Abraham
INDEX 369
See More
BRUNO SCROSATI, PhD, has been Professor of Electrochemistry at the Sapienza University of Rome, and a visiting professor at the Universities of Minnesota and Pennsylvania in the U.S., and Hanyang University in South Korea. He is a past president of the Electrochemical Society. He is a recipient of the Research Award from the Battery Division of that society; the Vittorio de Nora Award, also from the Electrochemical Society; and the XVI Edition of the Italgas Prize, Science and Environment. He is the author of more than 450 scientific publications.
K. M. ABRAHAM, PhD, is Research Professor at Northeastern University Center for Renewable Energy Technology, Boston, and the principal of E-KEM Sciences. He has contributed pioneering work on rechargeable lithium batteries and the invention of new lithium and sodium battery chemical couples, including the ultrahigh-energy density non-aqueous lithium-air battery. He is a Battery Research Award winner and a Fellow of the Electrochemical Society.
WALTER VAN SCHALKWIJK, PhD, is Principal at EnergyPlex Corporation and an Affiliate Professor of Chemical Engineering at the University of Washington. With over thirty years of experience in the battery industry, he is a member of the Electrochemical Society, a past chairman of the society's Nanotechnology Committee, and a past member of its board of directors. He coedited Advances in Lithium-Ion Batteries.
JUSEF HASSOUN, PhD, is Assistant Research Scientist in the Chemistry Department of the Sapienza University of Rome. He obtained a PhD in materials science in the field of advanced lithium-ion batteries in 2009. He is author of more than sixty papers in international journals in the fields of materials science, electrochemistry, and energy storage systems.
See More