E-book
The 12 Week Year: Get More Done in 12 Weeks than Others Do in 12 Months
ISBN: 978-1-118-61642-0
208 pages
May 2013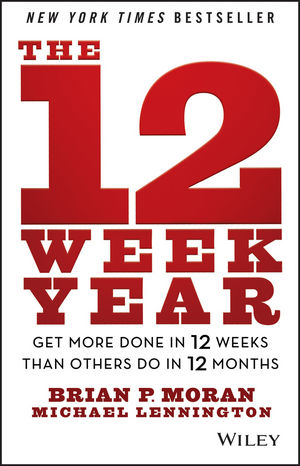 The guide to shortening your execution cycle down from one year to twelve weeks
Most organizations and individuals work in the context of annual goals and plans; a twelve-month execution cycle. Instead, The 12 Week Year avoids the pitfalls and low productivity of annualized thinking. This book redefines your "year" to be 12 weeks long. In 12 weeks, there just isn't enough time to get complacent, and urgency increases and intensifies. The 12 Week Year creates focus and clarity on what matters most and a sense of urgency to do it now. In the end more of the important stuff gets done and the impact on results is profound.
Explains how to leverage the power of a 12 week year to drive improved results in any area of your life
Offers a how-to book for both individuals and organizations seeking to improve their execution effectiveness
Authors are leading experts on execution and implementation
Turn your organization's idea of a year on its head, and speed your journey to success.
See More
Chapter 1 The Challenge 1
PART I THINGS YOU THINK YOU KNOW 7
Chapter 2 Redefining the Year 9
Chapter 3 The Emotional Connection 19
Chapter 4 Throw Out the Annual Plan 25
Chapter 5 One Week at a Time 29
Chapter 6 Confronting the Truth 33
Chapter 7 Intentionality 39
Chapter 8 Accountability as Ownership 45
Chapter 9 Interest versus Commitment 49
Chapter 10 Greatness in the Moment 55
Chapter 11 Intentional Imbalance 61
PART II PUTTING IT ALL TOGETHER 65
Chapter 12 The Execution System 67
Chapter 13 Establish Your Vision 77
Chapter 14 Develop Your 12 Week Plan 89
Chapter 15 Installing Process Control 105
Chapter 16 Keeping Score 117
Chapter 17 Take Back Control of Your Day 127
Chapter 18 Taking Ownership 143
Chapter 19 12 Week Commitments 153
Chapter 20 Your First 12 Weeks 169
Chapter 21 Final Thoughts and the 13th Week 187
References 189
See More
BRIAN P. MORAN is founder and CEO of The Execution Company, an organization committed to improving the performance and enhancing the quality of life for leaders and entrepreneurs. He has served in management and executive positions with UPS, PepsiCo, and Northern Automotive and consults with dozens of world-class companies each year. As an entrepreneur, he has led successful businesses and been instrumental in the growth and success of many others. In addition to his books, Brian has been published in many of the leading business journals and magazines. He is a sought-after speaker, educating and inspiring thousands each year. Brian lives in Michigan with his wife Judy and their two daughters.
MICHAEL LENNINGTON is Vice President of The Execution Company. He is a consultant, coach, and leadership trainer, and an expert in implementing lasting change in organizations. He works with clients in the U.S., Europe, Asia, and the Middle East to help them implement corporate initiatives that drive sales, service, and profitability. Michael holds a BS from Michigan State University, and an MBA from Ross School of Business at the University of Michigan. He lives with his wife Kristin and their children in northern Michigan.
See More