Insurance Fraud Casebook: Paying a Premium for Crime
ISBN: 978-1-118-61771-7
288 pages
June 2013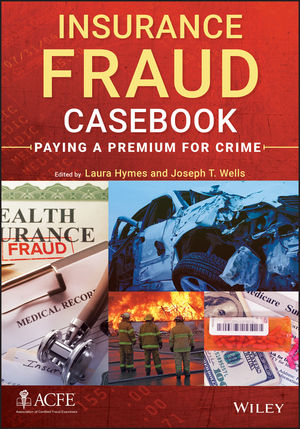 Real case studies on insurance fraud written by real fraud examiners
Insurance Fraud Casebook is a one-of-a-kind collection consisting of actual cases written by fraud examiners out in the field. These cases were hand selected from hundreds of submissions and together form a comprehensive picture of the many types of insurance fraud—how they are investigated, across industries and throughout the world. Entertaining and enlightening, the cases cover every type of insurance fraud, from medical fraud to counterfeiting.
Each case outlines how the fraud was engineered, how it was investigated, and how perpetrators were brought to justice
Written for fraud examiners, auditors, and insurance auditors
Other titles by Wells: Fraud Fighter and Corporate Fraud Handbook, Third Edition
Edited by Dr. Joseph T. Wells, the founder and Chairman of the Association of Certified Fraud Examiners (ACFE), the world's leading anti-fraud organization, this book reveals the dangers of insurance fraud and the measures that can be taken to prevent it from happening in the first place.
See More
Preface ix
Insurance Fraud Classification System xiii
Chapter 1 Needles in a Paystack 1
Charles Piper
Chapter 2 The Good Doctor and Insurance Consultant 11
Michael King
Chapter 3 Greasing the Wheels in the Oil Business 21
Abdulrazaq Al-Morjan
Chapter 4 Living the Dream, Keeping Up the Lie 31
Andries J. Brummer
Chapter 5 Extinguishing an Arson Fraud 39
Barry Zalma
Chapter 6 Weakest Link in the Chain 47
Angela Bisasor
Chapter 7 Everyone Gets Hurt: A Study in Workers' Compensation Fraud 57
Michael Sputo
Chapter 8 The Hazards of Doing Business with Friends 67
Bill Maloney
Chapter 9 There's Gold in Them Thar Malls! 75
Carl Knudson
Chapter 10 Damsel in Diamonds 83
Michael Skrypek
Chapter 11 Operation Give and Go 93
Edward P. Buttimore
Chapter 12 An Inspection Is Worth a Thousand Photos 103
Ed Madge
Chapter 13 The Danger of Trusting Too Much 113
Joe Bonk
Chapter 14 The Twin Cities Machine 121
Bob Weir
Chapter 15 With Friends Like These . . . 131
John Fifarek
Chapter 16 All the Buzz 139
Dalene Bartholomew
Chapter 17 Getting Rich from the Elderly 149
John R. Holley
Chapter 18 Transparent Greed 159
Joseph Licandro
Chapter 19 Fault of Fortune 169
Jyoti Khetarpal
Chapter 20 Going Blind to Fraud 179
Karen Wright
Chapter 21 Going Against the Cartel 191
Loftin C. Woodiel
Chapter 22 Falling Prey to Online Charms 199
Tina Hancock
Chapter 23 Big Bills in Little Cuba 209
Mark Starinsky
Chapter 24 Rushing an Insurance Claim 217
Peter Parillo
Chapter 25 Ignorance Is Bliss, While It Lasts 229
Rebecca Busch
Chapter 26 The Name Game 239
William D. Meader
Chapter 27 Woo, Wed, Insure, Murder 249
William P. Hight
Chapter 28 Mystery Shopping for Fraud 259
Stephen Pedneault
Index 269
See More
LAURA HYMES, CFE, is the Managing Editor of the ACFE's Research Department, where she oversees the editing of books, manuals and other publications related to the prevention, detection and investigation of fraud. She also collaborates with authors and speakers who are experts in the anti-fraud industry to produce high-quality educational material. She has a master's degree in publication management and years of experience in editing and publishing.
Dr. JOSEPH T. WELLS, CFE, CPA, spent nearly a decade as a U.S. FBI Special Agent and is the founder and Chairman of the Association of Certified Fraud Examiners (ACFE) as well as the author of twenty-one books. For his landmark research in fraud detection and deterrence, Dr. Wells has been inducted into the American Institute of Certified Public Accountants' Business and Industry Hall of Fame and named to Accounting Today's list of the 100 most influential people for nine years in a row. He holds a doctorate in commercial science from York College, The City University of New York.
See More