Textbook
Global Communication: Theories, Stakeholders and Trends, 4th Edition
ISBN: 978-1-118-62202-5
336 pages
January 2014, ©2014, Wiley-Blackwell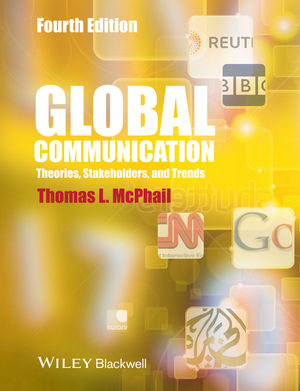 Global Communication is the most definitive text on multi-national communication and media conglomerates, exploring how global media influences both audiences and policy makers around the world. This new edition is comprehensively updated to reflect the many fast moving developments associated with this dynamic field.
A new edition of the most definitive text on multi-national communication and media conglomerates, each chapter updated with extensive new details
Covers the expanding area of global communication and describes major multimedia conglomerates, particularly in the USA, including the purchase of NBC-Universal by Comcast and Disney's expansion in China
Includes new information on the phone hacking scandal by News Corporation's employees in the UK
Explains the significant changes in the communication industry both in the US and elsewhere
Chronicles the continuing story of the development of Arab Media with new coverage on the Arab Spring
Offers an updated companion website with instructor's manual, test banks and student activities, available upon publication at www.wiley.com/go/mcphail
See More
Notes on Contributors vi
Preface vii
Acknowledgments x
1 Global Communication: Background 1
2 Development Research Traditions and Global Communication 31
3 The Message: The Role of International Organizations 47
4 Public Diplomacy: New Dimensions and Implications Nancy Snow 64
5 The Medium: Global Technologies and Organizations 80
6 The Internet: The Evolving Frontier 96
7 American Multimedia Conglomerates 117
8 Stakeholders of Multimedia Conglomerates Outside the United States 148
9 Euromedia: Integration and Cultural Diversity in a Changing Media Landscape Alexa Robertson 164
10 Global Issues, Music, and MTV 181
11 CNN: International Role, Impact, and Global Competitors 198
12 The Role of Global News Agencies 222
13 Arab Media and the Al Jazeera Effect Lawrence Pintak 235
14 Toward Globalization: The Approaches and Accomplishments of the Four Media Giants in Asia Junhao Hong 248
15 The Role of Global Advertising 275
16 Summary and Conclusions 287
Select Bibliography 304
Index 312
See More
Thomas L. McPhail is an international media critic and the Chair of Theatre, Dance, and Media Studies and Fellow in the Center for International Studies at the University of Missouri-St. Louis. He began his career with the eminent media scholar Marshall McLuhan. McPhail is author of Development Communication (Wiley-Blackwell, 2009) and has served for over a decade on the Canadian National Commission for UNESCO.
See More
"Global Communication: Theories, Stakeholders, and Trends, by Thomas McPhail, provides an historical introduction to the communication issues dividing the global community in the information age from the theoretical perspective of world systems theory. It is a must read for anyone unfamiliar with this subject." – George Barnett, University of California, Davis, USA
See More
Instructors Resources
Request a print evaluation copy
Contact us

Contact your Wiley Representative
Find Your Rep

See More
See Less