Kitchen and Bath Sustainable Design: Conservation, Materials, Practices
ISBN: 978-1-118-62772-3
240 pages
January 2015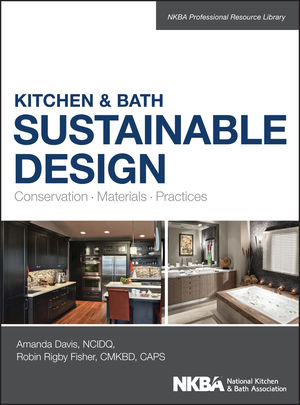 The leading industry association's handbook for going green in the kitchen and bath
Kitchen & Bath Sustainable Design is the National Kitchen and Bath Association's complete guide to "greening" these important rooms. The first book to focus exclusively on kitchen and bath sustainability, this full color guide covers every consideration for both remodels and new construction, making it a handy reference for any kitchen and bath professional. Case studies of award-winning projects demonstrate how space, budget, and sustainability can come together to create beautiful, functional, efficient rooms, and illustrations throughout provide visual examples of the techniques discussed. The book includes information on greening one's practice for the client's benefit, plus an appendix of additional resources and instructional materials for classroom use.
Outside of general heating and cooling, kitchen appliances use the bulk of a household's energy. Kitchens and baths together use an average of 300 gallons of water per day for a family of four, and both rooms are high-use areas that require good air quality. Kitchen & Bath Sustainable Design provides a handbook to designing these rooms for sustainability, without sacrificing comfort or livability. With comprehensive guidance on approaching these rooms sustainably, readers will:
Communicate better with builders, clients, and potential clients
Understand technical considerations, and the criteria that make a design "green"
Conduct a full design analysis, including life cycle costing and efficiency
Learn the ratings systems and standards in play in the green kitchen and bath
The biggest elements of sustainable interior design—energy efficiency, water use, and materials selection—are all major players in the kitchen and bath. Clients are increasingly demanding attention to sustainability issues, and designers must be up to date on the latest guidelines, best practices, and technology. Kitchen & Bath Sustainable Design is the complete technical and practical guide to green design for the kitchen and bath professional.
See More
PREFACExiii
ACKNOWLEDGMENTS xv
CHAPTER 1 UNDERSTANDING THE NEED FOR SUSTAINABLE DESIGN 1
Triple Bottom-Line Approach 4
Designing for Benefit 11
Summary 20
Review Questions 20
CHAPTER 2 WHAT DEFINES SUSTAINABILITY? 23
Embodied Energy 24
Renewable Resources 26
Affordable Comfort Perspective 35
Summary 39
Review Questions 40
CHAPTER 3 SUSTAINABLE CONSTRUCTION 41
The Path You Take—Beyond Code 42
Window Specification 50
Walls and Insulation 50
Heating and Cooling 60
Water Conservation and Distribution 62
Deconstruction 66
Space Planning 72
Summary 74
Review Questions 75
CHAPTER 4 INDOOR AIR QUALITY 77
Indoor Air Quality—Why Should We Care? 77
Kitchen Ventilation 86
Bathroom Ventilation 88
Makeup Air 91
Summary 103
Review Questions 103
CHAPTER 5 MATERIALS, APPLIANCES, and FIXTURES 105
Getting Started 105
Embodied Energy 112
Life Cycle Assessment 113
Materials 118
Wall Finishes 121
Sealers 134
Fixtures and Fittings 141
Water Heating and Distribution 145
Living Room Appliances 150
Summary 151
Review Questions 151
CHAPTER 6 CREATING AN ENVIRONMENTALLY SUSTAINABLE DESIGN PRACTICE 153
Why Create an Environmentally Sustainable Design Practice? 153
Today's Green Client 166
Incorporating Systems Thinking in Your Business 168
Summary 169
Review Questions 169
APPENDIX A 173
APPENDIX B 177
APPENDIX C 181
APPENDIX D 197
APPENDIX E 201
GLOSSARY 207
RESOURCES 213
INDEX 215
See More
Amanda Davis, NCIDQ is Chair of the Interior Design Department at Portland Community College, and a practicing interior designer in Portland, Oregon.
Robin Rigby Fisher, CMKBD, CAPS is an instructor at Portland Community College, and principal of Robin Rigby Fisher Design. Robin also lives in Portland, Oregon.
See More
Instructors Resources
Request a print evaluation copy
Contact us

See More
See Less