Clinical Supervision Activities for Increasing Competence and Self-Awareness
ISBN: 978-1-118-63752-4
360 pages
April 2014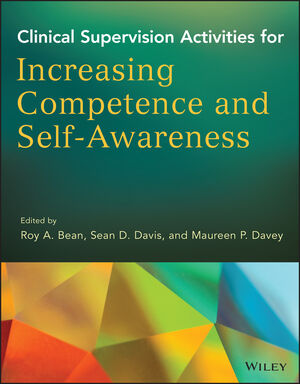 Cultivate self-awareness, empathy, and clinical competence in the mental health professionals you supervise
Providing tested guidance for clinical supervisors of mental health professionals, editors Roy A. Bean, Sean D. Davis, and Maureen P. Davey draw from their own backgrounds in training, private practice, and academe, as well as from an international panel of experts representing various mental health fields to provide activities and best practices that allow therapists to better serve an increasingly diverse set of clients and issues.
While clinical skills are easily observed, the more subtle areas of self-awareness, or exploring unexamined judgments are more difficult to spot and to provide supervision and guidance for. The numerous experiential activities included will help supervisors and the mental health professional they supervise develop their skills and techniques around:
Intuition
Empathy
Self-awareness
Mindfulness
Multicultural awareness
Perspective taking
The book covers both clinical as well as diversity-focused competence and awareness, and suggests various forms of activities, including research exercises, reflection, journaling, and more. Each activity includes measurement metrics as well as additional resources that help clinicians identify the best activity for a given situation. Appropriate for clinicians at every level and from a multitude of backgrounds, these tried and tested best practices can be used in clinical supervision, as a class assignment, or to facilitate professional growth.
See More
Preface ix
Acknowledgments  xv
Part I: Core Clinical Competence and Self-Awareness 1
Chapter 1 Facilitating Clinician Development UsingThemes of Personal Issues 3
Karni Kissil, Alba Ni˜no, and Harry J. Aponte
Chapter 2 Exploring the Person-of-the-Therapist for Better Joining, Assessment, and Intervention 9
Alba Ni˜no, Karni Kissil, and Harry J. Aponte
Chapter 3 The Empathy Game 15
Trent S. Parker and Kristyn M. Blackburn
Chapter 4 Seeing Through the Eyes of the Other Using Process Recordings 21
Dana A. Schneider, Elizabeth Rodriguez-Keyes, and Elizabeth King Keenan
Chapter 5 Discovering Acceptance and Nonjudgment Through Mindfulness 27
Jaclyn D. Cravens and Jason B. Whiting
Chapter 6 Encouraging Self-Reflection in the Reflective Listening Process   33
Paul Burke and Melinda Hohman
Chapter 7 Enhancing Self-Awareness Using Feedback Reflection   41
Elisabeth Esmiol and Rebecca Partridge
Chapter 8 Exploring Personal Roles and Themes in Clinical Training 49
Alyssa Banford and Rachel Tambling
Chapter 9 Addressing Resistance to Behavior Change   55
Rebecca Mirick
Chapter 10 Teaching Self-Compassion to Decrease Performance Anxiety in Clinicians  61
Anna I. Bohlinger, Jeni L. Wahlig, and Stephanie Trudeau-Hern
Chapter 11 Reconnecting With the Motivation to Become a Clinician   67
Bob Gillespie and Julia O'Reilly
Chapter 12 Giving a Voice to Clinicians-in-Training About Their Concerns  73
Yudum Akyil, Binh Pham, and Norja Cunningham
Chapter 13 A New Experience With the Family of Origin 79
Sean D. Davis and Armando Gonzalez-Cort
Chapter 14 Exploring Conflict and Its Importance to Clinician Development 85
Bridget Roberts-Pittman and Anna M. Viviani
Chapter 15 Examining the Source of Negative Self-Beliefs 91
Larry D. Williams and Andrae Banks
Chapter 16 Creating a Safe Learning Environment for Clinicians Through Group Discussion and Supervision  97
J. Christopher Hall
Chapter 17 Increasing Competence for Working With International and National Disasters. 103
Noah Hass-Cohen, Thomas Veeman, Karina A. Chandler-Ziegler, and Andrew Brimhall
Chapter 18 Developing Supervision Skills for Resiliency and Decreased Vicarious Trauma   111
Noah Hass-Cohen and Karina A. Chandler-Ziegler
Chapter 19 Dealing With Trauma Using Self-Awareness and Self-Care   119
Kami L. Schwerdtfeger
Chapter 20 Aligning Organizational and Individual Culture and Values 127
Sue Steiner and Kathy Cox
Chapter 21 Collaborative Reflective Training for Mental Health Clinicians in Medical Settings 135
Barbara Couden Hernandez and Lana Kim
Chapter 22 Using Medical Genograms in Clinical Supervision  141
Tai Justin Mendenhall and Stephanie Trudeau-Hern
Part II: Diversity-Focused Competence and Self-Awareness 149
Chapter 23 Increasing Awareness of Multicultural Issues in Therapy and Supervision 151
Karen L. Caldwell and Shari Galiardi
Chapter 24 Exploring Other Perspectives of Gender and Ethnicity  159
Roy A. Bean, Alexander L. Hsieh, and Adam M. Clark
Chapter 25 Understanding Power Imbalances in the Clinical Encounter 165
Kimberly A. E. Carter, Jayme R. Swanke, and Venessa A. Brown
Chapter 26 Inviting a Better Understanding of Privilege and Disadvantage 173
Peggy McIntosh
Chapter 27 Reexamining Social Class, Ethnicity, and Available Resources  183
Kerri E. Newman, Haley V. Pettigrew, Cecily R. Trujillo, and Sara A. Smock Jordan
Chapter 28 Experiencing PovertyThrough a Large-Group Role-Play  191
Andrae Banks and Larry D. Williams
Chapter 29 Fostering Awareness of Ability and Disability Through Group Inclusion and Exclusion  197
Kathleen Nash
Chapter 30 Enhancing Self-Awareness for Working With Deaf Clients   205
Mary C. Hufnell
Chapter 31 Preparing Clinicians to Work With Co-occuring Disabilities and Substance Abuse  213
Ally DeGraff, Phillip Sorenson, Alane Atchley, and Sara Smock Jordan
Chapter 32 Empowering Clinicians to Work With African Immigrants Through Game Playing  219
Tohoro Francis Akakpo
Chapter 33 Group Role-Plays and the Immigrant Experience 225
Chandra Lasley
Chapter 34 Supervising Foreign-Born Clinicians in the United States 233
Senem Zeytinoglu, Yudum Akyil, and Karni Kissil
Chapter 35 Challenging Heterosexual and Cisgender Privilege in Clinical Supervision  239
Monique D. Walker and Ana M. Hernandez
Chapter 36 Exploring Perceptions of LGBTQ Individuals and Couples 247
Bethany Luna, Cody Heath, Anna Andrews, Sara A. Smock Jordan, and Monica Higgins
Chapter 37 Discovering Compassion for Victims of Domestic Violence 255
Lisa Vallie Merchant and Jason B. Whiting
Chapter 38 Developing Empathy for Co-victims of Rape  263
Karen Rich
Chapter 39 Increasing Awareness for Working With Overweight Clients   271
Keeley J. Pratt and Jaclyn D. Cravens
Chapter 40 DealingWith Addiction and Recovery   281
Fred P. Piercy and Manjushree Palit
Chapter 41 Experiencing the Addiction Recovery Process  287
Angela B. Bradford, Scott A. Ketring, and Thomas A. Smith
Chapter 42 Increasing Sensitivity to Ageism   293
Lori Cluff Schade
Chapter 43 Helping Clinicians Develop End-of-Life Awareness   301
Michael N. Humble, Melinda W. Pilkinton, Kilolo Brodie, and Jennifer L. Johnson
About the Editors  307
About the Contributors  309
Author Index 317
Subject Index 325
See More
Roy A. Bean, PhD, LMFT, is an Associate Professor and Program Director in the Marriage and Family Therapy Program at Brigham Young University. He also maintains a private practice where he sees children and families.
Sean D. Davis, PhD, LFMT, is an Associate Professor and Site Director for the Marriage and Family Therapy Program at Alliant International University. He is on the editorial board for the Journal of Marital and Family Therapy and maintains a private practice in marriage and family therapy.
Maureen P. Davey, PhD, LMFT, is an Associate Professor in the Department of Couple and Family Therapy at Drexel University and also maintains a private practice where she sees individuals, couples, and families.
See More