E-book
Where Am I Eating? An Adventure Through the Global Food Economy
ISBN: 978-1-118-63986-3
288 pages
April 2013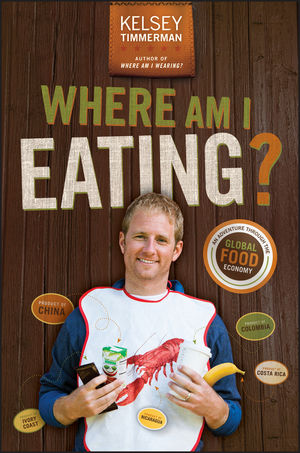 Bridges the gap between global farmers and fishermen and American consumers
America now imports twice as much food as it did a decade ago. What does this increased reliance on imported food mean for the people around the globe who produce our food? Kelsey Timmerman set out on a global quest to meet the farmers and fisherman who grow and catch our food, and also worked alongside them: loading lobster boats in Nicaragua, splitting cocoa beans with a machete in Ivory Coast, and hauling tomatoes in Ohio. Where Am I Eating? tells fascinating stories of the farmers and fishermen around the world who produce the food we eat, explaining what their lives are like and how our habits affect them.
This book shows how what we eat affects the lives of the people who produce our food. Through compelling stories, explores the global food economy including workers rights, the global food crisis, fair trade, and immigration.
Author Kelsey Timmerman has spoken at close to 100 schools around the globe about his first book, Where Am I Wearing: A Global Tour of the Countries, Factories, and People That Make Our Clothes
He has been featured in the Financial Times and has discussed social issues on NPR's Talk of the Nation and Fox News Radio
Where Am I Eating? does not argue for or against the globalization of food, but personalizes it by observing the hope and opportunity, and sometimes the lack thereof, which the global food economy gives to the world's poorest producers.
See More
Part I Coffee: Product of Colombia 1
Chapter 1 The Starbucks Experience 3
Chapter 2 The Grande Gringo Picks Coffee 20
Chapter 3 The Cup of Excellence 30
Chapter 4 The Heart of the World 44
Part II Chocolate: Product of West Africa 61
Chapter 5 Solo Man 63
Chapter 6 Slavery and Freedom 91
Chapter 7 Is It Peace? 109
Part III Banana: Product of Costa Rica 121
Chapter 8 The Banana Worker's Commute 123
Chapter 9 Banana Worker for the Day 132
Chapter 10 Nowhere to Go But Bananas 153
Part IV Lobster: Product of Nicaragua 165
Chapter 11 Life, Death, and Lobster 167
Chapter 12 The Lobster Trap 184
Chapter 13 The Future of Fish 190
Part V Apple Juice: Product of Michigan China 195
Chapter 14 No Apples 197
Chapter 15 Mr. Feng's Apple Empire 214
Chapter 16 As American as Apple Juice Concentrate from China 225
Part VI My Life: Product of USA 235
Chapter 17 Food as Faith 237
Chapter 18 Farmers No More 242
Chapter 19 Imagined Futures 252
Chapter 20 Decisions About Man and Land 257
Appendix A A Guide to Ethical Labels 269
Appendix B The Journey Continues 275
Acknowledgments 277
See More
KELSEY TIMMERMAN is a full-time speaker and writer and has spoken at more than seventy colleges and high schools about his first book, Where Am I Wearing?: A Global Tour to the Countries, Factories, and People That Make Our Clothes. He has written for the Christian Science Monitor and has been interviewed by media outlets around the world, including U.S. News & World Report, LA Weekly, News Talk Radio (Ireland), the Phnom Penh Post (Cambodia), NPR's Talk of the Nation, FoxNews Radio, and the World Vision Report. Kelsey lives in Muncie, Indiana, with his wife and two children.
See More