E-book
Fundraising the SMART Way: Predictable, Consistent Income Growth for Your Charity
ISBN: 978-1-118-64024-1
272 pages
March 2014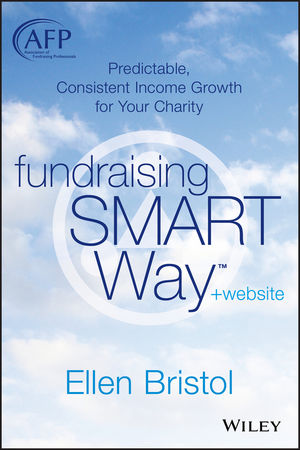 Strategic planning and tactical fundraising can maximize income and minimize costs
Fundraising is the lifeblood of the nonprofit, and, successful or otherwise, determines the organization's ability to provide for the group it serves. Every organization attempts to lower overhead while increasing donations, but this often proves to be impossible within existing frameworks. Effective fundraising - increasing donations while engaging more donors and lowering costs - requires a sound strategy that turns major roadblocks into minor hurdles that are easily overcome. It's not about trying harder, it's about working smarter.
Fundraising the SMART Way provides the groundwork for a complete revamp of organizational fundraising systems. Author Ellen Bristol applies twenty years of corporate sales experience and eighteen years in fund development consultation to the problem of inefficient fundraising. Bristol turns her extensive sales expertise toward the perspective of "selling" an organization to potential donors, increasing the donor pool, and lowering the cost of fundraising. The book details the questions every nonprofit should be asking to maximize the effectiveness of fundraising efforts, and encourages systematic strategy development by zeroing in on key factors such as:
Organizational goals, strengths, and weaknesses
Donor actions and motivations
Workload management and results QA
Opportunity evaluation and organizational action
The book outlines clear, concrete, actionable steps that can be immediately implemented to escalate income growth. Effective fundraising is sustainable, consistent, and on-target. It must exceed current need and expand to fill future need. Fundraising the SMART Way represents a true breakthrough in that it lays a foundation for true systemic overhaul, and can be the catalyst for the growth of any nonprofit.
See More
Preface xi
Acknowledgments xv
Introduction Why We Need a Fundraising Revolution 1
Fundraising the SMART WayTM 4
How It Works 5
Results from the Leaky Bucket Study 6
Statistics from the Leaky Bucket Assessment 8
The Four Laws of Performance Management 11
Target: Consistent, Predictable Income Growth 14
Effective Fundraising as Competitive Advantage 16
Adopting the SMART Way Model 19
PART ONE Which Funders Are "Right" for You? 21
CHAPTER 1 The Context for Fund Development 25
What Should It Cost to Achieve Your Mission? 26
Analyzing the True Cost of Your Mission 30
Your Opportunity Risk Factor: The Real Value of Your Time 31
What Makes Your Best Funders "Best"? 34
Your Unique Value Proposition: The Value in Value-Added 36
What We Covered 42
What You Can Do 42
CHAPTER 2 Funder Selection Strategies 45
Why Your Best Funders Support You 47
The Exchange of Value 55
Applying the Exchange of Value 59
What We Covered 60
What You Can Do 61
CHAPTER 3 Building Your SMART Way Prospect Scorecard 63
Nine Scorecard Principles 66
Crafting Scorecard Statements 72
Scoring the Prospect 80
Scorecard as Management Control 82
What We Covered 84
What You Can Do 85
CHAPTER 4 The Scorecard as a Management Control Device 87
Using the Scorecard to Manage the Fundraising Process 88
Validating the Scorecard 89
The Suggested Probing Questions 92
Developing Your Questions 96
Field-Test the Scorecard 101
The Control Part 105
What We Covered 106
What You Can Do 106
PART TWO Defining the Fund Development Process 109
CHAPTER 5 The Fund Development Pipeline 113
Pipeline Basics 114
The SMART Way Pipeline Revolution 116
Process Management for Nonprofits: A Primer 117
Moves Management versus the SMART Way 118
Eliminate Process Boundaries or Add Them? 120
Development Drivers 127
What We Covered 129
What You Can Do 129
CHAPTER 6 Setting Performance Targets 131
Everything You Ever Wanted to Know about Continuous Improvement 132
Assigning Targets 135
Good Targets, Bad Targets 139
Move Zero Targets 141
Performance Targets and the SMART Way Scorecard 145
Targets for Development Drivers 149
What We Covered 150
What You Can Do 151
PART THREE Implementing Fundraising the SMART Way 153
CHAPTER 7 Reporting and Leading for Better Results 157
Leadership 101 158
First, There is a Mountain . . . 159
"Vertical" versus "Horizontal" Reporting 159
SMART Way Reports 163
Enlightened Leadership Practices 166
Tracking Donor Move Targets 171
Reading the Story the Numbers Tell You 173
What We Covered 174
What You Can Do 174
CHAPTER 8 The Breakthrough: Continuous Improvement 177
The Plan-Do-Check-Act Cycle 178
Root-Cause Analysis Done Right 179
What We Covered 200
What You Can Do 201
CHAPTER 9 Applying SMART Way Methods to Mass-Market Fundraising 203
Selling to Major Accounts versus Transactional Selling 204
The Majors versus the Minors 206
To Find Donors, Stop Looking 208
Mass-Market and Target-Market Fundraising 214
SMART Way Management Controls 216
What We Covered 218
What You Can Do 218
CHAPTER 10 Radical Thinking about the Fundraising Revolution 221
Fundraising and the Russian Revolution 225
Adopting the Mind-set of Potential 228
Revolutionizing the Way We Manage Performance 229
Implications for Information Technology 235
Implications for the Governing Board 237
Parting Remarks 241
About the Author 243
About the Companion website 245
Index 247
See More
ELLEN BRISTOL came into the nonprofit sector after more than twenty years of experience in the corporate world where she specialized in major-account sales of information technology equipment. Since 1995, the year she launched Bristol Strategy Group, she has developed a solid track record as a consultant and author in the fund development arena.
See More
More in this series