The Leader's Change Handbook: An Essential Guide to Setting Direction and Taking Action
ISBN: 978-1-118-64219-1
432 pages
December 2012, Jossey-Bass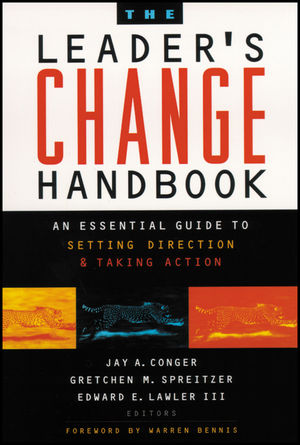 A Stunning Achievement in Change ManagementIn October of 1997, the nation's top business theorists and practitioners met at a conference cosponsored by USC's Leadership Institute and the Center for Effective Organizations. The group was challenged to present their most advanced ideas regarding leadership and change management. This guide is the stunning result of their collective efforts. Charged with fascinating case studies, action strategies, and unbeatable advice, The Leader's Change Handbook features fresh works by Christopher Bartlett, Michael Beer, John Kotter, David Nadler, Ron Heifetz, Susan Mohrman, Bob Quinn and other distinguished contributors. What it offers is a uniquely coherent, cutting-edge approach to leading today's organizations -- an approach only this elite group, working together toward a common vision, could offer.
See More
Foreward.
CHANGE LEADERSHIP IN ACTION.
A Success Story: The Case of Lucent Technologies.
Creating the Individualized Corporation: The Path to Self-Renewal at General Electric.
SETTING DIRECTIONS: PRINCIPLES TO GUIDE CHANGE LEADERS.
Mobilizing Adaptive Work: Beyond Visionary Leadership.
Leading Change: The Eight Steps to Transformation.
Breaking Away: Executive Leadership of Corporate Spinoffs.
TAKING ACTION: STRATEGIES FOR TRANSFORMATION.
Leading Learning and Learning to Lead: An Action Learning Approach to Developing Organizational Fitness.
Advanced Change Theory: Culture Change at Whirlpool Coorporation.
Leading from a Different Place: Applying Complexity Theory to Tap Potential.
Leading Corporate Transformation: Are You Up to the Task?
BEYOND LEADERSHIP: OTHER ESSENTIAL ELEMENTS OF SUCCESSFUL CHANGE.
Top Management Viewed from Below: A Learning Perspective on Transformation.
The Role and Limits of Change Leadership.
Leadership and Collaboration.
Take-Away Lessons: What We Know and Where We Need to Go.
See More
JAY A. CONGER
, an internationally known author, speaker, and educator, is executive director of the Leadership Institute and a professor of business administration at the Marshall School of Business at the University of Southern California. Business Week has recognized Conger as the nation's best professor of executive leadership.
GRETCHEN M. SPREITZER is an assistant professor of business administration at the University of Southern California. She is a recognized expert on empowerment and leadership.
EDWARD E. LAWLER is a professor of business administration at the University of Southern California and founder and director of the Center for Effective Organizations. He was named by Business Week as one of the country's leading management experts.
See More