E-book
Motivating and Retaining Online Students: Research-Based Strategies That Work
ISBN: 978-1-118-64228-3
160 pages
September 2013, Jossey-Bass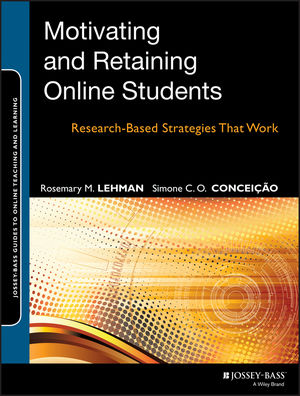 Finally, the first research-based book of sound strategies and best practices to help instructors motivate students to complete their online courses.

Although studies support the effectiveness of learning online, students often fail to complete online courses. Some studies have found that as many as 50–70% drop out of their online courses or programs. Retention is not only a growing expectation and imperative, but it is also as opportunity for faculty members to take the lead in innovating, researching, and implementing new strategies while demonstrating their effectiveness.

Designed for instructors and instructional designers, Motivating and Retaining Online Students is filled with empirical research from the authors' study of motivation and retention strategies that can reduce online learner dropout. Focusing on the most important issues instructors face, such as course design; student engagement and motivation; and institutional, instructional, and informal student support strategies, the book provides effective online strategies that help minimize student dropout, increase student retention, and support student learning.

While helping to improve the overall retention rates for educational institutions, the strategies outlined in the book also allow for student diversity and individual learner differences. Lehman and Conceição's proven model gives instructors an effective approach to help students persist in online courses and succeed as learners.
See More
List of Tables, Exhibits, and Figure ix
Preface xi
The Focus of This Book xii
Who Can Benefit from This Book xii
Our Beliefs About Learning and Teaching xii
How This Book Is Organized xiii
Acknowledgments xiv
About the Authors xvii
1. Concerns and Opportunities for Online Student Retention 1
Evolving Concepts of Presence, Communication, and Interaction 1
Redefining the Characteristics of the Higher Education Learner 2
New Ways of Learning 2
Causes for Increased Enrollment 3
The State of Higher Education and Online Learning 4
Concerns for Online Student Retention 5
Reasons Online Students Drop Out 5
Factors for Student Persistence in Online Education 7
Opportunities for Online Education 10
New Learner Behaviors and Skills in the 21st Century 11
Filling the Gap: Strategies for Online Persistence 14
2. Design Strategies for Retaining Online Students 17
Intentional Design for Online Courses 19
Design Elements and Strategies to Help Students Stay Motivated Online 20
Creating the Learning Environment 20
Planning for the Teaching Process 25
Predicting Learners' Needs 30
The Impact of Intentional Design for Online Course Success 32
Design Strategies for Retaining Online Students 34
3. Student Strategies for Staying Motivated Online 38
Pathway and Strategies for Staying Motivated in Online Courses 38
Self-Awareness 39
Self-Efficacy 40
A Purpose for Taking a Course 41
Means to Achieve Goals 42
Rewards for Achieving Goals 53
Explaining Study Findings from a Motivational Perspective 56
Incorporating Student Strategies into Course Design 59
4. Support Strategies for Helping Online Students Persist 65
Types of Support Perceived as Important by Students 66
Human Resource Support 66
Institutional Support 69
Self-Care 70
Support Strategies for Helping Online Students Persist 71
Instructional Support Strategies 72
Institutional Support Strategies 75
Self-Care Strategies 80
5. Pulling the Strategies Together 83
Established Findings Related to Online Student Retention 84
Major Contributions from Our Study 84
New Ways of Th inking About Learning and Teaching 86
Persistence Model for Online Student Retention 87
Student-Centered Model 88
Strategies for Helping Students Persist in an Online Course 89
Times of Change for Learning in the 21st Century 94
Instructors' Skills for Meeting Students' 21st-Century Fluencies 95
Implications and Conclusions for Learning and Teaching Online 104
Glossary 107
References 111
Appendix 1 117
Appendix 2 127
Index 135
See More
Rosemary M. Lehman worked with University of Wisconsin—Extension for more than 20 years and is now an author, online instructor, and partner in eInterface. Simone C. O. Conceição is a professor in the School of Education, Department of Administrative Leadership, at University of Wisconsin—Milwaukee.
They are the authors of Managing Online Instructor Workload and Creating a Sense of Presence in Online Teaching both from Jossey-Bass.
See More
Learn more about