E-book
Being the Best Man For Dummies - UK, 2nd UK Edition
ISBN: 978-1-118-65040-0
192 pages
March 2013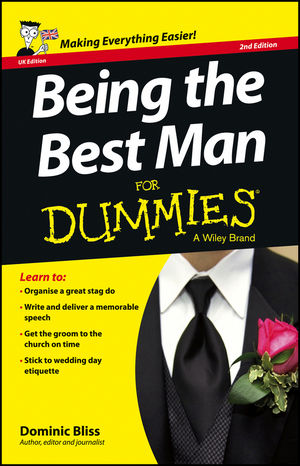 If you're looking for practical, straight-talking advice on getting things right, look no further.
Being the Best Man For Dummies is a perfect one-stop guide to being the ideal best man. This newly updated edition includes:
Advice on organising the stag night (or weekend), including a guide to the best destinations, activities, and organisers, with contact information.
An outline of your wedding day responsibilities (in the morning, at the church, during the reception, and all points in between) plus tips on how not to screw things up.
A guide to writing a delivering a great speech, including opening lines, jokes, quotes, and more.
Ten wedding-day nightmare scenarios to avoid.
Guidance on how to dress to impress.
All that in one convenient package that also doubles as a terrific prop for the reception speech.
See More
Introduction 1 
Part I: Getting Started with Being the Best Man 5
Chapter 1: Best Man Basics 7
Chapter 2: Stag Do's and Stag Don'ts 15
Chapter 3: The Stag Party 33
Part II: Wedding Preparations and the Big Day 43
Chapter 4: The Build-Up to the Big Day 45
Chapter 5: The Morning of the Wedding 61
Chapter 6: The Actual Ceremony 69
Chapter 7: The Wedding Reception 79
Part III: The Speech 87
Chapter 8: Writing the Speech 89
Chapter 9: Delivering and Presenting Your Speech 109
Part IV: The Part of Tens 125
Chapter 10: Ten Great Ideas for the Stag Do 127
Chapter 11: Ten Best Stag Do Destinations 133
Chapter 12: Ten Wedding Nightmare Scenarios 139
Chapter 13: Ten Great Budget Stag Tips 143
Chapter 14: Ten Great Drinking Games 149
Appendix: Surfing the Best Man Web 155
Index 165
See More
Dominic Bliss has been a freelance journalist for the last 20 years. He writes for magazines and newspapers on men's interest, sport and travel. He was founding editor of the men's wedding magazine, Stag & Groom.
See More