A Companion to the Literature and Culture of the American West
ISBN: 978-1-118-65251-0
578 pages
February 2014, Wiley-Blackwell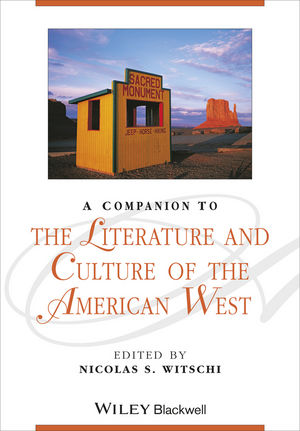 A Companion to the Literature and Culture of the American West
presents a series of essays that explore the historic and contemporary cultural expressions rooted in America's western states.
Offers a comprehensive approach to the wide range of cultural expressions originating in the west

Focuses on the intersections, complexities, and challenges found within and between the different historical and cultural groups that define the west's various distinctive regions

Addresses traditionally familiar icons and ideas about the west (such as cowboys, wide-open spaces, and violence) and their intersections with urbanization and other regional complexities

Features essays written by many of the leading scholars in western American cultural studies
See More
Notes on Contributors viii
Part I: Introduction 1
1 Imagining the West 3
Nicolas S. Witschi
Part II: Regions and Histories 11
2 Exploration, Trading, Trapping, Travel, and Early Fiction, 1780–1850 13
Edward Watts
3 Worlds of Wonder and Ambition: Gold Rush California and the Culture of Mining Bonanzas in the North American West 29
Peter J. Blodgett
4 The Literate West of Nineteenth-Century Periodicals 48
Tara Penry
5 A History of American Women's Western Books, 1833–1928 63
Nina Baym
6 Literary Cultures of the American Southwest 81
Daniel Worden
7 Literary Cartography of the Great Plains 98
Susan Naramore Maher
8 The Literary Northern Rockies as The Last Best Place 115
O. Alan Weltzien
9 North by Northwest: The Last Frontier of Western Literature 130
Eric Heyne
10 Chronotopes of the Asian American West 145
Hsuan L. Hsu
11 African American Literature and Culture and the American West 161
Michael K. Johnson
12 Mythical Frontiers: Manifest Destiny, Aztlán, and the Cosmic Race 177
John L. Escobedo
13 Writing the Indigenous West 191
Kathleen Washburn
14 Framing Class in the Rural West: Cowboys, Double-wides, and McMansions 213
Nancy Cook
15 Postcolonial West 229
Alex Hunt
16 New West, Urban and Suburban Spaces, Postwest 244
Krista Comer
Part III: Varieties and Forms 261
17 What We Talk About When We Talk About Western Art 263
Brian W. Dippie
18 "All Hat and No Cattle": Romance, Realism, and Late Nineteenth-Century Western American Fiction 281
Gary Scharnhorst
19 The Coyote Nature of Cowboy Poetry 297
Barbara Barney Nelson
20 "The Wind Blew Them Away": Folksinging the West, 1880–1930 316
David Fenimore
21 Autobiography 336
Gioia Woods
22 Housing the American West: Western Women's Literature, Early Twentieth Century and Beyond 353
Cathryn Halverson
23 The Apple Doesn't Fall Far from the Tree: Western American Literature and Environmental Literary Criticism 367
Hal Crimmel
24 Detective Fiction 380
Nicolas S. Witschi
25 The American Western Film 395
Corey K. Creekmur
26 Post-Western Cinema 409
Neil Campbell
Part IV: Issues, Themes, Case Studies 425
27 America Unscripted: Performing the Wild West 427
Jefferson D. Slagle
28 Revising Public Memory in the American West: Native American Performance in the Ramona Outdoor Play 443
Karen E. Ramirez
29 Omnimedia Marketing: The Case of The Lone Ranger 462
Chadwick Allen
30 The Nuclear Southwest 483
Audrey Goodman
31 Ranging over Stegner's Arid West: Mobility as Adaptive Strategy 499
Bonney MacDonald
32 The Global West: Temporality, Spatial Politics, and Literary Production 514
Susan Kollin
33 Tumbling Dice: The Problem of Las Vegas 528
Stephen Tatum and Nathaniel Lewis
Index 547
See More
Nicolas S. Witschi is Professor of English at Western Michigan University. A past co-president of the Western Literature Association, he is the author of Traces of Gold: California's Natural Resources and the Claim to Realism in Western American Literature (2002) and of a Western Writers Series monograph on Alonzo "Old Block" Delano (2006). He is also the co-editor with Melody Graulich of Dirty Words in "Deadwood": Literature and the Postwestern (2013).
See More
More in this series