Adult Psychopathology and Diagnosis, 7th Edition
ISBN: 978-1-118-65708-9
864 pages
August 2014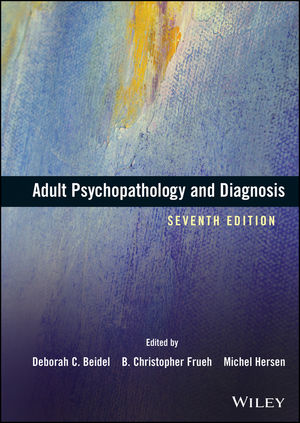 Proven Classic Updated to Reflect the DSM-5
The accessible format, overview chapters on broader issues—such as interviewing—that affect all diagnoses, and case study approach provide the ideal support for students to examine and understand how diagnoses are reached and applied.
Updated to reflect the latest neurobiological advancements in psychopathology, this edition follows the same proven chapter structure for the disorder chapters of previous editions to facilitate readers' understanding and learning. Updates include topics such as:
The new Schizophrenic Spectrum designation and other psychotic disorders
The revised approach to eating disorders
An alternative DSM-5 Model for personality disorders
Conditions considered unsettled in the latest update
Encompassing the most current research in the field, Adult Psychopathology and Diagnosis, Seventh Edition provides a thorough introduction to our current conceptualization of psychopathology and its application in clinical practice, including dimensional and categorical classifications.
See More
Preface vii
Contributors ix
PART I OVERVIEW 1
1 Mental Disorders as Discrete Clinical Conditions: Dimensional Versus Categorical Classification 3
Thomas A. Widiger and Whitney L. Gore
2 The Problem of Dual Diagnosis 35
Melanie E. Bennett, Jason Peer, and Selvija Gjonbalaj-Marovic
3 Structured and Semistructured Interviews for Differential Diagnosis: Fundamental Issues, Applications, and Features 103
Daniel L. Segal and Kadija N. Williams
4 Impact of Race, Ethnicity, and Culture on the Expression and Assessment of Psychopathology 131
L. Kevin Chapman, Ryan C. T. DeLapp, Monnica T. Williams
PART II SPECIFIC DISORDERS 163
5 Schizophrenia 165
Dennis R. Combs, Kim T. Mueser, and Emily Drake
6 Bipolar and Related Disorders 217
David J. Miklowitz and Sheri L. Johnson
7 Mood Disorders: Depressive Disorders 253
Leilani Feliciano and Brenna N. Renn
8 Anxiety Disorders 299
David P. Valentiner, Thomas A. Fergus, Evelyn Behar, and Daniel J. Conybeare
9 Obsessive-Compulsive and Related Disorders 355
Sandra M. Neer and Katie A. Ragsdale
10 Trauma and Stressor-Related Disorders 387
Anouk L. Grubaugh
11 Dissociative Disorders 407
Steven Jay Lynn, Joanna M. Berg, Scott O. Lilienfeld, Harald Merckelbach, Timo Giesbrecht, Michelle Accardi , and Colleen Cleere
12 Somatic Symptom and Related Disorders 451
Gordon J. G. Asmundson, Michel A. Thibodeau, and Daniel L. Peluso
13 Feeding and Eating Disorders 473
Cynthia M. Bulik, Sara E. Trace, Susan C. Kleiman, and Suzanne E. Mazzeo
14 Sleep-Wake Disorders 523
Candice A. Alfano and Simon Lau
15 Sexual Dysfunctions and Paraphilic Disorders 547
Lori A. Brotto, Carolin Klein, and Kenneth J. Zucker
16 Gender Dysphoria 603
Anne A. Lawrence and Kenneth J. Zucker
17 Substance-Related Disorders: Alcohol 641
Eric F. Wagner, Michelle M. Hospital, Mark B. Sobell, and Linda C. Sobell
18 Psychoactive Substance Use Disorders: Drugs 673
Stacey B. Daughters and Matthew Cohen
19 Neurocognitive Disorders 705
Gerald Goldstein
20 Personality Disorders 739
Christopher J. Hopwood and Katherine M. Thomas
Author Index 775
Subject Index 815
See More
DEBORAH C. BEIDEL, PHD, is a professor of psychology and Director of Clinical Programs at the University of Central Florida. She is the author of over 200 scientific publications.
B. CHRISTOPHER FRUEH, PHD, is the Director of Clinical Research at The Menninger Clinic and a professor of psychology at the University of Hawaii. He has over 150 professional publications.
MICHEL HERSEN, PHD, ABPP, was a professor and Dean of the School of Professional Psychology at Pacific University. He has co-authored and co-edited 146 books and has published 226 scientific journal articles.
See More
Instructors Resources
Request a print evaluation copy
Contact us

See More
See Less
Learn more about