E-book
Public Health Nutrition, 2nd Edition
ISBN: 978-1-118-66096-6
456 pages
April 2017, Wiley-Blackwell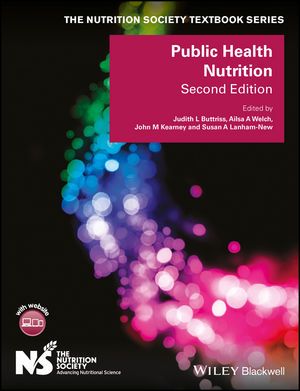 In this second edition of the bestselling title from the acclaimed Nutrition Society Textbook series, Public Health Nutrition has been extensively revised to ensure that it reflects the latest evidence-based knowledge and research. Ground-breaking and comprehensive in both its scope and approach, Public Health Nutrition has been fully updated by an expert editorial team to cover the most recent changes in the field. It now offers a structured overview of the subject's core concepts and considers public health nutrition tools and the application of intervention strategies.
Divided into five key sections, Public Health Nutrition contains a wealth of information, including:
Public health nutrition concepts and assessment tools, and their application in light of the latest evidence.
Case studies to illustrate how best to apply the theory and evidence to policy and practice.
An examination of nutrition throughout the lifecycle, and the relationship between diet and disease, including in relation to obesity, diabetes, cancer, as well as mental health.
The impact of environmental factors on public health.
Public health strategies, policies and approaches.
With a clear and concise structure, Public Health Nutrition is an essential purchase for students of nutrition, dietetics and other healthcare areas, as well as an invaluable practical guide for health professionals working within public health.
A supporting companion website featuring multiple-choice, short answer, and essay style questions is available at www.wiley.com/go/buttriss/publichealth
See More
Contributors ix

Q1 Series Foreword xiii

Preface xv

Q2 About the companion website xvii

Part One Public Health Nutrition Tools 1

1 Introduction to Public Health Nutrition 3
Martin Wiseman

2 Concepts and Definitions Used in Public Health Nutrition 9
Eric Brunner and Ailsa Welch

3 Assessment of Dietary Habits 18
Marga Ocke and Emma Foster

4 Assessment of Nutritional Status in Public Health Nutrition Settings 29
H David McCarthy

5 Food Composition 36
Mark Roe, Jenny Plumb, Ruth Charrondierre and Paul Finglas

6 Dietary Reference Values 47
Peter J Aggett

7 Assessment of Physical Activity 56
Ulf Ekelund

Part Two Current State of Evidence 69

8 Poor Dietary Patterns 71
Judith L Buttriss and Anna Nugent

9 Minerals and Vitamins of Current Concern 88

Iron 88
Peter J Aggett

Iodine 96
Margaret Rayman and Sarah Bath

Vitamin A 102
Liz Johnson and Emily Mohan

10 Nutrition Pre-conception and during Pregnancy 111
Sara Stanner

11 Nutrition and Infant/Child Development 137
Alison M Lennox

12 Nutrition and Teenagers/Young Adults 159
Elisabeth Weichselbaum

13 Nutrition in Older Adults 175
Ashley T LaBrier, Clare Corish, and Johanna Dwyer

Part Three Diet and Disease 193

14 Obesity: Maternal 195
Debbie M Smith, Tracey Mills, and Christine Furber

15 Obesity: Childhood 205
Laura Stewart, Jenny Gillespie, and Taryn Young

16 Cardiovascular Disease: Sodium and Blood Pressure 214
Linda M Oude Griep and Paul Elliott

17 Carbohydrates and Metabolic Health 220
Judith L Buttriss

18 Cardiovascular Disease: Dietary Fat Quality 235
Tom Sanders
19 Diet and Cancer 242
Farah Naja and Lara Nasreddine

20 Bone Health 284
Louise R Wilson, Andrea L Darling, and Susan A Lanham-New

21 Dental Health 298
Anja Heilmann and Richard G Watt

22 Mental Health and Cognitive Function 310

Iron 310
Paul Sharp

Caffeine 313
Peter Rogers

B Vitamins 317
Helene McNulty

Physical Activity 320
Ken Fox

Part Four Environmental Factors 325

23 Obesogenic Environments 327
Amelia Lake, Tim Townshend, and Tom Burgoine

24 The Wider Environment and its Effect on Dietary Behaviour 339
Bridget Benelam and Judith L Buttriss

Part Five Public Health Nutrition Strategies and Approaches 357

25 Global and National Public Health Nutrition Approaches 359
Francesco Branca and Cassandra Ellis

26 Developing Strategies in the Community 374
Janet E Cade, Charlotte EL Evans, and Jayne Hutchinson

27 Dietary Change and Evidence on How to Achieve This 387
Janice L Thompson
28 Evaluation of Public Health Nutrition Interventions and Policies 399
Ailsa Welch and Richard PG Hayhoe
29 Considerations for Evaluation of Public Health Nutrition Interventions in Diverse Communities 406
Basma Ellahi

Index 413
See More
Professor Judith L Buttriss, Director General, British Nutrition Foundation, UK.
Dr Ailsa A Welch, Reader in Nutritional Epidemiology, University of East Anglia, UK.
Dr John M Kearney, Lecturer, Epidemiology, Dublin Institute of Technology, Republic of Ireland.
Professor Susan A Lanham-New, Head of the Department of Nutritional Sciences, University of Surrey, UK.
See More
More in this series