E-book
Scottish History For Dummies
ISBN: 978-1-118-67613-4
336 pages
June 2014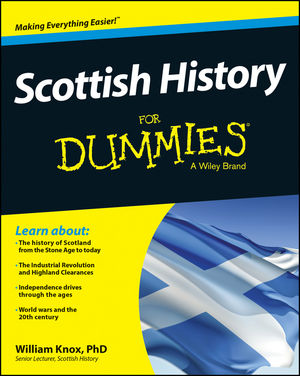 Explore the fascinating history of Scotland in an easy-to-read guide
Want to discover how a small country on the edge of Northern Europe packs an almighty historical punch? Scottish History For Dummies is your guide to the story of Scotland and its place within the historical narratives of Britain, Europe and the rest of the world. You'll find out how Scotland rose from the ashes to forge its own destiny, understand the impact of Scottish historical figures such as William Wallace, Robert the Bruce and David Hume and be introduced to the wonderful world of Celtic religion, architecture and monuments.
History can help us make connections with people and events, and it gives us an understanding of why the world is like it is today. Scottish History For Dummies pulls back the curtain on how the story of Scotland has shaped the world far beyond its borders. From its turbulent past to the present day, this informative guide sheds a new and timely light on the story of Scotland and its people.
Dig into a wealth of fascinating facts on the Stone, Bronze and Iron ages
Get to know how Scotland was built into an industrial economy by inventors, explorers and missionaries
Discover the impact of the world wars on Scotland and how the country has responded to challenges created by them
Find up-to-the-minute information on Scotland's referendum on independence
If you're a lifelong learner looking for a fun, factual exploration of the grand scope of Scotland or a traveler wanting to make the most of your trip to this captivating country, Scottish History For Dummies has you covered.
See More
Introduction 1
Part I: Getting Started with Scottish History 5
Chapter 1: Welcome to Scotland 7
Chapter 2: From Nomads to Farmers: The Earliest Peoples 13
Chapter 3: Disunited Kingdoms (80–750) 21
Part II: Making the Kingdom (840–1286) 31
Chapter 4: The Kingdom of Alba (840–1040) 33
Chapter 5: Good Kings, Bad Kings and a Saintly Queen (1034–1153) 43
Chapter 6: Peace and Plenty? (1153–1286) 57
Part III: Making the Nation (1286–1542) 69
Chapter 7: The Wars of Independence (1286–1371) 71
Chapter 8: The Foundations of the Stewar t Dynast y (1371–1460) 91
Chapter 9: Renaissance Scotland (1460–1542) 109
Part IV: The Unmaking of a Nation (1540–1750) 131
Chapter 10: From Reformation to the Union of the Crowns (1540–1625) 133
Chapter 11: King, Commonwealth and Revolution (1625–1690) 157
Chapter 12: The Unmaking of a Nation (1690–1750) 179
Part V: The Remaking of a Nation (1750–1918) 199
Chapter 13: A Nation in Transition (1750–1832) 201
Chapter 14: The Making of Modern Scotland (1832–1918) 227
Part VI: New Beginnings (1918–2000) 257
Chapter 15: The Devil's Decades: Politics and Poverty (1918 –1945) 259
Chapter 16: The Rebirth of a Nation (1945–2000) 271
Part VII: The Part of Tens 287
Chapter 17: Ten Great Places to Visit in Scotland 289
Chapter 18: Ten Little-Known Scottish People Who Are Worth Knowing About 295
Chapter 19: Ten Things Scotland Has Given to the World 305
Index 311
See More
William Knox, PhD, is a Senior Lecturer of History at the University of St Andrews, Scotland's first university.
See More