Share This Too: More Social Media Solutions for PR Professionals
ISBN: 978-1-118-67693-6
324 pages
October 2013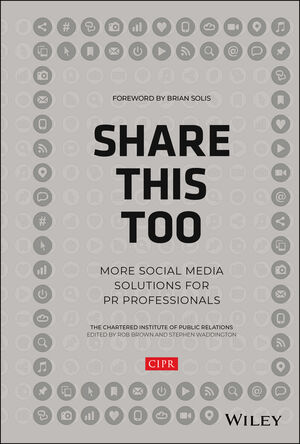 The follow up to Share This: The Social Media Handbook for PR Professionals.

Share This is a practical handbook to the changes taking place in the media and was conceived and written by 24 public relations practitioners using many of the social tools and techniques that it addresses. The book covered the media and public relations industry, planning, social networks, online media relations, monitoring and measurement, skills, industry change and the future of the industry.
Share This Too is also a pragmatic guide for anyone that wants to continue working in public relations. It is a larger book with more than 30 contributors, including all of those from the highly successful first book and many of whom are successful authors in their own right.
It probes more deeply into the subject and is divided into seven sections:
The future of public relations
Audiences and online habits
Conversations
New channels, new connections
Professional practice
Business change and opportunities for the public relations industry
Future proofing the public relations industry
The content entirely complements the first book rather than merely updates it. It delves deeply into what is current in the theory, delivery and evaluation of 21st century public relations and organisational communication.
See More
List of Contributors vii
Foreword – Brian Solis ix
Introduction – Rob Brown and Stephen Waddington xiii
Part I. The Future of Public Relations 1
1 Digital PR is Dead: Social goes mainstream – Rob Brown 3
2 The Shift to Conversation: Content, context and avoiding cheap talk – Dom Burch 11
3 Content Frameworks: Using content to achieve marketing communications goals – Robin Wilson 21
Part II. Audiences and Online Habits 31
4 Planning: Audiences, media and networks – Ged Carroll 33
5 Digital Anthropology – Kate Matlock 41
6 Understanding Social Capital – Adam Parker 49
7 The Unsocial Web – Dr Mark Pack 59
Part III. Conversations 67
8 Gamification: Engaging audiences through play – Sharon O'Dea 69
9 Community Management – Paul Fabretti 79
10 Curation – Michael Litman 89
11 Live Social Events – Russell Goldsmith 97
Part IV. New Channels, New Connections 105
12 Mobile Media – Stephen Davies 107
13 To App or not to App – Scott Seaborn 115
14 The Visual Web – Dan Tyte 123
15 Finding Your Way Around – from Foursquare to Google Glass – Matt Appleby 131
16 Connected Employees – Kevin Ruck 139
Part V. Professional Practice 149
17 Social Media and the Law – Hanna Basha 151
18 Online Crisis Management – Chris Norton 159
19 Wikipedia and Reputation Management – Stephen Waddington 169
20 The Rise and Rise of Digital Pharma – Becky McMichael 179
21 Social in Corporate Communications – Rachel Miller 191
22 Putting the Social into Corporate Social Responsibility – Stuart Bruce 201
23 Building a Personal Brand Online – Richard Bailey 209
24 The Social CEO – Jane Wilson 217
25 Working across Borders and Boundaries – Juilo Romo 225
Part VI. Business Change and Opportunities for the Public Relations Industry 233
26 Laying the Foundations for a Social Business – Jed Hallam 235
27 Social Commerce: Show me the money – Katy Howell 241
28 How to Change Organizational Mindset – Gemma Griffiths 251
29 The Six Influence Flows – Philip Sheldrake 259
Part VII. Future Proofing the Public Relations Industry 269
30 Metrics that Matter – Richard Bagnall 271
31 Quantified Self – Drew Benvie 279
32 Network Topology – Andrew Bruce Smith 287
33 The Public Relations Power of "Big Data" – Simon Collister 295
Index 305
See More
Rob Brown is Founding Partner at Rule 5 - a PR and digital agency in MediaCityUK Manchester with clients in food, sport, finance and the media. Rob was awarded Outstanding Contribution to Social Media in the national SomeComms Awards in 2011 and the Stephen Tallents Medal by the CIPR in 2013.
Stephen Waddington is a PR moderniser who has worked in the media and corporate communications since the rise of the internet and the dawn of digital media in the early-90s. He has helped brands such as The Associated Press, Cisco, The Economist, IBM, Tesco and Virgin Media Business to manage their reputations.
Contributors: Brian Solis, Rob Brown, Stephen Waddington, Dom Burch, Robin Wilson, Ged Carroll, Kate Matlock, Adam Parker, Dr Mark Pack, Sharon O'Dea, Paul Fabretti, Michael Litman, Russell Goldsmith, Stephen Davies, Scott Seaborn, Dan Tyte, Matt Appleby, Kevin Ruck, Hanna Basha, Chris Norton, Becky McMichael, Rachel Miller, Stuart Bruce, Richard Bailey, Jane Wilson, Julio Romo, Jed Hallam, Katy Howell, Gemma Griffiths, Philip Sheldrake, Richard Bagnall, Drew Benvie, Andrew Bruce Smith, Simon Collister.
See More