E-book
First World War For Dummies
ISBN: 978-1-118-67997-5
408 pages
April 2014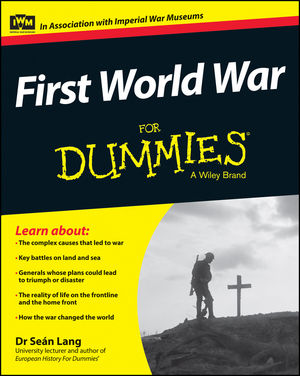 From the Somme to Gallipoli to the home front, First World War For Dummies provides an authoritative, accessible, and engaging introduction to the War to End All Wars. It takes a global perspective of this global conflict, proving insight into the actions and motivations of the participants and how each nation's story fits into the wider one.
Coverage also includes:
The origins of the war and a snapshot of what the world looked like at the beginning of the 20th century
The battles of Western Europe, and action in the Southern and Eastern Fronts
The war at home  — the civilian war, propaganda, opposition, politics, protests, and more 
1918: The German spring offensive, the Allied success and the beginning of the end
The Treaty of Versailles, the League of Nations, and the effect on the future
First World War For Dummies is the go-to source for readers seeking to learn more about the fundamental event of the 20th century.
See More
Introduction 1
Part I: Origins of War 7
Chapter 1: The First World War: An Overview 9
Chapter 2: The World in 1900 29
Chapter 3: Crisis Mismanagement: Unpicking the Causes of the First World War 55
Part II: Europe at War, 1914–1916 75
Chapter 4: 1914: The First World War Starts Here 77
Chapter 5: 1915: Cunning Plans to Win the War 101
Chapter 6: 1916: The Big Battles 117
Part III: A World at War 137
Chapter 7: Welcome to the World of the Trenches 139
Chapter 8: War at Sea, War in the Air 155
Chapter 9: Turkish Delights 175
Chapter 10: The Imperial War 195
Chapter 11: America Goes to War 213
Part IV: Home Fronts 229
Chapter 12: The Civilian War 231
Chapter 13: Women at War 249
Chapter 14: Struggles for Power 265
Part V: Armistice and Aftermath, 1917–1918 and Beyond 281
Chapter 15: 1917: The Year of Big Changes 283
Chapter 16: 1918: Victory and Defeat 303
Chapter 17: Aftermath: The World After the War 323
Chapter 18: Remembering the War 343
Part VI: The Part of Tens 359
Chapter 19: Ten Key Generals of the First World War 361
Chapter 20: Ten Great First World War Films 367
Chapter 21: Ten Famous Wartime Writers and Poets 371
Chapter 22: Ten Enlightening Places to Visit 377
Index 381
See More
Dr Seán Lang is a Senior Lecturer in History at Anglia Ruskin University and has been teaching history to college and university students for more than three decades. Lang is the author of a number of books on history, including British History For Dummies and European History For Dummies.
See More