Governing Global Land Deals: The Role of the State in the Rush for Land
ISBN: 978-1-118-68826-7
288 pages
November 2013, Wiley-Blackwell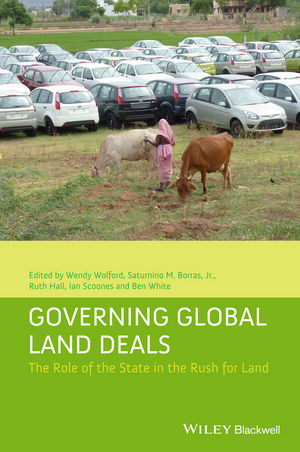 This collection of essays in Governing Global Land Deals provides new empirical and theoretical analyses of the relationships between global land grabs and processes of government and governance.
Reframes debates on global land grabs by focusing on the relationship between large-scale land deals and processes of governance
Offers new theoretical insights into the different forms and effects of global land acquisitions
Illuminates both the micro-processes of transaction and expropriation, as well as the broader structural forces at play in global land deals
Provides new empirical data on the different actors involved in contemporary land deals occurring across the globe and focuses on the specific institutional, political, and economic contexts in which they are acting
See More
List of Contributors vii
1 Governing Global Land Deals: The Role of the State in the Rush for Land 1
Wendy Wolford, Saturnino M. Borras Jr., Ruth Hall, Ian Scoones and Ben White
2 State Involvement, Land Grabbing and Counter-Insurgency in Colombia 23
Jacobo Grajales
3 Road Mapping: Megaprojects and Land Grabs in the Northern Guatemalan Lowlands 45
Liza Grandia
4 Land Regularization in Brazil and the Global Land Grab 71
Gustavo de L.T. Oliveira
5 Negotiating Environmental Sovereignty in Costa Rica 93
Dana J. Graef
6 Building the Politics Machine: Tools for 'Resolving' the Global Land Grab 117
Michael B. Dwyer
7 Indirect Dispossession: Domestic Power Imbalances and Foreign Access to Land in Mozambique 141
Madeleine Fairbairn
8 Competition over Authority and Access: International Land Deals in Madagascar 163
Perrine Burnod, Mathilde Gingembre and Rivo Andrianirina Ratsialonana
9 Regimes of Dispossession: From Steel Towns to Special Economic Zones 185
Michael Levien
10 The Political Construction of Wasteland: Governmentality, Land Acquisition and Social Inequality in South India 211
Jennifer Baka
11 Chinese Land-Based Interventions in Senegal 231
Lila Buckley
12 Identity, Territory and Land Conflict in Brazil 253
LaShandra Sullivan
Index 275
See More
Wendy Wolford is the Robert A. and Ruth E. Polson Professor of Development Sociology at Cornell University.
Saturnino M. Borras, Jr. is Associate Professor of Rural Development Studies at the International Institute of Social Studies (ISS) in The Hague, The Netherlands.
Ruth Hall is an Associate Professor at the Institute for Poverty, Land and Agrarian Studies (PLAAS) at the University of the Western Cape. 
Ian Scoones is a Professorial Fellow at the Institute of Development Studies at the University of Sussex and co-director of the ESRC STEPS Centre at Sussex and joint convener of the IDS-hosted Future Agricultures Consortium. 
Ben White is Emeritus Professor of Rural Sociology at the International Institute of Social Studies (ISS) in The Hague, the Netherlands.
The editors are co-coordinators of the Land Deal Politics Initiative (LDPI: ww.iss.nl/ldpi), an international network of scholars doing engaged research on the issue of global land grabbing.
See More
More in this series