E-book
Horticultural Reviews, Volume 41
ISBN: 978-1-118-70568-1
562 pages
November 2013, Wiley-Blackwell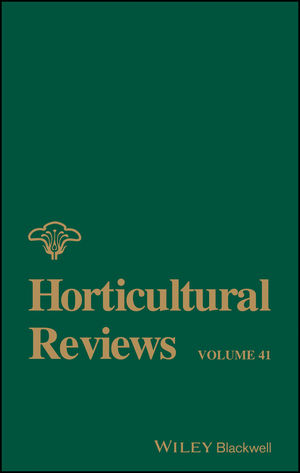 This latest volume in the Horticultural Reviews Series presents the most recent analyses of innovations in horticultural science and technology. Covering both basic and applied research, Volume 41 incorporates a wide variety of horticultural topics including the horticulture of fruits, vegetables, nut crops, and ornamentals. Specialized researchers and the broader community of horticultural scientists and student may benefit from this research tool.
See More
Contributors ix
Dedication: Philipp W. Simon xii
Irwin Goldman
1. Circadian Regulation of Horticultural Traits: Integration of Environmental Signals 1
Marcos Egea-Cortines, Fabiola Ruiz-Ramon, and Julia Weiss
I. Introduction 2
II. General Structure of the Plant Circadian Clock 3
III. Environmental Inputs 10
IV. Control of Plant Growth and Morphogenesis 13
V. Adaptation to Biotic and Abiotic Stress 29
VI. Summary and Conclusions 33
Acknowledgments 34
Literature Cited 34
2. Response of Perennial Horticultural Crops to Climate Change 47
D. Michael Glenn, Soo-Hyung Kim, Julian Ramirez-Villegas, and Peter Laderach
I. Introduction 51
II. Response of Perennial Horticultural Crops with Abiotic Factors Associated with Climate Change 54
III. Case Studies 57
IV. Adapation 91
V. Future Research Needs 109
Acknowledgments 112
Literature Cited 112
3. Nonchilling Physiological Rind Disorders in Citrus Fruit 131
Lembe Samukelo Magwaza, Umezuruike Linus Opara, Paul J. R. Cronje, Sandra Landahl, Leon A. Terry, and Bart M. Nicolay
I. Introduction 133
II. Citrus Rind Disorders 134
III. Rind Anatomy and Histological Characteristics 143
IV. Causes of Physiological Rind Disorders of Citrus Fruit 145
V. Molecular and Physiological Basis of Physiological
Rind Disorders 158
VI. Techniques for Inducing Rind Disorders 161
VII. Prospects for Future Research 162
VIII. Conclusions 164
Acknowledgments 166
Literature Cited 166
4. Fruit Splitting in Citrus 177
Paul J. R. Cronje, Ockert P. J. Stander, and Karen I. Theron
I. Introduction 179
II. Physiology of Citrus Fruit Splitting 183
III. Causes of Citrus Fruit Splitting 187
IV. Reducing Citrus Fruit Splitting 191
V. Conclusions 195
Acknowledgments 197
Literature Cited 197
5. Postharvest Biology and Technology of Ber Fruit 201
Sunil Pareek and Elhadi M. Yahia
I. Introduction 203
II. Fruit Composition and Nutritional Variability 208
III. Physiological and Biochemical Changes During Maturation and Ripening 210
IV. Preharvest Treatments to Extend Shelf Life 218
V. Postharvest Handling and Technology 220
VI. Postharvest Diseases and Disorders 227
VII. Summary and Future Prospects 229
Literature Cited 231
6. Peach Texture 241
Paul Sandefur, John R. Clark, and Cameron Peace
I. Introduction 243
II. Fruit Texture 245
III. Peach Texture 249
IV. Peach Flesh Types 258
V. Ripening and the Enzymatic Effects on Peach Texture 269
VI. Production and Handling Effects on Peach Texture 276
VII. Summary 285
Literature Cited 286
7. High-Density Olive Plantations 303
Luis Rallo, Diego Barranco, Sergio Castro-Garcya, David J. Connor, Marya Gomez del Campo, and Pilar Rallo
I. Introduction: Olive Growing in a Time of Change 305
II. Typologies of Olive Plantations 307
III. Effects of Density on Plant Performance 318
IV. Critical Factors for High-Density Orchards 325
V. Orchard Establishment Costs, Management Costs, and Economical Indices 362
VI. The Future 365
Acknowledgments 370
Literature Cited 370
8. The Carob Tree: Botany, Horticulture, and Genetic Resources 385
Joan Tous, Agusti Romero, and Ignasi Batlle
I. Introduction 387
II. Botany 395
III. Horticulture 407
IV. Variability and Genetic Resources 419
V. Properties and Uses 434
VI. Concluding Remarks 442
Acknowledgments 445
Literature Cited 446
9. Snake Gourd and Pointed Gourd: Botany andHorticulture 457
L. K. Bharathi, T. K. Behera, A. K. Sureja, K. Joseph John, and Todd C. Wehner
I. Introduction 459
II. The Genus Trichosantes 459
III. Snake Gourd 467
IV. Pointed Gourd 475
V. Future Prospects 484
Literature Cited 485
Subject Index 497
Cumulative Subject Index 499
Cumulative Contributor Index 533
See More
Jules Janick is the James Troop Distinguished Professor of Horticulture at Purdue University in West Lafayette, IN, USA.
See More