Creation "Ex Nihilo" and Modern Theology
ISBN: 978-1-118-70596-4
198 pages
May 2013, Wiley-Blackwell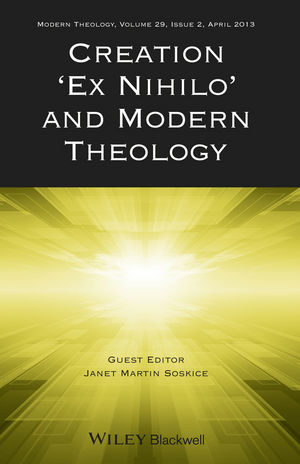 This is a fresh and modern look at the concept of creatio ex nihilo with 12 essays by leading scholars from around the world.
Discusses the theological implications of 'ex nihilo' and its place in modern theology
Examines the historiography of creation 'ex nihilo', with particular attention to the views of Aquinas, Dante, Luther, Merleau-Ponty, and Bulgakov
Delves into topics as varied as prayer, providence, beauty, divine presence, our relation to other creatures, freedom, and grace
See More
Introduction (Janet Martin Soskice)
1. Creatio Ex Nihilo Recovered (David B. Burrell)
2. Creation in Early Christian Polemical Literature: Irenaeus against the Gnostics and Athanasius against the Arians (Paul Gavrilyuk)
3. Nothing Is Not One: Revisiting the ex nihilo (Virginia Burns)
4. Thomas Aquinas's Understanding of Prayer in the Light of the Doctrine of Creatio Ex Nihilo (Rudi te Velde)
5. Contemplation, Charity and Creation ex nihilo in Dante's Commedia (Vittorio Montemaggi)
6. Luther's Topology: Creatio Ex Nihilo and the Cultivation of the Concept of Place in Martin Luther's theology (Jon Mackenzie)
7. The Wonder of Immanence: Merleau-Ponty and the Problem of Creation (Andreas Nordlander)
8. Creatio ex nihilo and the Divine Ideas in Aquinas: How fair is Bulgakov's critique? (John Hughes)
9. Creation Ex Nihilo as Mixed Metaphor (Kathryn Tanner)
10. "Love is also a lover of life": creation ex nihilo and creaturely goodness (John Webster)
11. Creation and the Glory of Creatures (Janet Martin Soskice)
Index
See More
Janet Soskice is Professor of Philosophical Theology at the University of Cambridge, UK. Within the philosophy of religion, she specializes in religious language and naming God. She is author of Sisters of Sinai (2009) and The Kindness of God (2008) and co-editor of Creation and the God of Abraham (2010).
See More
More in this series