Strategy Builder: How to Create and Communicate More Effective Strategies
ISBN: 978-1-118-70723-4
256 pages
April 2015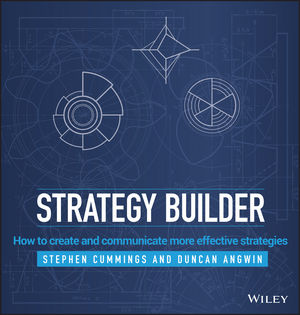 A visual and interactive guide to building and communicating strategies that actually work
YOUR STRATEGY HAS SEVEN SECONDS TO CAPTIVATE ITS AUDIENCE… So how are you going to present it? A big wordy document? A lengthy address? Slides full of bullet points?
The best way to engage and involve people is through pictures. Strategy Builder shows you how to creatively combine the best strategy frameworks to orient and animate strategy discussion and development in your team. This visual, interactive guide, with illustrations by Visory, uses real world examples and practical tips to help you:
Discover the five key foundations that every strategy should be built upon
Draw compelling and unique pictures that capture your organization's distinct strategies
Develop your skills as a leader of strategy discussions
Understand how to use interactive drawing to engage others and achieve 'buy in'
Additional online resources available including Strategy Drawing Templates, plus Builder Slides and case studies materials for instructors. Locate the 'Companion Website' link towards the bottom of this page to access these materials.
Test your strategic vision or develop a new strategic plan based on the best elements of key strategic frameworks by trying the FREE interactive Strategy Builder app, developed in association with StrategyBlocks, at
www.strategicplan.com
Praise for Strategy Builder:
Cummings & Angwin are pioneers in introducing novel approaches in teaching and applying the principles of strategy --Robert M. Grant, Bocconi University, author of Contemporary Strategy Analysis


In a complex, fast changing world, where we are bombarded by words, numbers and reports, the visual-first approach to strategy provided by Strategy Builder is immensely helpful for inspiring and communicating a clearer vision of how to move forward. -- Rachna Bhasin, VP Strategy, SiriusXM
At last someone has grasped this idea and come up with a way to help us demonstrate strategic plans and ambitions in a creative new way. --Vikki Heywood CBE, Chair of The Royal Society for the Arts
This wonderful book is the first to solve a near-universal problem: communicating strategic ideas is just as hard and just as important as coming up with them in the first place, and both are visual activities. The question is not "Do you understand?" but "Do you see?" --William Duggan, Professor, Columbia University, author Strategic Intuition
This book shows how to draw an organization's strategy so you see what's been considered, what's not been considered, and how things are related,. Strategy building is presented as a fun and involving learning process.The approach is revolutionary in that it enables not only the development but also the easy sharing of strategic understanding. --Roger L.M. Dunbar, Emeritus Professor, Stern School of Business, New York University
What a great idea! They layout is also really thoughtful; it makes you immediately want to get out a pencil and start doodling. --Adam Martin, Customer Solutions Director, The Brakes Group
As a time pressed executive it was a delight to find a book that I can dip into to find the best strategic frameworks - those that have proved the test of time and academic scrutiny as being truly useful in the workplace. Even better for an inveterate scribbler: endorsement that a picture and 'permission to play' with ideas visually really does say a thousand words and more! --Sarah Mitson, Global Business Director, TNSGlobal
This is an invaluable resource for any executive wanting to improve engagement in strategy development and communication. The accessible layout means that the book itself can play an active and inspiring role in strategy discussions. --Matt Thomas, Director, Braxton Associates, Strategy Consultants
At last a book that grasps the implications of recent psychology: people think visually as well as verbally. The authors provide powerful visual devices that will both help managers conceive better strategies and enable their people to execute them more effectively. --Richard Whittington, Professor at Saïd Business School, Oxford University
A powerful approach to make strategy more engaging again! Strategy Builder is landmark book is destined to make an important impact to the field of strategy, strategizing and strategic management. Executives across the board (and students of strategy) will find the core message of this book counterintuitive and compelling. The idea of "drawing" strategy may seem like child's play, yet all great strategists and philosophers know that it is through such "serious play" that allows us to see things differently so that we can see different things. --Robert Wright, Professor of Strategy, Hong Kong Polytechnic University
See More
Strategy Builder Team vi
PART One: The Concept 01
Opportunities for a New Way of Developing Strategy 05
Seven Strengths of Drawing Strategy 12
What Strategy Builder Does 22
PART TWO: Design 25
User's Guide to the Strategy Builder's Framework Profiles 28
Environmental Ecology 37
Competitive Positioning 71
Resources and Capabilities 105
Strategic Growth Options 139
Managing Performance Strategically 173
PART Three: Realization 207
Well-built Strategies, Simply Conveyed 209
Six Stratographic Principles 212
Get Building 233
Endnotes 239
Image Credits 242
See More
STEPHEN CUMMINGS is Professor of Management at Victoria University of Wellington and Academic Fellow of the International Council of Management Consulting Institutes.
DUNCAN ANGWIN is Professor of Strategy at Oxford Brookes University and is widely published in strategic management literature (www.duncanangwin.com).
See More
Do you think you've discovered an error in this book? Please check the list of errata below to see if we've already addressed the error. If not, please submit the error via our Errata Form. We will attempt to verify your error; if you're right, we will post a correction below.
Chapter
Page
Details
Date
Print Run
70,104,138,172,206
Errata in text
The web address is wrongly reproduced:
Should be http://www.wiley.com/go/strategybuilder without the .com on the end.
9-Jun-17
72
Errata in text
"Support Activities", to the left of the diagram, has been sliced in half by the margin (so it reads "rt ties").
9-Jun-17
120
Errata in text
The acronym "TOM" in the second ring of the diagram, should be "TQM"
9-Jun-17
See More
Instructors Resources
Request a print evaluation copy
Contact us

See More
See Less