The Clever Object
ISBN: 978-1-118-71076-0
218 pages
December 2013, Wiley-Blackwell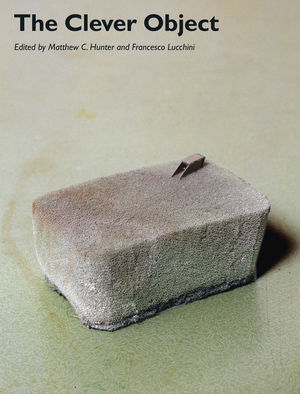 The Clever Object presents a multidisciplinary exploration of the ways objects materialise, embody, or negotiate various forms of intelligence, revealing its use as an analytic tool of art-historical interpretation.
Presents an original theory ("the clever object") that draws on contributions from a variety of fields, including history of art, anthropology, philosophy of science, and design history
Features interviews with two contemporary artists
Advances a theoretical conversation by combining historical contributions (from medieval/early modern) with contemporary perspectives
Represents the results of a project developed from an intensive research seminar in which all contributors participated and developed their work in evolving dialogue
See More
6 Notes on Contributors
8 Chapter 1 The Clever Object: Three Pavilions, Three Loggias, and a Planetarium
Matthew C. Hunter and Francesco Lucchini
32 Chapter 2 Aleardino's Glass
Francesco Lucchini
52 Chapter 3 Object, Image, Cleverness: The Lienzo de Tlaxcala
Byron Ellsworth Hamann
80 Chapter 4 Picture, Object, Puzzle, Prompter: Devilish Cleverness in Restoration London
Matthew C. Hunter
102 Chapter 5 Screen Wise, Screen Play: Jacques de Lajoue and the Ruses of Rococo
Katie Scott
142 Chapter 6 William Morris's Tapestry: Metamorphosis and Prophecy in The Woodpecker
Caroline Arscott
160 Chapter 7 Fischli and Weiss's Equilibre/Quiet Afternoon (1984-5)
Rachel Wells
174 Chapter 8 Clever Objects – Tell-Tale Objects
Simon Starling in conversation with Christiane Rekade
186 Chapter 9 Fragments of Great Visions
Ian Kiaer in conversation with Christiane Rekade
198 Chapter 10 Response: Clever Fetishists
Roman Frigg
204 Chapter 11 Response: Playing Dumb
Glenn Adamson
211 Index
See More
Matthew C. Hunter is Assistant Professor in the Department of Art History and Communication Studies at McGill University. He is author of Wicked Intelligence: Visual Art and the Science of Experiment in Restoration London (2013) and co-editor of Beyond Mimesis and Convention: Representation in Art and Science (2010).
Francesco Lucchini is a Psychoanalytic Training Candidate at the C. G. Jung Institut, Zurich. He is also an art historian and theorist with an interest in the relationship between objects and ideas, thinking and things.
See More
More in this series