E-book
Foundations of Couples, Marriage, and Family Counseling
ISBN: 978-1-118-71078-4
544 pages
January 2015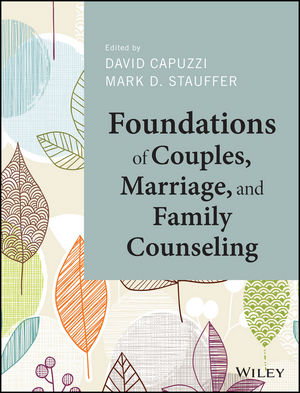 A comprehensive and practical approach to the world of marriage, couples, and family counseling
Esteemed academics David Capuzzi and Mark D. Stauffer present the theory, research, and real-life practice of today's counselors and therapists in family therapy settings. Aligned with the Council for Accreditation of Counseling and Related Educational Programs (CACREP) and Commission on Accreditation for Marriage and Family Therapy Education (COAMFTE), this useful text covers foundational teaching important to readers, but also critical modern topics not included in other texts, such as sexuality, trauma, divorce, domestic violence, and addictions, filial play therapy, and using community genograms to position culture and context in family therapy.
With a unique focus on practical applications, the book discusses the major family therapy theories, and provides graduate students and post-graduate learners in counseling, mental health, and behavioral health fields the skills and techniques they need to help couples and families as part of their work in a variety of helping environments. Each chapter contains case studies and anecdotes that help readers think critically about the issues they are likely to deal with as clinicians.
Written by recognized and respected contributors, this book helps readers see the connection between what they know and what happens in couples and family counseling sessions. Readers will:
Learn the knowledge and skills essential to family therapy
Understand the history, concepts, and techniques associated with major theories
Examine the key issues specific to couples work, with relevant intervention
Explore solutions to the complexities generated by special issues
Discusses the modern realities of family, diversity and culture, and systemic contexts
Family and couples counseling presents a complex interplay of various factors inherent to each individual, the dynamic interplay between each person's issues, and the outside influences that shape behavior. Foundations of Couples, Marriage, and Family Counseling helps readers sort out the complexity and guide clients toward lasting resolution.
See More
Preface ix
PART 1 ESSENTIAL KNOWLEDGE AND SKILLS 1
Chapter 1 Variations in Family Systems and Family Life Cycles 3
David Capuzzi, Mark D. Stauffer, and Nicholaus Erber
Functional and Dysfunctional Families 5
Variations in Family Systems 7
The Family Life Cycle 15
Summary 20
Useful Websites 21
References 21
Chapter 2 Using Community Genograms to Position Culture and Context in Family Therapy 25
Sandra A. Rigazio-DiGilio and Hyeseong Kang
Introduction 25
Making the Invisible Visible: The Evolution of Genograms 26
Community Genograms: Capturing the Complexity of Culture and Context 32
Basic Components of Standard Community Genograms 34
Using Community Genograms to Extend Client Perspectives 40
Using Community Genograms as Consultants and Advocates 45
Summary 49
References 50
Chapter 3 Diversity and Intercultural Work in Family Counseling 53
Brian Canfield
Goals 55
Background 56
Major Constructs 57
Techniques 63
Limitations 68
Summary 69
Useful Websites and Links 69
References 70
Chapter 4 Effectively Using Research and Assessment in Couples and Family Therapy 71
Brandé Flamez, Janet Froeschle Hicks, and Ashley Clark
The Role of Research in Effective Family Therapy 73
Conclusions Drawn in Family Therapy Research 74
Research Methods in Family Therapy 77
Assessment in Family Therapy 81
Use of Standardized Assessment Instruments for Individuals 84
Inventories for Couples and Family Counseling 86
Summary 95
Useful Websites 95
References 96
Chapter 5 Legal, Ethical, and Professional Issues 101
Melinda Haley
Ethical Issues 102
Legal Issues 107
Professional Issues 114
Accreditation 120
Summary 121
Useful Websites 122
References 122
PART 2 THEORIES: HISTORY, CONCEPTS, AND TECHNIQUES 127
Chapter 6 Psychodynamic Theories: Approaches and Applications 129
Stephanie K. Scott
Background 131
Major Constructs 135
Goals 141
Techniques 144
Limitations 152
Summary 154
Useful Websites 155
References 155
Chapter 7 Experiential and Humanistic Theories: Approaches and Applications 159
Mark B. Scholl, Michelle Perepiczka, and Michael Walsh
Carl Whitaker 160
Walter Kempler 167
Virginia Satir 171
Limitations 179
Summary 180
Useful Websites 181
References 181
Chapter 8 Bowenian Family Systems Theory: Approaches and Applications 185
Dohee Kim-Appel and Jonathan K. Appel
Background 186
Bowen's Family Systems Theory 187
Major Constructs 188
Counseling Techniques 202
Limitations and Future Research 206
Summary 208
Useful Websites 208
References 208
Chapter 9 Structural Theory: Approaches and Applications 215
Shawn P. Parmanand and Esther Benoit
Theoretical Overview 215
Background: Founders and Current Proponents 216
Major Constructs 219
Goals 229
Techniques 230
Limitations 235
Summary 235
Useful Websites 236
References 236
Chapter 10 Strategic and Milan Systemic Theories: Approaches and Applications 239
Mark D. Stauffer and David Capuzzi
Background 239
Major Constructs 240
Washington School of Strategic Therapy 242
Mental Research Institute (MRI) School 250
Milan Systemic School 253
Strategic Therapy Limitations 257
Summary 258
Useful Websites 258
References 259
Chapter 11 Behavioral and Cognitive-Behavioral Theories: Approaches and Applications 261
Marvarene Oliver and Yvonne Castillo
Background 262
Major Constructs 276
Techniques 278
Limitations 281
Summary 281
Useful Websites 282
References 282
PART 3 COUPLES WORK 287
Chapter 12 Key Issues and Interventions in Couples Counseling 289
Montserrat Casado-Kehoe and Diane Kimball Parker
Couples Counseling Models and Interventions 290
Summary 311
Useful Websites 311
References 312
Chapter 13 Sexuality and Gender in Couples Counseling 317
Janet Froeschle Hicks and Brandé Flamez
Definitions of Gender and Sex 318
Couple Differentiation 331
Counselor Sexuality Training 335
Summary 335
Useful Websites 337
References 337
Chapter 14 Counseling Couples Using Life Cycle and Narrative Therapy Lenses 341
Colleen R. Logan, Aaron H. Jackson, Lee A. Teufel-Prida, and Dawn M. Wirick
Case Study 341
Introduction 342
Termination 354
Referral 356
Summary 357
Useful Websites 357
References 357
PART 4 SPECIAL ISSUES 359
Chapter 15 Filial Play Therapy and Other Strategies for Working With Parents 361
John Sommers-Flanagan, Kirsten W. Murray, and Christina G. Yoshimura
Parenting Problems and Theoretical Models 362
Core Principles for Working With Parents 364
Filial Therapy: A Specific Approach to Working Directly With Parents 370
References 386
Chapter 16 Working With Addictions in Family Therapy 389
Pamela S. Lassiter, Astra B. Czerny, and Kimberly S. Williams
What Is Addiction? 389
Prevalence of Addiction in Families 390
Impact of Addiction 390
Substance Abuse Versus Nonsubstance Addictions 391
Biopsychosocial Epistemology of Addiction 392
Using Family Therapy as a Treatment Modality 395
Family Dynamics and Addiction 396
Recruitment of Addicted Families 399
Assessment Strategies 400
Assessment and Initial Interviews 401
Joining With Addicted Families 402
Segmenting 403
Stages of Change 403
Motivational Interviewing 404
Family Interventions Protocols 405
Family Education Programs 405
Goals for Therapy With Addicted Families 405
Training and Supervision 411
Summary 413
Useful Websites 413
References 414
Chapter 17 Violence, Abuse, and Trauma in Family Therapy 419
Danica G. Hays, Kevin C. Snow, and Cassandra G. Pusateri
Introduction to Violence, Abuse, and Trauma 419
Diversity Considerations 424
Counseling Families Experiencing Violence, Abuse, and Trauma 428
Postscript: Counselor Self-Care 436
Summary 438
Useful Websites 438
References 439
Chapter 18 Divorce and Other Loss Issues in Family Therapy 449
Thelma Duffey
The Grief Experience 450
Theories of Grief 453
A Family's Adaptation to Loss 457
Common Experiences of Loss in a Family System 458
Ambiguous Loss 466
Creativity in Grief and Loss Counseling 474
Summary 477
Useful Websites 477
References 478
Meet the Editors 483
Meet the Contributors 485
Author Index 499
Subject Index 513
See More
DAVID CAPPUZZI, PHD, LPC, NCC, is core faculty member in the mental health counseling program at Walden University; a Senior Faculty Associate in the Department of Counseling and Human Services at Johns Hopkins University; and Professor Emeritus at Portland State University. He is the former president of the American Counseling Association (ACA) and an ACA Fellow.
MARK D. STAUFFER, PHD, NCC, is a contributing instructor in the Counselor Education and Supervision program at Walden University in the Department of Teacher and Counselor Education at Oregon State University and is Co-Chair of the American Counseling Association International Committee.
See More