Mapping Leadership: The Tasks that Matter for Improving Teaching and Learning in Schools
ISBN: 978-1-118-71169-9
240 pages
July 2017, Jossey-Bass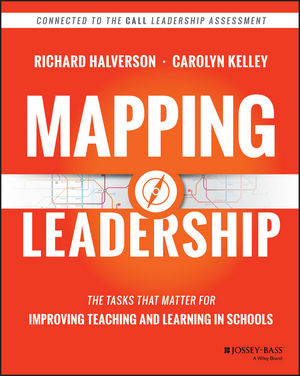 Drawing on twenty years of research in school effectiveness, this book presents a distributed model of task-based school leadership that leads to continuous school improvement. The book outlines the tasks school leadership teams must focus on to improve teaching and learning, grouped into the following five domains:
Focus on Learning
Monitoring Teaching and Learning
Building Nested Learning Communities
Acquiring and Allocating Resources
Maintaining a Safe and Effective Learning Environment
Recognizing that the principal is a single actor in a complex web of activity influencing student learning, the focus is not only on the principal's role but on a range of leadership and instructional practices to be shared across the leadership team (including APs, counselors, teachers, and support personnel). These tasks, organized into 21 subdomains, have been demonstrated through extensive research to contribute to improved student learning.
See More
Acknowledgments
Prologue
Chapter 1: Distributed Leadership In Action
Leadership and Span of Control
Leader of Leaders
Distributed Leadership in Action
Comprehensive Assessment of Leadership for Learning
Chapter 2: Mapping School Leadership: Research Base and Domains
Knowledge Base for the CALL Domains.
CALL Domains of School Leadership Practice
The CALL Survey in Action
Chapter 3: Domain 1: Focus on Learning
1.1 Maintaining a School-Wide Focus on Learning
1.2 Formal Leaders are Recognized as Instructional Leaders
1.3 Integrated Learning Plan
1.4 Providing Appropriate Services for All Students
Putting It All Together to Focus on Learning
Chapter 4: Domain 2: Monitoring Teaching and Learning
A Brief History of Accountability and Schools—Emergence of a New Model of Instructional Leadership
Building Information Ecologies to Support Teaching and Learning
2.1 Formative Evaluation of Student Learning
2.2 Summative Evaluation of Student Learning
2.3 Formative Evaluation of Teaching
2.4 Summative Evaluation of Teaching
Putting It All Together: Information Ecologies for 21st Century Schools
Chapter 5: Domain 3: Designing Professional Community
Designing Professional Community
3.1 Collaborative Design Focused on Problems of Teaching and Learning
3.2 Professional Learning
3.3 Socially Distributed Leadership
3.4 Coaching and Mentoring
Putting It All Together: Design as a Model for Building Professional Community
Lessons for Building Professional Community in Schools
Chapter 6: Domain 4: Acquiring and Allocating Resources
4.1 Managing the Induction and Organization of Personnel
4.2 Structuring and Maintaining Time
4.3 Supplemental Learning Opportunities for All Students
4.4 Integrating External Expertise into the School Instructional Program
4.5 Coordinating Relations with Families and External Communities
Putting It All Together: Acquiring and Allocating Resources
Chapter 7: Domain 5: Creating Safe and Effective Learning Environments
The Practices That Matter to Develop Safe and Effective Learning Environments
5.1 Clear, Consistent and Enforced Expectations for Student Behavior
5.2 Clean and Safe Learning Environment
5.3 Student Support Services Provide a Safe Haven for Students who Traditionally Struggle
Putting It All Together: Innovative Practices for Building Safe and Effective Learning Environments
Chapter 8: Mapping Leadership Practice
Mapping Leadership Practice
Appendix 1: CALL Research Publications
Appendix 2: Observations About Some Differences in CALL Results between Secondary and Elementary Schools
Appendix 3: Description of the CALL Research and Validation Project
Content Validity
User Testing
Item Analysis
Appendix 4: CALL Domains
Appendix 5: References
See More