E-book
Ethics in Forensic Psychology Practice
ISBN: 978-1-118-71203-0
272 pages
March 2017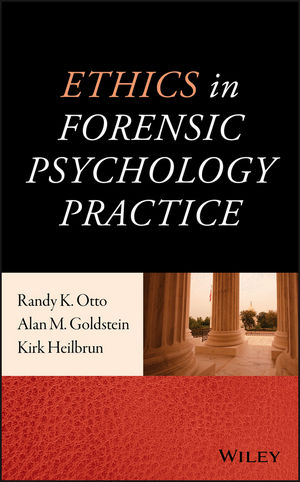 AN AUTHORITATIVE GUIDE TO THE CURRENT SPECIALTY GUIDELINES FOR FORENSIC PSYCHOLOGY
Ethics in Forensic Psychology Practice is a comprehensive and authoritative resource that addresses major concerns of professionals who conduct evaluations, provide treatment, carry out research, as well as a guide for those who teach and train in diverse legal contexts. Including on the American Psychological Association's current Specialty Guidelines for Forensic Psychology, the standard measure for ethical and legal conduct, this important volume is organized around substantive practice issues that cut across various functions and roles. The authors include a range of topics such as training, business practices, roles, privacy, confidentiality, report writing, testifying, and more.
See More
ABOUT THE AUTHORS ix
PREFACE xi
CHAPTER 1 Introduction 1
CHAPTER 2 Sources of Authority 11
CHAPTER 3 Competence 34
CHAPTER 4 Roles 55
CHAPTER 5 Working with Attorneys and Other Referral Sources 82
CHAPTER 6 Informed Consent, Assent, and Notification 109
CHAPTER 7 Privacy, Confidentiality, Privilege, and Access to Records 124
CHAPTER 8 Assessment 141
CHAPTER 9 Collateral Sources of Information 160
CHAPTER 10 Documentation 177
CHAPTER 11 Communication 190
APPENDIX: SPECIALTY GUIDELINES FOR FORENSIC
PSYCHOLOGY 201
REFERENCES 234
AUTHOR INDEX 243
SUBJECT INDEX 247
See More
RANDY K. OTTO, PHD, ABPP, is a faculty member in the Department of Mental Health Law & Policy at the University of South Florida, with adjunct appointments in the Departments of Psychology and Criminology.
ALAN M. GOLDSTEIN, PHD, ABPP, is board certified in forensic psychology by the American Board of Professional Psychology. He is in independent practice of forensic psychology.
KIRK HEILBRUN, PHD, ABPP, is a professor in the Department of Psychology at Drexel University.
See More