Kitchen and Bath Design Principles: Elements, Form, Styles, 2nd Edition
ISBN: 978-1-118-71568-0
240 pages
January 2015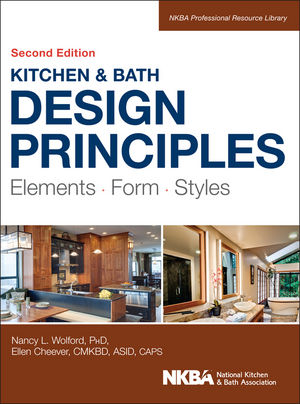 The industry standard, full-color guide to practical kitchen and bath design
Kitchen and Bath Design Principles is The National Kitchen and Bath Association's complete guide to uniting function and style in these important rooms. This full-color guide is heavily illustrated, with a revised layout and graphic design that presents information more clearly for visual learners. The updated second edition has been expanded to adhere more closely to the standards of interior design, including new information on unity, proportion, scale, and variety, plus a new glossary to clarify unfamiliar terms. Stylistic themes remain a major component, with emphasis on the architecture, furniture, styles, and fashions of each era, and all technical and aesthetic information is presented in clear, concise language. The companion website features a teacher's guide and image bank that facilitate use in the classroom, providing additional examples of design principles in action.
The National Kitchen and Bath Association established the standard guidelines for safe and effective kitchen and bath design, and this book is the complete guide to incorporating code and aesthetics from the very beginning. Function is just as important as style in these rooms, so Kitchen and Bath Design Principles teaches readers to:
Apply the elements and principles of design to real-life situations
Discover how best to apply the tools of design in daily business practice
Explore the global and cultural influences reflected in popular stylistic themes
Translate the aesthetics of an era into a workable theme for a kitchen or bath
To best serve clients, designers must learn to meet all codes, regulations, and expectations with a balance of substance and style. Kitchen and Bath Design Principles is the industry standard reference, from the industry-leading provider of kitchen and bath design education.
See More
PREFACE xiii
ACKNOWLEDGMENTS xv
CHAPTER 1 A BRIEF HISTORY OF KITCHEN AND BATHROOM DESIGN 1
A Brief History of the Kitchen 1
A Brief History of the Bathroom 5
Summary 12
Review Questions 12
CHAPTER 2 THE BASICS OF DESIGN: CREATING CUSTOMIZED DESIGN 13
Skill Is the Executor of a Program 13
Personalizing the Design 18
Summary 25
Review Questions 26
CHAPTER 3 THE ELEMENTS OF DESIGN 27
Line- 29
Shape 41
Identifying Pattern Preferences 52
Space 63
Form 64
Texture 66
Color 68
Light 92
Summary 93
Review Questions 93
CHAPTER 4 THE PRINCIPLES OF DESIGN 95
Balance 96
Rhythm 103
Scale and Proportion 107
Emphasis: The Focal Point 113
Harmony/Unity 121
Summary 121
Review Questions 121
CHAPTER 5 HISTORIC STYLE INFLUENCES TO THE LATE NINETEENTH CENTURY 123
Establishing a Historic Theme for a Kitchen or Bathroom Project 123
Ancient/Classical Period 125
Middle Ages/Gothic Period 129
Renaissance 131
Baroque Period 135
Rococo and French Provincial/Country Periods 137
Georgian Period 140
American Country (or Rustic) Styles 144
Neoclassic Styles 150
Victorian Period and the Rise of Industrialization 157
Summary 159
Review Questions 161
CHAPTER 6 HISTORIC STYLE INFLUENCES: LATE NINETHEENTH CENTURY AND BEYOND 163
Arts and Crafts 164
Art Nouveau 164
Art Deco 168
Bauhaus (International Modern) 172
Scandinavian Modern 173
Midcentury Modern 176
Italian and European Modern Postwar Influences, Urban Contemporary 181
Postmodern 184
Twenty-First Century and Beyond 187
Summary 188
Review Questions 188
CHAPTER 7 OTHER DESIGN INFLUENCES AND ECLECTIC DESIGN 189
Far East 189
Eclectic Design 196
Summary 204
Review Questions 204
APPENDIX A: THEME/HISTORIC STYLES COMPATIBILITY 205
APPENDIX B: HSITORICAL TERMINOLOGY AND THEMES 207
RESOURCES 211
INDEX 213
See More
Nancy Wolford, PHD, CID, is Professor Emeritus and former Interior Design Department Chair at Cañada College in Redwood City, California.
Ellen Cheever, CMKBD, ASID, CAPS, has spent the past 42 years redefining the kitchen and bathroom for North American consumers and industry professionals. She is principal of Ellen Cheever & Associates, based in Wilmington, Delaware.
See More
Instructors Resources
Request a print evaluation copy
Contact us

See More
See Less