E-book
The Seven Success Factors of Social Business Strategy
ISBN: 978-1-118-71592-5
100 pages
June 2013, Jossey-Bass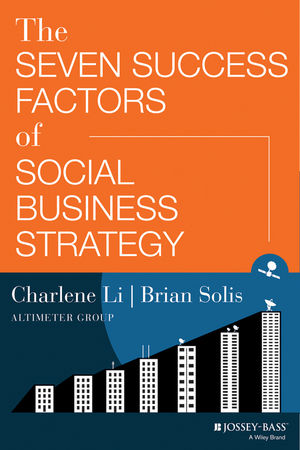 How to align social media with business strategy for real results
For years now, businesses have approached social media in an experimental fashion unconnected to real results. There's a reason why the question about ROI is met with such hostility. But it's time for businesses to get serious about social. In this concise e-book, noted authors and disruptive technology analysts Charlene Li and Brian Solis present seven powerful factors for designing and supporting an effective social business strategy. Li and Solis studied how the best companies create measurable value that aligns with overall business objectives and outline how to incorporate these insights into your strategy and planning process.
Li and Solis focus their findings and recommendations on how to convince and even rally decision makers at the executive level. Based on interviews with thought leaders, surveys, and extensive research, they show you how to define your social strategy, create alignment across the organization, and use that strategy to support overall business success.
Offers actionable best practices for getting the most bang for your social marketing buck
Explains seven key success factors for effective social marketing that cover everything from long-term vision and executive support to staffing and technology investment
Written by Charlene Li, bestselling author of Open Leadership, and Brian Solis, bestselling author of What's the Future of Business, The End of Business as Usual, and Engage
See More
1 The Evolution of Social Business 1
Creating a Coherent Social Business Strategy 3
Introducing the Seven Success Factors of Social Business Strategy 5
How to Use This Book 7
2 Laying Foundations: Goals, Vision, and Executive Support 9
Success Factor #1: Defi ne the Overall Business Goals 9
Identifying Which Goals Matter 10
Exercise: Connect Social Goals to Organizational Goals 12
Tying Social Strategy to Business Goals: The Metric Holy Grail 12
What Happens When Business Goals Aren't Clear? 15
Success Factor #2: Establish the Long-Term Vision 16
Creating a Vision Statement 18
Exercise: Writing a Vision Statement 19
Success Factor #3: Ensure Executive Support 21
Garnering Executive Engagement 22
Best Practices: Getting Executives Onboard 23
3 Setting the Strategy Roadmap: Identify and Prioritize Initiatives 27
Success Factor #4: Defi ne the Strategy Roadmap 27
Identify Initiatives 29
Learn: Glean insights from social engagement 30
Dialog: Deepen relationships with conversations 33
Support: Assist people and create a great experience in the process 36
Advocate: Enable the best fans to speak on behalf of the organization 38
Innovate: Tap the energy and ideas of others 39
Prioritize Initiatives Against Capabilities and Value 41
Create a Long-Term Roadmap 43
4 Aligning the Organization: Establishing Governance 47
Success Factor #5: Establish Governance and Guidelines 47
Defi ning the CoE 49
Forming a Steering Committee 52
Evolving the CoE into Multiple Hub and Spoke 53
Defi ning Guidelines and Process 53
Beware the Center of Excellence Pitfalls 57
5 Aligning Resources and Technology 59
Success Factor #6: Secure Staff, Resources, and Funding 59
Staffing 60
Education and Best Practice Sharing 61
Funding and the Use of Pilot Programs 63
Success Factor #7: Invest in Technology Platforms That Map to Strategy 64
Plan to Evolve Your Monitoring Platform 65
To Scale, Invest in a Social Media Management System 66
Conclusion 69
Notes 71
Acknowledgments 73
About the Authors 75
See More
July 17, 2013
New Short Form e-Book from Leading Authors Charlene Li and Brian Solis
Connect with Wiley Publicity
July 17, 2013, San Francisco - In their first original short form e-book, renowned Wiley/Jossey-Bass authors Charlene Li and Brian Solis show how to develop a social business strategy that aligns with overall business priorities and objectives.

When most businesses are asked about their social media strategy, many merely list off the areas where they are present: Facebook, Twitter, YouTube and the like. When strategists attempt to demonstrate success they do so using engagement metrics such as impressions, shares and comments. This becomes it's own language and not in line with the language of the C-Suite. Li and Solis believes that this is why social media is met with skepticism, confusion, and a general lack of internal support.
This book aims to demonstrate the business value of social media and disruptive technology.
Li and Solis define a successful social business strategy as one that is clearly aligned with the strategic business imperatives of the organization. It creates alignment and support throughout the organization that enables businesses and teams to work together to execute on that strategy.
Digital analysts Charlene Li and Brian Solis demonstrate in their new short form e-book: The Seven Success Factors of Social Business Strategy (Jossey-Bass; 978-1-118-71592-5; $3.99; July 2013; e-book) their success factors that will help any business created a clear social business strategy:
Define the overall business goals.

Establish the long term vision.

Ensure executive support.

Define the strategy roadmap.

Establish governance and guidelines.

Secure staff, resources and funding.

Invest in technology platforms that evolve.
Businesses have approached social media in an ad hoc fashion for long enough. It's time they get serious about linking those efforts to real value inside and outside the organization. Based on thought leader interviews, comprehensive surveys, and extensive research, The Seven Success Factors of Social Business Strategy, Solis and Li show any business how to define their social strategy, create alignment, across the organization, and use that strategy to support business goals.
In an engaging, approachable, and usable format, The Seven Success Factors illustrates the key elements and best practices as well as common mistakes to avoid to transform any social media program into a full social business strategy.
See More