The Resource Handbook for Academic Deans, 3rd Edition
ISBN: 978-1-118-72042-4
448 pages
January 2014, Jossey-Bass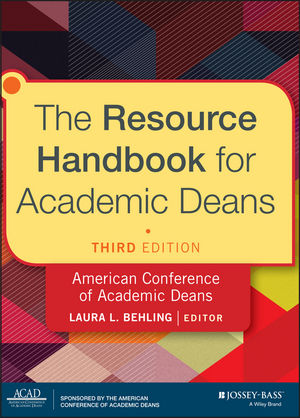 From the American Conference of Academic Deans comes the third edition of the handbook written for and by academic deans. Since the publication of the second edition, higher education has changed significantly and as a result, so has the role of the dean. This new edition addresses the work of a dean, from building a relationship with the president to deciding when to leave an institution. Many of the changes to the Handbook are based on input and surveys from ACAD members about what issues are most important to them. 
See More
The American Conference of Academic Deans xiii
Preface xv
Carl O. Moses
Editor's Introduction xix
Laura L. Behling
PART ONE: BECOMING A DEAN 1
1 Preparing for a Successful Career in Academic Leadership: Understanding Your Role 3
Marc M. Roy
2 A President's Perspective on Serving as a Dean 9
Philip A. Glotzbach
3 The Qualities of Effective Senior Academic Leadership 21
Robert Holyer
4 The Role of the Academic Dean in a Community College 25
Thomas W. Meyer
5 A Successful Career as an Online Dean 33
Pamela Monaco
6 Moving from Professor to Dean 39
Bonnie D. Irwin
7 Understanding the Social Roles of a Dean 45
Jeffrey R. Breese
8 Working with a Former Dean 51
Karen Ryan
9 Understanding Institutional Climate 57
Frank Eyetsemitan
10 Balancing Management and Leadership 61
Mary L. Lo Re
PART TWO: ROLES AND RESPONSIBILITIES OF BEING A DEAN 71
11 The Case for Servant Leadership 73
Peggy Rosario
12 The Art and Science of Good Decision Making 79
Mark J. Braun
13 The Art of Governance: The Dean's Role in Shaping Collective Decisions 83
Frank Boyd
14 Building a Shared Vision of Your Institution 89
Donald Tucker
15 Managing Change Successfully 93
Katie Conboy
16 Understanding the Game and Your Team: Succeeding at Working with Campus Constituencies 99
Kent A. Eaton
17 The Dean's Role in Mentoring 105
Adelia Williams
18 Academic Deans Balancing Professional and Personal Lives: Reframing Balance, Momentum, and Flow 111
Lisa Ijiri
19 Modeling Active Engagement in Teaching and Research 117
James R. Valadez
20 Staying Alive in Teaching and Research 121
David W. Chapman
21 Self-Assessment, or How Do I Know If I Am Succeeding? 127
Kathleen Murray
22 Discerning When to Transition to New Opportunities 131
John T. Day
23 When to Move On, Ready or Not 135
Eugenia Proctor Gerdes
PART THREE: WHAT A DEAN DOES 141
24 The Administrative Dance: Managing Up, Down, and Across 143
Darla S. Hanley
25 Establishing and Implementing Your Vision: Strategic Planning in Academic Affairs 149
Katie Conboy
26 Working with Regional Accreditors 155
Karen Doyle Walton
27 The Dean's Roles and Responsibilities in General Education Curriculum Development 163
Linda Cabe Halpern
28 The Role of the Dean in Department and Program Review 169
Joseph Favazza
29 The Backward Design Process of Curriculum Development 175
Ross Peterson-Veatch
30 Curricular Development in an International Setting: The Arts and Sciences 183
Mark Rush
31 Online Curriculum Development 189
Pamela Monaco
32 Representing Your Institution Well: Engaging with the Media 195
Larry J. Frazier

33 The Entrepreneurial Dean 199
Kent A. Eaton
34 Creating Powerful Collaborations between the Academic and Development Divisions 205
Michael K. Wanous and Susan S. Hasseler
35 Productively Working with Advancement and Development 211
David Timmerman
PART FOUR: FOSTERING TEAMWORK ACROSS THE INSTITUTION 215
36 Using Conflict-Handling Modes to Solve Problems and Create New Collaborations 217
Peggy Rosario
37 What Teams Are You On Now? 223
John T. Day
38 Deans in the (Academic) Game 227
Darla S. Hanley
39 Working with Other Deans 233
Bonnie D. Irwin
40 The Role of the Dean in Decision Making at the University Level 237
Laura Niesen de Abruna
41 Productive Relationships with Department Chairs and Program Directors 241
Virginia Coombs
42 Developing Productive Relationships with Assistant and Associate Deans: What They Might Want You to Know 249
James M. Sloat
43 Effective Hiring and Evaluation of Staff 255
Alison Benders
PART FIVE: DEVELOPING FACULTY EXCELLENCE AND ACHIEVING STUDENT SUCCESS 261
44 Setting Expectations, Intentionality, and Clarity in Faculty Hiring 263
Stephanie Fabritius
45 Diversifying the Campus: Some Steps for Deans to Take 269
Laura L. Behling
46 Enhancing Faculty Relationships through Transparent and Consistent Evaluation 277
Stephanie Fabritius
47 Contingent Faculty: Strategies for Developing an Essential Resource 283
Maria Maisto, Adrianna Kezar, and Carol Kochhar-Bryant
48 Working with People in Conflict: Conversational Strategies for Deans 291
Thomas W. Meyer
49 The Responsibility of Leadership in Dealing with Difficult People 299
Donald Tucker
50 The Bully on Campus: Productively Working with These Difficult People 305
Elizabeth A. Throop
51 Difficult Disciplinary Decisions: Dismissing Faculty 309
Alison Benders
52 Legal Issues in Faculty Evaluation 315
Jon K. Dalager
53 Addressing Concerns about Harassment, Grievances, and Discrimination 323
Charlotte G. Borst
54 Fostering Excellent Teaching 329
Kerry Pannell
55 Creating and Maintaining a Supportive Environment for Research, Scholarship, and Creative Activity 335
Kerry Pannell
56 Engaging Faculty in Service and Community Work 341
Stephen J. Kreta
57 "The War of the Worlds": Assessment of Student Learning Outcomes of Academic Majors 347
Karen Doyle Walton
58 Effectively Working with Student Media 359
Patricia S. Poulter and Joe Gisondi
59 Managing Student Relationships: Handling Student Complaints 367
Adelia Williams
60 Establishing an Effective Academic Advising Program 371
Craig A. Almeida
61 Faculty Mentoring and Evaluation: A Model 377
Susan Thompson Gorman
62 Learning How to Work "In Between": Advice for Associate Deans 385
James M. Sloat
63 Supervising Faculty: Legal Issues for Deans 391
Jon K. Dalager
The Contributors 397
ACAD: The American Conference of Academic Deans 407
Index 409
See More
Laura L. Behling is dean of the college and vice president for academic affairs at Knox College, Illinois.
See More
Learn more about