Education and the Growth of Knowledge: Perspectives from Social and Virtue Epistemology
ISBN: 978-1-118-72131-5
192 pages
December 2013, Wiley-Blackwell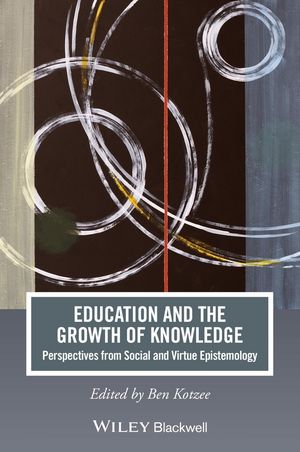 Education and the Growth of Knowledge is a collection of original contributions from a group of eminent philosophers and philosophers of education, who sketch the implications of advances in contemporary epistemology for education. 
New papers on education and social and virtue epistemology contributed by a range of eminent philosophers and philosophers of education 
Reconceives epistemology in the light of notions from social and virtue epistemology
Demonstrates that a reconsideration of epistemology in the light of ideas from social and virtue epistemology will in turn re-invigorate the links between epistemology and education 
See More
Notes on Contributors vii
Introduction
Education, Social Epistemology and Virtue Epistemology
Ben Kotzee 1
1 Epistemic Dependence in Testimonial Belief, in the Classroom and Beyond
Sanford Goldberg 14
2 Learning from Others
David Bakhurst 36
3 Anscombe's 'Teachers'
Jeremy Wanderer 55
4 Can Inferentialism Contribute to Social Epistemology?
Jan Derry 76
5 Epistemic Virtue and the Epistemology of Education
Duncan Pritchard 92
6 Educating for Intellectual Virtues: From Theory to Practice
Jason Baehr 106
7 Detecting Epistemic Vice in Higher Education Policy: Epistemic Insensibility in the Seven Solutions and the REF
Heather Battaly 124
8 Three Different Conceptions of Know-How and Their Relevance to Professional and Vocational Education
Christopher Winch 145
9 The Epistemic Value of Diversity
Emily Robertson 166
Index 179
See More
Ben Kotzee is lecturer in the Jubilee Centre for Character and Values at the University of Birmingham. He specializes in applying insights from contemporary epistemology to questions in the philosophy of education. Dr Kotzee has previously written on the nature and development of expertise, educational justice and the constructivism/realism debate. He takes an active interest in professional education and is currently engaged in a study of character and values in the professions with a special focus on the legal profession.
See More
More in this series