Learning the Language of Addiction Counseling, 4th Edition
ISBN: 978-1-118-72177-3
576 pages
September 2014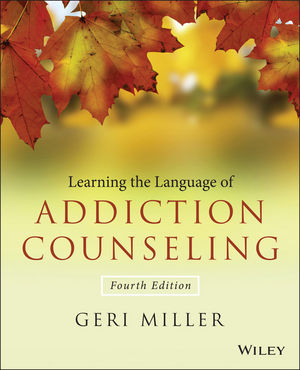 FULLY REVISED, COMPREHENSIVE, AND PRACTICAL
Learning the Language of Addiction Counseling, Fourth Edition introduces counselors, social workers, and students to the field of addiction counseling and helps them acquire the knowledge and develop the skills needed to counsel individuals who are caught in the destructive cycle of addiction.
Drawing from her years of experience working in the addiction-counseling field, Geri Miller provides an engaging, balanced overview of the major theoretical foundations and clinical best practices in the field.
Fully updated, the Fourth Edition offers a positive, practice-oriented counseling framework and features:
A research-based, clinical application approach to addiction counseling that practitioners can turn to for fundamental, practical, clinical guidelines
Revised chapters that reflect important changes in research and practice, including new DSM-5 criteria, new assessment instruments, and new and expanded treatments
Case studies, interactive exercises, end-of-chapter questions, and other resources that facilitate the integration of knowledge into practice
"Personal Reflections" sections at the beginning of each chapter provide an invaluable, unique perspective on the author's evolving views of addiction counseling
Updated and expanded online Instructor's Manual that includes brief video clips, PowerPoint® slides, test bank questions for each chapter, and sample syllabi
From assessment and diagnosis of addiction to preparing for certification and licensure as an addiction professional, this comprehensive book covers all of the essentials.
See More
Preface xi
Acknowledgments xv
CHAPTER 1
INTRODUCTION 1
Personal Reflections 1
Addiction Counseling Influences 3
Models of Addiction 6
CHAPTER 2
THEORIES OF COUNSELING APPLIED TO ADDICTION TREATMENT 13
Personal Reflections 13
Development of a Theoretical Framework for Addiction Counseling 14
Dangers in Developing a Theoretical Framework and Recommendations 16
General Counseling Theories Applied to Addiction Treatment 19
CHAPTER 3
ASSESSMENT AND DIAGNOSIS OF ADDICTION 31
Personal Reflections 31
Interviews 33
Behavioral Observations 40
Physiological Instruments 41
Psychometric Instruments 41
Diagnosis 52
Stages of Change 53
CHAPTER 4
CO-OCCURRING DISORDERS AND BEHAVIORAL ADDICTIONS 58
Personal Reflections 58
Co-Occurring Disorders 59
Collaboration Between the Mental Health and Substance Abuse Fields 60
Assessment 63
Treatment 67
Behavioral Addictions 80
CHAPTER 5
THE CORE TREATMENT PROCESS FOR ADDICTIONS 91
Personal Reflections 91
Philosophical Approaches 92
Crisis Intervention 97
Individual Therapy 103
Group Therapy 110
Family Therapy 123
CHAPTER 6
TREATMENT-RELATED ISSUES AND COUNSELING APPROACHES 138
Personal Reflections 138
Sexual Issues 139
HIV/AIDS 149
Intimate Partner Violence 158
Homelessness 169
Specific Counseling Approaches 173
CHAPTER 7
RELAPSE PREVENTION 196
Personal Reflections 196
Counselor Approaches 197
Relapse-Prevention Models 201
Counseling Techniques 209
Case Studies of Special Populations 217
Co-Occurring Disorders 220
CHAPTER 8
SELF-HELP GROUPS 226
Personal Reflections 226
Suggestions for Counselors 227
12-Step Groups 229
12-Step Alternative Groups 238
Matching Self-Help Groups to Meet Client Needs 247
Special Issues 253
Appendix 8A: Stories of Recovery 260
Appendix 8B: Emotional Sobriety 261
CHAPTER 9
ELABORATION ON SPECIFIC THERAPIES AND TECHNIQUES RELEVANT TO ADDICTION COUNSELING 266
Personal Reflections 266
Client Resilience 267
Positive Psychology 270
Stages-of-Change Model 273
Motivational Interviewing 278
Brief Therapy 284
Evidence-Based Practices (EBPs) 290
CHAPTER 10
CULTURALLY SENSITIVE ADDICTION COUNSELING 301
Personal Reflections 301
Defining Multicultural 303
Social-Environmental Aspects 305
Breakdown of Communication 308
Multicultural Competence/Multicultural Orientation 309
Dialogue 311
General Counseling Suggestions 314
Assessment, Treatment, and Aftercare Issues 314
Overall Substance Use/Abuse Exploration Multicultural Exercises 370
CHAPTER 11
CHRONIC PAIN ASSESSMENT AND TREATMENT 379
Personal Reflections 379
Definition of Pain 382
Issues of Living Sober with Chronic Pain 383
Assessment and Treatment 385
CHAPTER 12
INCORPORATING SPIRITUALITY INTO ADDICTION COUNSELING 398
Personal Reflections 398
The History of Incorporating Spirituality into Addiction Counseling 399
Incorporation Barriers and Bridges 401
Spiritual Identity Development 406
Counseling Resources and Techniques 408
CHAPTER 13
PERSONAL AND PROFESSIONAL DEVELOPMENT OF THE COUNSELOR 417
Personal Reflections 417
Ethical Issues 419
Testifying in Court 428
Working in Difficult Systems 432
Working with Addicts 436
Self-Care 442
CHAPTER 14
OBTAINING ADDICTION PROFESSIONAL CREDENTIALS 453
Personal Reflections 453
Self-Care on the Journey 455
Supervision 458
Credentialing 460
Appendix 14A: Sample Supervision Documentation 467
References 469
Author Index 523
Subject Index 535
See More
GERI MILLER, PHD, Diplomate in Counseling Psychology, ABPP, is a Professor in the Department of Human Development and Psychological Counseling at Appalachian State University. She is a Licensed Psychologist, a Licensed Professional Counselor, a Licensed Clinical Addictions Specialist, and a Substance Abuse Professional Practice Board Certified Clinical Supervisor in North Carolina. She has also received a Certificate of Proficiency in the Treatment of Alcohol and other Psychoactive Substance Use Disorders from the American Psychological Association College of Professional Psychology. Dr. Miller has worked in the mental health counseling profession since 1976 and in the addiction counseling profession since 1979. She has conducted research related to mental health counseling and addiction counseling. She has also presented extensively to mental health counselors and addiction counselors.
See More
Instructors Resources
Request a print evaluation copy
Contact us

See More
See Less
Learn more about