Customer Experience For Dummies
ISBN: 978-1-118-72560-3
360 pages
November 2014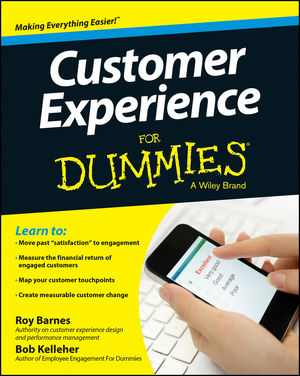 Gain, engage, and retain customers with positive experiences
A positive customer experience is absolutely essential to keeping your business relevant. Today's business owners need to know how to connect and engage with their customers through a variety of different channels, including online reviews and word of mouth. Customer Experience For Dummies helps you listen to your customers and offers friendly, practical, and easy-to-implement solutions for incorporating customer engagement into your business plans and keep the crowds singing your praises.
The book will show you simple and attainable ways to increase customer experience and generate sales growth, competitive advantage, and profitability. You'll get the know-how to successfully optimize social media to create more loyal customers, provide feedback that keeps them coming back for more, become a trustworthy and transparent entity that receives positive reviews, and so much more.
Gives you the tools you need to target customers more precisely
Helps you implement new social and mobile strategies
Shows you how to generate and maintain customer loyalty in order to achieve success through multiple channels
Explains how a fully-engaged customer can help you outperform the competition
Learn how to respond effectively to customer feedback
Your brand's reputation and success is your lifeblood, and Customer Experience For Dummies shows you how to stay relevant, add value, and win and retain customers.
See More
Introduction 1
Part I: What Is Customer Experience? 5
Chapter 1: Basic Training: Customer Experience Basics 7
Chapter 2: Dollars and Sense: The Financial Impact of Customer Experience 17
Chapter 3: Identifying Customer Experience Killers 29
Chapter 4: Is There a Doctor in the House? Diagnosing Your Customer Experience Ailments 47
Part II: Creating Awesome Customer Experience 63
Chapter 5: The Anger Games: Dealing with an Angry Customer 65
Chapter 6: Good Intentions: Identifying Your Customer Experience Intent 83
Chapter 7: Channeling Your Inner Magellan: Mapping Your Customer's Journey 95
Chapter 8: Experience by Design: Designing a Captivating Customer Experience 111
Chapter 9: So Emotional: Eliciting an Emotional Response from Your Customers 127
Part III: Essential Enabling Elements 141
Chapter 10: Plan Up: Redesigning Your Touchpoint Program in Four Weeks 143
Chapter 11: Can We Talk? Managing Customer Feedback and Fostering Dialogue 167
Chapter 12: Building Customer Experience Knowledge in the Broader Workforce 185
Chapter 13: Assembling and Managing Your Customer Experience Team 197
Part IV: Making it Stick 219
Chapter 14: Creating Your Customer-Centric Culture 221
Chapter 15: Measure Up: Measuring Performance 239
Chapter 16: Making the Most of Measures: Key Customer Experience Metrics 259
Chapter 17: Initiatives, Projects, and Programs . Oh My! 277
Part V: The Part of Tens 293
Chapter 18: Ten Ways to Improve Your Experience Delivery 295
Chapter 19: Ten Key Qualities of Awesome Customer Experience Advocates 301
Chapter 20: Ten Tools to Track Your Customer Experience Program's Performance 309
Chapter 21: Ten(ish) Great Books for Boosting Customer Experience 321
Index 327
See More
Roy Barnes is one of the leading authorities on Customer Experience Design and Performance Management. He has more than 25 years of experience delivering world class results in both the for-profit and non-profit sectors. Bob Kelleher is the author of Employee Engagement For Dummies and the Founder of The Employee Engagement Group.
See More