Business Plans Kit For Dummies, 4th Edition
ISBN: 978-1-118-72562-7
384 pages
December 2013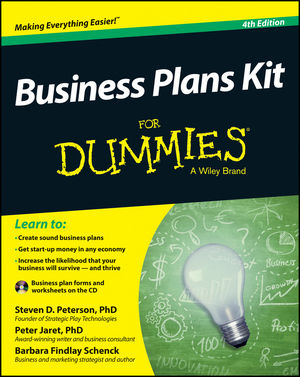 Discover the ins and outs of constructing a winning business plan
When you're establishing, expanding, or re-energizing a business, the best place to start is with your business plan. Whether you want start–up money from investors or are looking to expand or re-energize your business, a business plan will give you a defined road map to help you get your business moving.
Business Plans Kit For Dummies, 4th Edition has been updated to give you the very latest information on today's current economy and its impact on business plans; dealing with venture capitalists; getting start-up money in any economy; incorporating social and ecological responsibility issues; and developing a plan conducive to marketplace changes and advancements.
Refreshed examples and data sources for planning
Updated "ten top plans" section
CD includes new forms, worksheets, and resources
If you're a small business owner, investor, or entrepreneur looking for expert guidance and friendly tips on developing and implementing a strategic plan to help your business succeed in any economy, Business Plans Kit For Dummies has you covered!
Note: CD-ROM/DVD and other supplementary materials are not included as part of the e-book file, but are available for download after purchase.
See More
Introduction 1
Part I: Getting Started with Business Plans 5
Chapter 1: Starting Your Planning Engine 7
Chapter 2: Generating and Refining a Successful Business Idea 25
Chapter 3: Defining Your Business Purpose and Structure 45
Part II: Developing Your Plan's Components 75
Chapter 4: Understanding Your Business Environment 77
Chapter 5: Charting Your Strategic Direction 103
Chapter 6: Describing Your Business and Its Capabilities 127
Chapter 7: Crafting Your Marketing Plan 149
Chapter 8: Tallying Up Your Financial Situation 169
Part III: Tailoring a Business Plan to Fit Your Needs 195
Chapter 9: Planning for a One-Person Business 197
Chapter 10: Planning for a Small Business 221
Chapter 11: Planning for an Established Business 235
Chapter 12: Planning for a Nonprofi t Organization 251
Chapter 13: Planning in a Rapidly Changing World 269
Part IV: Making the Most of Your Plan 281
Chapter 14: Putting Your Plan Together 283
Chapter 15: Implementing Your Plan 303
Chapter 16: Keeping Your Plan Current 317
Part V: The Part of Tens  325
Chapter 17: Ten Signs That Your Plan May Need an Overhaul 327
Chapter 18: Ten Questions to Answer Before You Finish Your Business Plan 333
Appendix A: About the CD 339
Index 347
See More
Steven D. Peterson, PhD, is the senior partner and founder of the management tool development company, Strategic Play Technologies. He is the co-author of Business Plans For Dummies. Peter Jaret, PhD, has published widely on business, health, and the environment. Barbara Findlay Schenck is a nationally recognized marketing specialist and the author of several books, including Small Business Marketing Kit For Dummies, 3rd Edition.
See More